Wednesday, February 19, 2020 | Buena Vista Horace Mann at PlayStation | by Laura Ramirez, IGNITE Teacher and Tech Integration Specialist
On Wednesday, February 19th, We were greeted at PlayStation by friendly staff. They welcomed us as we entered the building and into the conference room.  We were given a tour of two major work stations, the animation and sound department. Our girls were given the opportunity to speak to animators that showed them a new trailer (stay tuned) and project progression from ideas to the animation. We were in awe of the wall of  digital art ideas and artwork. Student I expressed, " I enjoyed the art department and loved the designs and graphics." We also toured the sound department, where students were able to ask the sound engineer questions and he showed us a new trailer that his department worked on for the soundtrack. It was truly a behind the scenes experience for our girls. Employees took time out of their schedule to speak to our students and answer questions. Student L said, "I was inspired by actually experiencing the people in the offices that work and create games for PlayStation."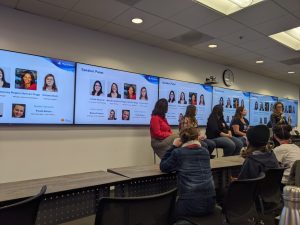 After the tour, the students were so engaged by the group activities that the Sony PlayStation employees facilitated. Each group consisted of Virtual Reality, gaming, robot puppy training, and voice command.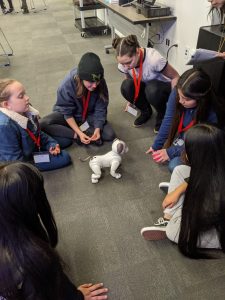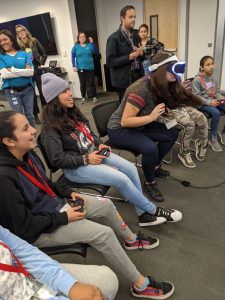 After a delicious and generous lunch, women employees at PlayStation facilitated a panel to discuss their educational journey. Students listened to a brief history of women's roles in video gaming.  Video game developers, Carol Shaw and Doral Bailey and Roberta Williams paved the way for women in the industry. But in the 80s, there was a shift where the video game industry marketed video games to boys and changed the industry dramatically. The girls learned that only 15% of women are in the video game industry. The stories that women shared were inspirational. Our student K said, "I got inspired to play more video games because I now know the really long process to make a fun game!"  The girls learned that they do not have to be computer science majors to gain an amazing job at PlayStation, but more importantly, if they are passionate about something, they can apply their skills to any career. After attending this event, 100% of the girls claimed that this field trip made them more interested in a future STEM career and gaming.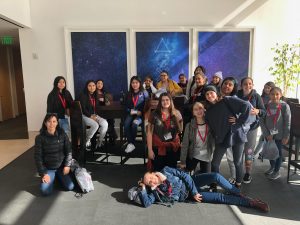 All employees at PlayStation were very accommodating, helpful and kept equity at the center by providing us with a bilingual translator, a fierce Latina who worked in the legal department. Our Latina girls witnessed black and brown girl magic at PlayStation, crucial for envisioning themselves in the gaming/tech industry as adults. A major shout out to Sony and PlayStation women employees for their exceptional  welcoming skills, their allyship and general women's support group/organization. Our Buena Vista Horace Mann girls were inspired and expressed that this was the best field trip they have ever experienced!   
After attending this event:
Here's what the students enjoyed most:
It inspired me to learn more about technology and join a club that is related to this. - Grade 7
I really liked the interactive tech including the dog and max. It inspired me because it showed me what I can do if I work hard. - Grade 6
The VR inspired me and the thing that stood out to me the most was actually experiencing the people and offices that work and make/create games for PlayStation. - Grade 8
Learning about different games and making them. - Grade 8
I really loved doing the VR because it was something I had never done before so I was able to try something new. - Grade 8
I liked the VR and the boy. The panel inspired me. - Grade 8