Thursday, February 27, 2020 | Renton and Hazen High schools at UW Informatics Program
This exciting opportunity brought together about 50 students from Renton and Hazen high schools! The group got to attend an interactive presentation about the UW Infographics program. We arrived about an hour early and students were given a chance to explore the red square area of the campus. Upon arriving at the library, we were greeted by volunteers and ushered to the second-floor workshop area. Everyone settled in with the help of volunteers. The volunteers were very welcoming and took time to speak with all of the students when they first arrived! Then, the students were given an overview of the day's events.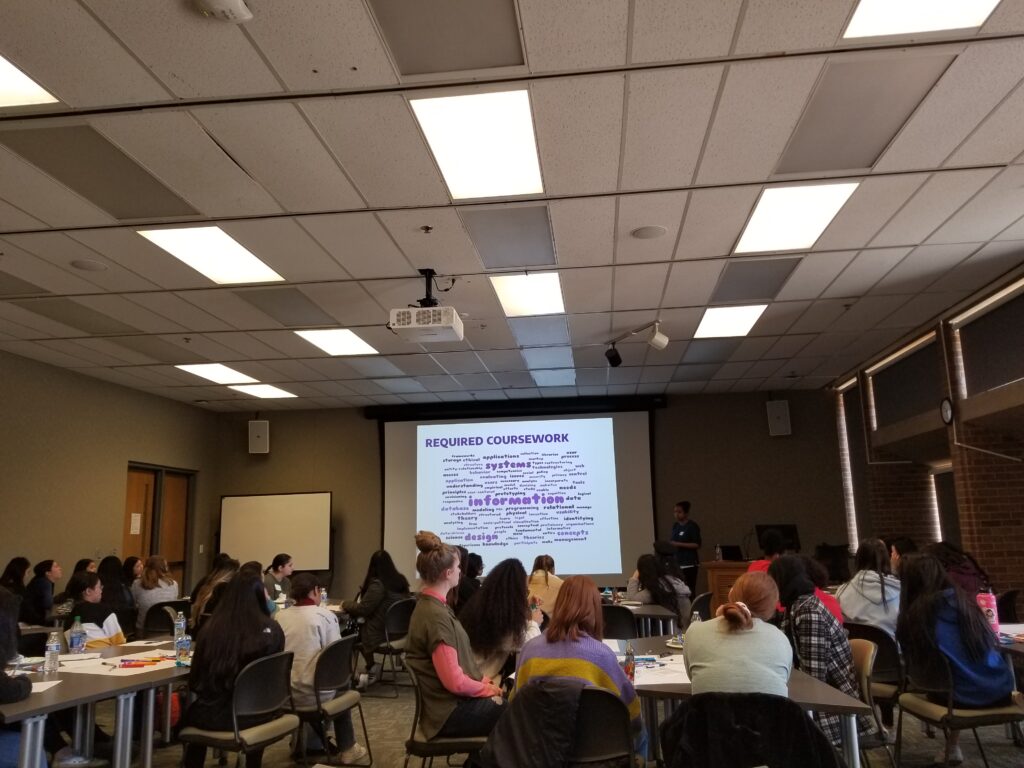 Students were given a table exercise to brainstorm and create a user application. They were encouraged to create, interact, and engage with their team members. At the end of the design process, teams presented their posters and explained the purpose of the app and how it would work. Everyone was very engaged in the activity and the presentations were well done. Volunteers and other groups provided lots of positive feedback.
The highlight of the event was the panel of undergraduate students who shared their journey to the University of Washington and why they settled on enrolling in the Informatics Program. Each panel member had a unique story to tell and these stories resonated with our students. One of the questions "What were you like in high school?" was particularly interesting. One of the
members shared that she did not like science and didn't do very well in school, but then attended community college while working at Nordstrom and found that she enjoyed working with technology and data. The most memorable part of the day was what the speakers shared on the panel. The personal stories allowed the girls to relate to the speakers, and the great advice encouraged the students to keep trying new things and be persistent, because that will help you find a career path. Having a room of 50 girls talking and engaging in conversations about STEM careers was awesome!
Thank you to the inspiring volunteers and amazing hosts at the UW iSchool! We're excited to plan the next opportunity for students.
After attending this event:
Here's what the students thought of the event:
"I enjoyed the activity of making the app and the panel. It really cleared up my understanding and helped me decide better about my future. It inspired me to look out into other career majors." – 10th grade

"I enjoyed the app making and it inspired me to be creative." – 11th grade

"I really enjoyed the panel, it gave me a better perspective on what I could and expect." – 9th grade

"I was introduced to the informatics major and it lies within with what I want to do with CS." – 12th grade

"I enjoyed creating an app based on personal issues which I believe are important. It made me interested in creating apps as well as designing ideas for different projects." – 11th grade

"I really enjoyed the student panel because the informatics' major students had really thoughtful advice to share." – 11th grade

"The activity and panel made me want to take more opportunities and learn about more majors." – 11th grade

"I enjoyed the whole thing because before I didn't even know how important technology and STEM was." – 9th grade

"The life story of the young women and the UW students. I didn't know anything about UW iSchool or informatics though I used to do informatics Olympiads back to my home country. It gave me a lot of ideas about my CS career plan." – 11th grade

"Learning about Informatics and what it is because I didn't know what it is. And learned there's more than coding." – 11th grade