February 28, 2020 | IGNITE Panel at Civic Center High School | by Kay Hones, IGNITE Teacher and Amber Zertuche, IGNITE Regional Director
On February 28th, Civic Center High School held our first ever IGNITE Worldwide panel!
These three community speakers talked with young women @ Civic Center High School:
1. Giselle Serafin, Nonprofit Leadership Fellow at Strategic Energy Innovations
2. Elsa Jungman, Founder & CEO at ELSI Skin Health Inc.
3. Reena Chawla, Founder, Chief Learning Pro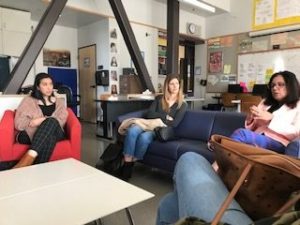 They spoke about
·      Working in STEM, strategies & tips for job hunting, college, etc.
·      Networking vis social media if interested in a company
·      Discussion about women AND diversity in workforce
·      importance of multi lingual ability for jobs & in general.
Teens that participated were welcomed to contact presenters with future questions & even schedule a tour of different companies. Our head counselor was able to attend for a short time & was really impressed with the information shared with the young women.
Special thanks to our panelists who made this day so special for the girls!
After attending this event:
Here's what the students enjoyed most:
I enjoyed hearing everybody's story - Grade 10
I enjoyed when the group talked about the importance of being bilingual and culture - Grade 9