On September 17th, IGNITE Worldwide welcomed middle school students from Broadview-Thomson K-8 for a virtual panel and Q&A discussion featuring College Women in STEM! 
Katelyn Lichte, a Production Engineer at Corteva Agriscience, facilitated the panel and began with an introduction to IGNITE and women in STEM. The attendees were asked to take a guess at the percentage of engineers who are women and were shocked to find it's just 13 percent!
Amanda Ha, a freshman at the University of Washington, kicked off the panel, sharing that she was interested in arts growing up. In middle school she took a digital art class and realized that there is artistic expression in programming as well! She has since traveled to the islands of Antigua and Barbuda to help build computers and has interned at T-Mobile and Microsoft.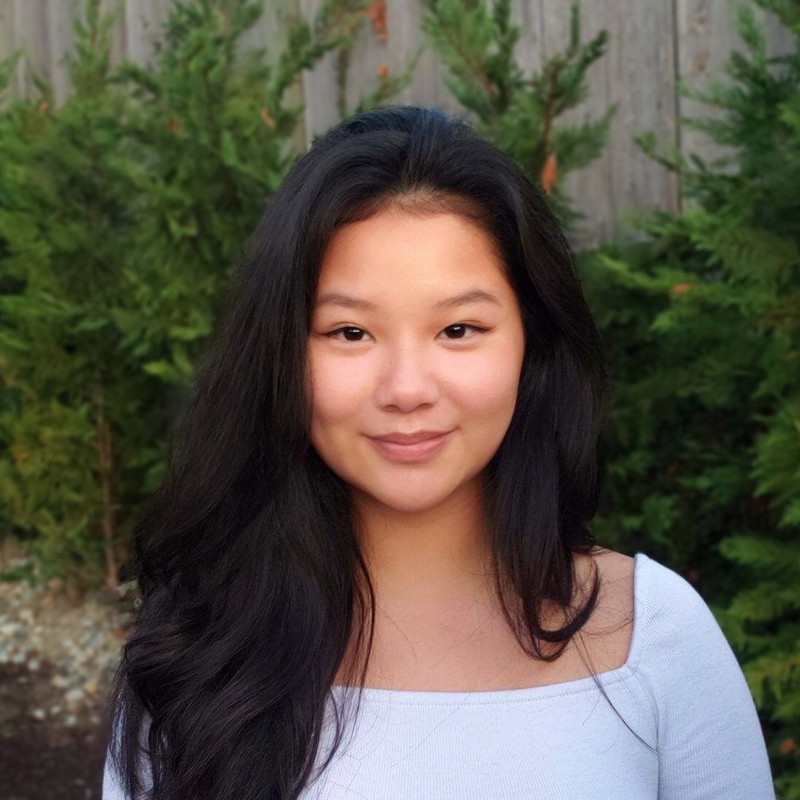 Andrea Ha is also a freshman at the University of Washington and Amanda's twin. She originally wanted to go into the accounting side of business but enjoyed the feel of entrepreneurship in technology that she experienced in a programming class. Andrea has interned at Microsoft and is currently a software engineer intern with a tech start-up, Mount.
Krystal Graylin, a sophomore and Informatics major at the University of Washington, also wanted to be an artist and discovered artistic expression with programming. She has made good friends through her tech classes and clubs, has interned at Accenture, and was an executive organizer for DUBhacks, the largest hackathon in the Pacific Northwest! Along with Amanda and Andrea, Krystal founded STEMpowher, an organization that empowers girls to pursue STEM.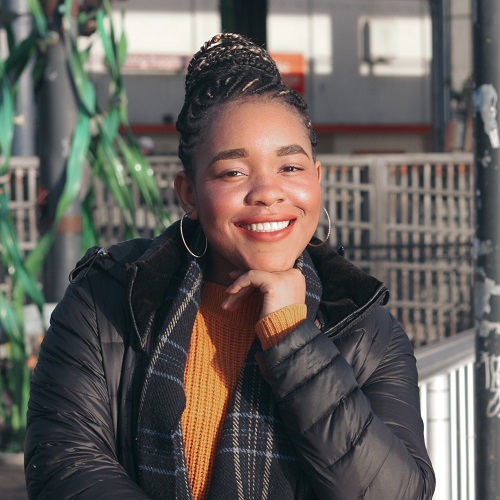 Praises Orji is a sophomore studying Computer Science at the University of Washington. As a woman of color, she felt that STEM was not for her since she didn't see herself reflected in the field. She is thankful for her sister getting into coding and for being involved with IGNITE in high school, which sparked an interest in tech. Praises has interned at Microsoft, where she learned that STEM companies are looking for people from underrepresented backgrounds!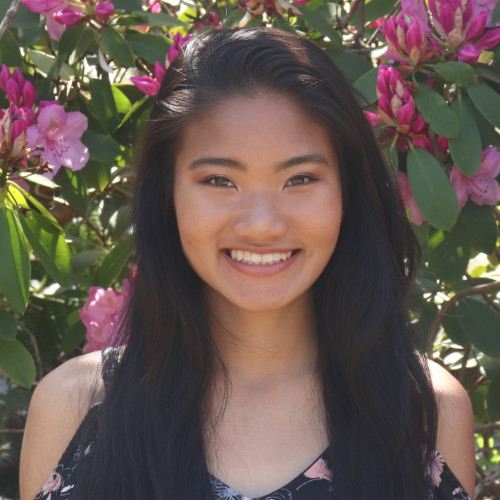 Marcella Huang is an IGNITE alum and Computer Science student at the University of Washington who already holds an Associate's degree in Computer Science! Growing up, Marcella was very active in sports and art and learned about commitment, leadership, and hard work, which she now applies to her STEM experience. Her parents don't have a STEM background, so it was IGNITE events that helped her understand how STEM is creative and an art form.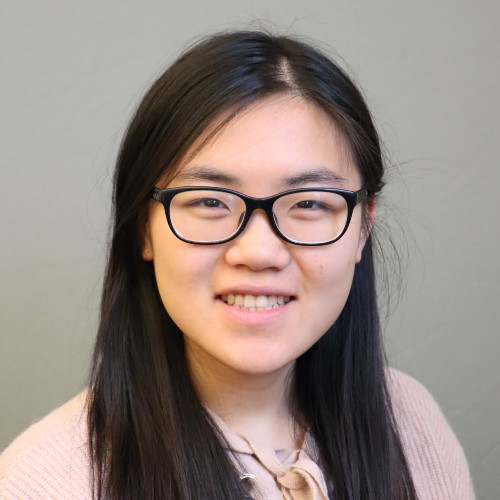 Lauren Tang is an IGNITE alum from San Francisco and a Computer Science major in her senior year at Princeton University! Lauren likes to cook and play video games and wasn't exposed to STEM until high school when she attended TimTam, an introductory boot camp for building an application. She has since interned at Google and Facebook, and she highlighted that it's never too late to start your STEM Journey!
After hearing about the panelists' experiences, the students got a chance to ask questions, such as:
Why would you suggest STEM for girls and non-binary students?
What do you do when you intern with big companies like T-Mobile, Google, and Facebook?
What are the challenges of being in STEM?
How did you decide what you wanted to do in college?
The panelists agreed that we need greater representation in STEM since technology is used by everybody! They shared that often you go into an internship with limited experience, but the company provides you with guidance and support. The speakers admitted that STEM courses can be challenging, but the biggest challenges are fear of failing and comparing yourself to others. They encouraged girls to take pride in your achievements, keep trying, and don't be afraid to ask for help! Also, explore different fields and try new things as much as you can before college so you're not limiting yourself with a narrow path.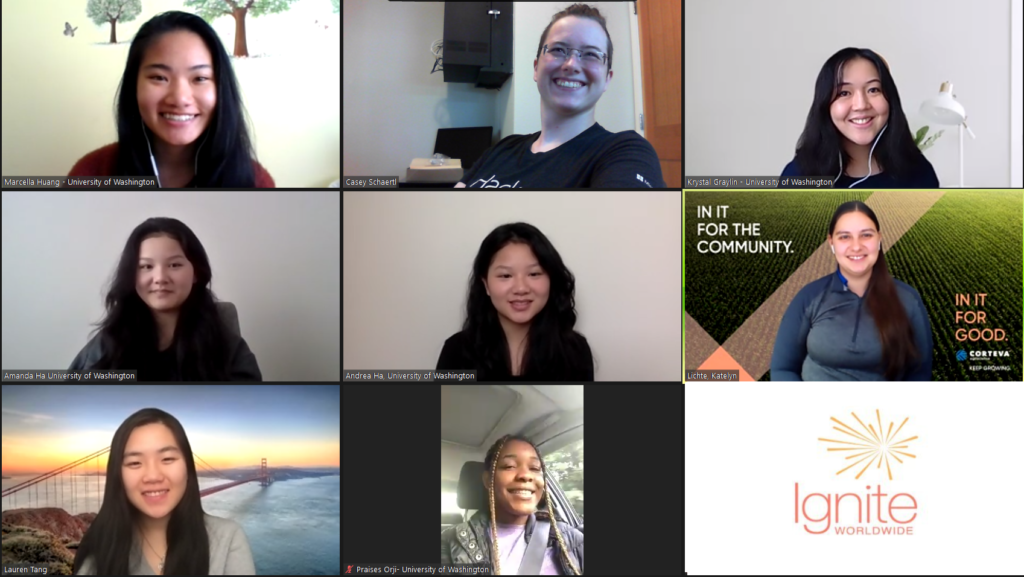 At the end of the panel, each speaker shared a final piece of advice:
Amanda – Don't be afraid to partner with the boys. Get over the awkwardness, learn what you can.
Andrea – Apply to everything! Explore all your interests and see where that takes you.
Krystal – Focus on what you enjoy and explore your strengths.
Praises – Try new things. Explore options.
Marcella – You don't have to be the best student, just do your best! Be flexible and adaptive since tech is always changing, and so are you.
Lauren – It's okay to take a break! Don't overwork yourself. Be your best support.
Students left the panel inspired to consider STEM and make sure companies are representing diversity to their clients and products. Thank you to Amanda, Andrea, Krystal, Praises, Marcella, and Lauren for sharing your stories and talking about trying new opportunities, whether a middle school or high school class, an internship, or a job position. It was important for students to hear how these are the areas where you grew and learned the most!
After attending this event:
Here's what the students thought of the event:
"Now I know that you faced many challenges and you have overcome them, so this inspires me to do things when I feel scared. So that I can overcome them." – 8th grade

"Going to this panel made me want to intern at Microsoft or some other tech company in high school or college. It also made me consider studying something STEAM related in college." – 7th grade

"I was inspired because I'm in a tech class, and robotics. And I have been in a summer camp where I was the only girl out of 20 other people. And I also would consider working at NASA one day." – 7th grade

"This event inspired me to continue in the robotics club. And STEM is so much more than it seems. I didn't know there's only 13% women and fewer are [women of] color." – 8th grade

"It inspired me that girls can do anything!" – 8th grade

"I think today's panel was great! It was cool to meet and get to know your stories." – 8th grade