On Tuesday, October 20th, 90 girls and non-binary students from 9 middle and high schools learned about different careers at Tesla and how panelists' education path landed them at a job with Tesla. This panel moved many of the girls to believe that they too can make it in a STEM career. In the introduction, there was really eye opening learning around how many different types of divisions and kinds of career opportunities Tesla and other tech companies offer (Roofing, solar power, batteries, cells, technical writing, management, government relations, etc.).
Then panelists' shared their stories and students learned that it is important to try things that you haven't done before so you can learn more about what you do and don't like. They also shared how important it is to believe/trust in yourself.
Students were very inspired by the diverse backgrounds of the speakers and how they each overcame challenges in their own lives. Students enjoyed hearing about the importance of developing positive relationships between other people in STEM as a way to stay motivated. They also enjoyed the interesting and dynamic stories from the panelists.
Some of the biggest take-aways for students were centered around trying out various experiences in order to hone in on what they are truly interested in. As well, not pigeon-holing your skills and interests when it comes to career pursuits; you may be able to use two seemingly unrelated interests together in an unexpected way in a career field. That there is no one pathway for a future in STEM and you don't need to decide your future now.
In fact, one speaker talked about her journey and how she had way different interests than STEM, but she was still able to arrive in the field. Speakers talked about who they were as young people, which helped the girls be able to relate to the speakers. Speakers opened up to the girls, for example, one panelist talked about her identity and navigating life as a bi-racial individual. Teachers noted how impactful this was to the students.
Students really enjoyed hearing the story of Taylor, who shared that she came into the tech field through a very non-traditional route without a tech related degree. She is also merging many of her interests and skills into her career, which some of my students were very excited about because they want to be able to do lots of different things. Seeing other females show interest in engineering really helps girls understand that it isn't something out of the ordinary for a female to pursue a career in engineering. Students may feel this way but in exposing them to IGNITE Worldwide panels gives them hope; motivation to pursue their dreams.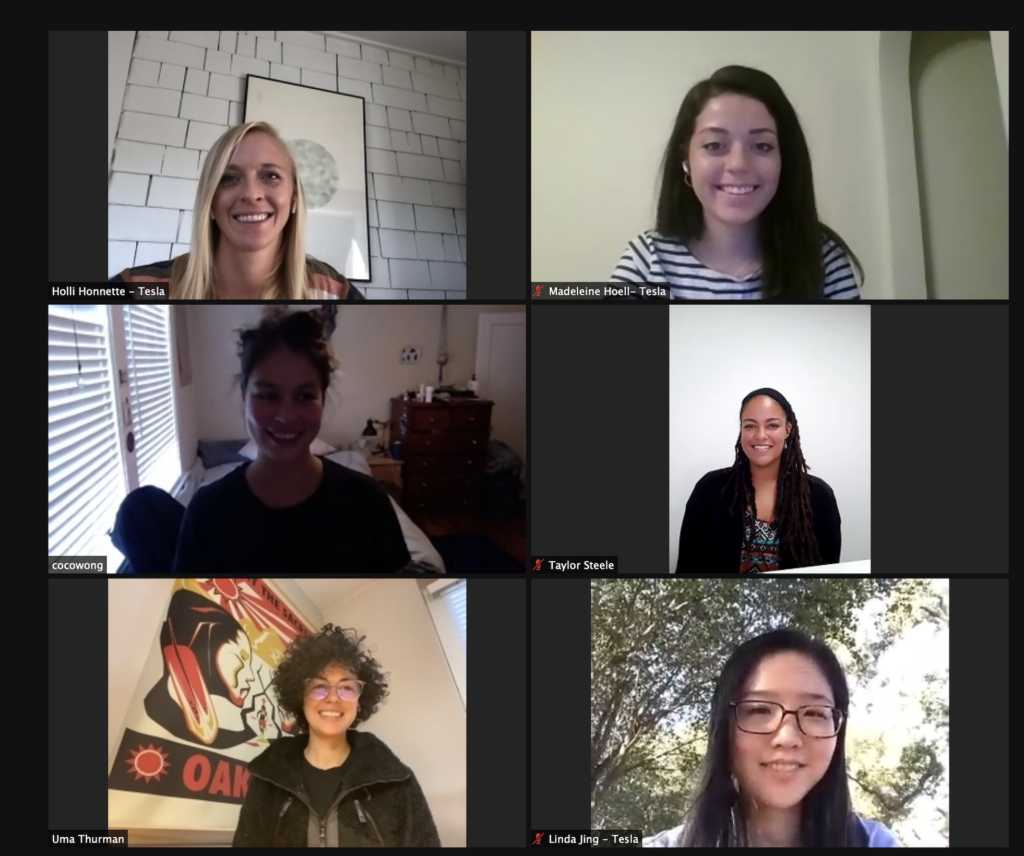 Students had very insightful questions about their next steps for having a career in STEM:
Why do you think it is important to have women, non-binary/ gender non-conforming people, members of the lgbtq+ community and people of color in stem? What barriers do you think people in these groups face when looking to pursue these careers/ what do you think can we do to break down these barriers?·
Have you ever experienced imposter syndrome? If so how did you get over it?
Why do you love STEM?
What advice would give to a student who wants to pursue a career in STEM, but is not "naturally gifted" in math or science?
If you decide that you want to have a stem related job what kind of skills would be useful to have or know how to do?
What motivates you to do a good job at work
What can we do to prepare to work for a STEM company? What is your work environment like?
How would you recommend setting yourself up for a career in STEM which is a heavily male dominated field as a woman? What can I do as a 13 year old now even if I don't know what specific career I want to pursue, only that I'm interested by STEM?
What things did you do in middle school to help your career and what you love to do?
Most advice was surrounding taking time to find what you are interested in. One panelist shared about sacrifices that had to be made. Another shared that the 'internal voice' can be discouraging but that it is OK to explore and feel confident in being able to pursue careers in STEM when you hesitate and second guess yourself as a female. Also, that it is OK to explore your interests and that careers and interests are fluid, so you do not have to be stuck on one thing.
Panelists encouraged the girls to try not to feel intimidated by boys in thinking they can't build cars or robots or machines. If they want to do it, then they should go for it. They recommended joining groups like IGNITE Worldwide with all females as one of the panelists does at Tesla. Niki offered important advice: lean in to challenges you face… if you feel like you aren't good at something then try to become better at it. 
The discussion continued at schools even after the panel. For example, at one of IGNITE Worldwide's newest chapters in the Los Angeles Unified School District, high school students noticed that there were students in middle school and asked their teacher why they were not given these opportunities in middle school in their community. The teacher realized that this was really good awareness… why isn't IGNITE Worldwide in all schools?
Thank you to our Tech Host, Jeannice Fairrer Samani, our Facilitator, Holli Honnette at Tesla, and our amazing panelists!
Niki de Leon – Sr Technical Program Manager, Power Electronics
Taylor Steele – Regional Manager, Southern California, Supercharger
Linda Jing – Sr Process Engineer, Cell Engineering
Coco Wong – Staff Technical Program Manager, Energy – Industrial Hardware Engineering
Madeleine Hoell – Charging Engineering Intern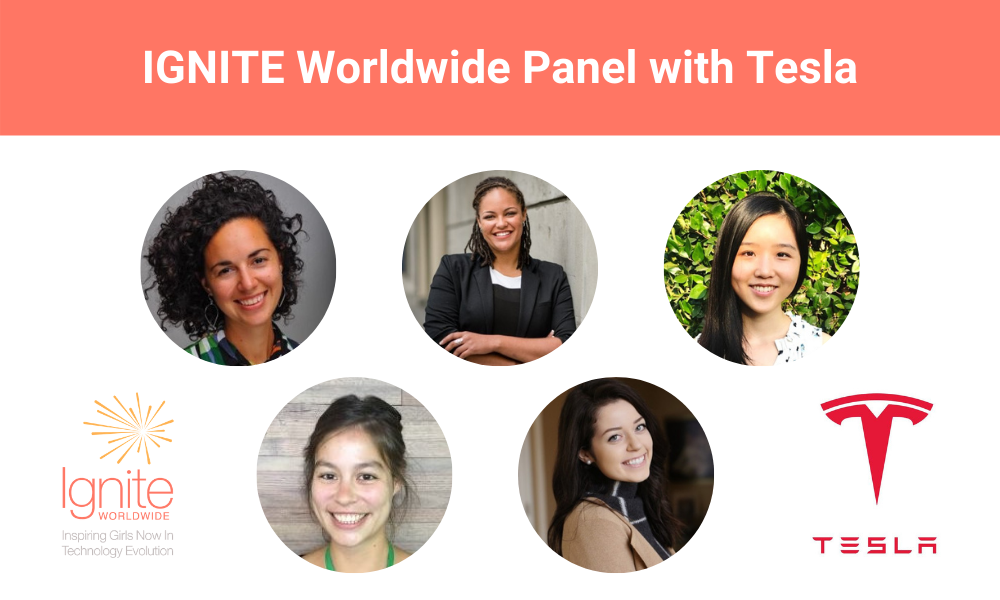 After attending this event:
Here's what the students thought of the event:
It made more exited about stem. It made me realize that there is more girls in stem then I thought. – Grade 6

Today's event inspired me because I got to hear about other people's stories and how they persevered through hard situations. I now feel more confident in pursuing in a STEAM career. Thank you for inspiring me and leading me in the direction of a STEAM career! – Grade 8

It inspired me to see how these amazing women pursued their careers even though there were so many challenges. – Grade 8

Hearing about what kind of jobs there are in STEM and what you do in them and getting a lot of advice about how to explore and combine interests in discovering your career path. It was also interesting to hear how things like clubs, teachers and classes in high school and college can be really helpful and valuable and putting yourself out there to try new things is so important! – Grade 11

You all were so so inspiring and just like…cool?? also?? I'm going to try to start a women's robotics club at my school now… so thank you !! – Grade 10

I would like to say that I aspire to be either and electrical or computer engineer. I look up to you guys because not only have you already accomplished your career goals, but also defeated the stereotype of women in such rigorous field. – Grade 12

The women inspired me to not give up and not be intimidated by boys. Thank you for being interested in me and my future. – Grade 6

Knowing that us WOMAN actually speak up and do what they LOVE showing me what they do and what STEM means knowing that I can do whatever I want when I'm older every lady/women/girl has a choice of what they want to do in their life no one can stop them from saying they aren't allowed to do this or job. – Grade 6

It inspired me to know that I can imagine myself in this job in the future. – Grade 6

I feel as though these women have really helped me in understanding that girls are capable of anything and you will succeed no matter what. Thank you so much for including non binary and your pronouns. I am non binary and it never gets talked about or brought to light. So it was really nice to it done so naturally and normally. – Grade 10

It inspired me by knowing what I might like to do. I was first not that interested in STEAM, now I am. – Grade 6

I am more inspired and empowered to do things that were more labeled as 'men' jobs in the past. – Grade 8

Before this event it seemed like working in STEM was impossible, but after this event it seems easier if I really try. Thank you for spending your time with us. It's really great because it will affect many people. – Grade 8

They were very inspiring, and gave me hope as a young women. I'm looking forward to being more involved in stem now! – Grade 7

It made me realize that there are indeed women that are involved in STEM related careers very high up. At school I'm not that encouraged to pursue math and science so it's very motivational to know that there are so many passionate women out there changing the world for the better and I could eventually become one of them if I put my mind to it and work hard. – Grade 8

I learned about Stem, and they talked about their careers and all the things you can pursue in Stem. It made me get more interested in stem. – Grade 7

I was very inspired by today because of all of the amazing speakers. I learned so much about STEM and I am very interested in engineering. – Grade 8

Today's events inspired me that I am able to have a job in STEM because I have been around strong female role models, but I have never really interacted with women with jobs in the STEM field. Its really inspiring to me because I can do that and do the sorts of things you guys do. Thank you for taking your time to talk to us and for answering my question. Your answer about continuing to try as many things as possible and having an open mind really helped me. A lot of the time I am really scared to try things new because I am afraid I am going to fail, but I am working on being able to go for these even in the face of failure. – Grade 8

This event inspired me by showing me that women can be part of big projects and can make a change. I feel very inspired, and it is ok to go out of your comfort zone. – Grade 6

I've always found stem interesting and I grew up with a mom who is a woman in STEM. But, this event really helped me to see such an inclusive environment and to really get me excited about my future in STEM. I would like to share that I kind of forgot how many careers there are in stem, and seeing such a diverse set of skills among the panelists really excited me about finding a great career. Thank you so much to all of you for opening my mind to the possibilities of Stem. – Grade 8

I find them all really inspiring and they really showed me that as long I have confidence in myself I can work or study in any field I like. -Grade 6

Thank you so much for sharing your life story on how you became interested in STEM. Also, you made me more inspired to go into Biomedical or Mechanical Engineering even though I am not that confident in my math skills. – Grade 12

This event inspired me because I'm feeling more more motivated to going into making and designing a car. This event also helped me by bringing my hopes up that I'm a girl and I can do anything I set my mind to. Thank you you made me feel good about coming here to learn about cars. I also want to say you ladies inspired me to do what I want to do in life and seeing all these races coming together and being able to be accepted in this world motivates me so much Thank you. – Grade 6

I am more confident as a woman pursuing stem. I am more confident in my abilities as a woman in stem. – Grade 10

It inspired me to expand my interests/realize that I do not have to choose one or the other among my interests–there are so many opportunities at the intersection of multiple disciplines that I can pursue. It also made me realize that "do what you love/are good at" does not have to be the end all be all of pursuing a career–you don't have to be naturally "gifted" at something to pursue a career there–you just have to be interested and open to always learning. – Grade 11

I am truly inspired to see women in STEM who work. I am also happy to see diversity. Also it makes me happy to see a lot of people attend this meeting. Also addressing about sexism in STEM field. – Grade 12

This event inspired me because it helped me decide what I would do after high school. It also helped me because it talked about different things about stem. – Grade 7

I really liked how the panelists discussed the imposter syndrome about how it always exists but how to overcome it. I liked how the answer was very real and talked about it as if I wasn't alone. Additionally, I really liked how they discussed doing something you like isn't always what it turns out to be, because it really prepares us for reality and see that it always isn't perfect. You guys are really inspirational and I loved how you connected it to reality, showing that not everything is perfect. I think it was super important to understand that and see how they still overcome the feeling. – Grade 12

During today's event, I learned a lot about how STEM helps in different ways. This inspires me to keep learned about STEM because I really enjoy it. – Grade 7

I think that I got to learn more about the intersection between humanities and STEM. I am on a robotics team, but I don't necessarily work on the robot. I handle everything non-technical, which includes reaching out to the community and writing the engineering notebook. So learning more about how writing and STEM can overlap, like technical communications, was insightful. – Grade 11

Today's event inspired me by seeing how you got there and it made me feel better about pursing a STEM major. It also made me realize that I need to stop being so negative as that really does prevent me from doing a lot of things I'm interested in. – Grade 12

Today's events helped me see that people from different backgrounds can all achieve a career in STEM. You are all really inspiring and I love that you shared pronouns!! – Grade 10

I have always been interested in engineering and the stem field although today's panel really encouraged me to continue to aim for what I'm really passionate about. I was also able to understand that you don't need to focus on one single subject for example as someone who loves math and astronomy, I could pursue a higher education in both of these subjects instead of only choosing one. – Grade 10

I really admire that you all (as females) were able to continue your career. It's just wonderful that we are able to have a greater choice of careers. – Grade 9

This event inspired me to just focus on my goals and to try harder to achieve them. I feel more motivated after hearing them talk about themselves and how they decided or what made them purse a career in engineering. – Grade 11

I have no way to explain it well, but hearing your guys' stories about pursuing a career in STEM makes me think that I can do it if I want. Without having to worry about sexism or anything, I felt alone and this meeting just made me feel a little confident. – Grade 10