On Nov. 20, IGNITE and Seattle Central College hosted the annual GLITTER STEM Conference and the first ever virtual conference! Girls and non-binary students attended from Marysville-Pilchuck High School, Interagency Academy in Seattle, and Graham-Kapowsin and Bethel High Schools in Bethel School District and learned all about the importance of STEM in daily life!
The facilitator, Katelyn Lichte, a Production Engineer at Corteva Agriscience, welcomed everyone and explained that women and nonbinary people are very underrepresented in STEM careers. It is important to have representation in all areas of STEM because science and technology underlie many items we use every day, and these products should be designed with everyone's needs in mind!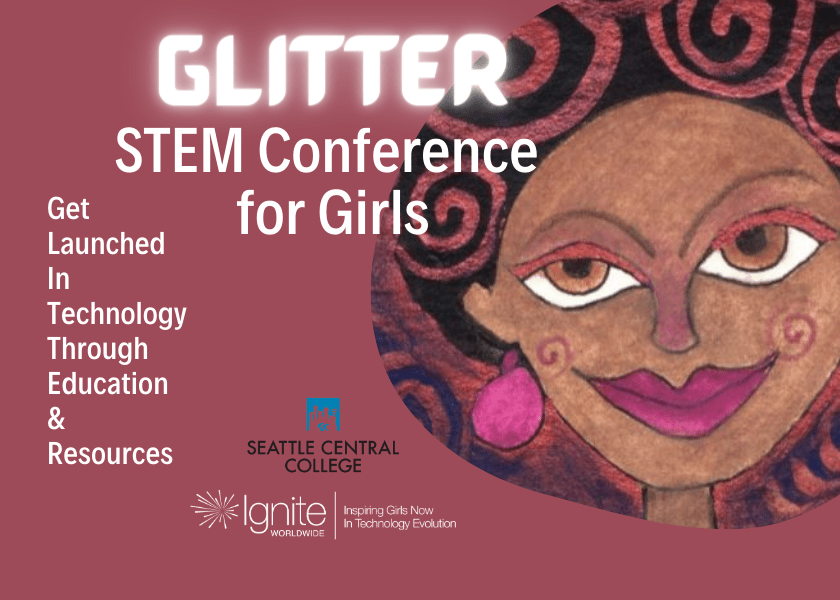 Next, Margarita Elias, a Recruitment Specialist at Year Up Puget Sound, gave a description of the YearUp Initiative, which provides paid internships and technology certifications and mentorship for students. Gina Nakamura, Outreach Coordinator at Seattle Central College, underscored the importance of inclusivity at both YearUp and SCC, which is one of the oldest community colleges in Washington State!
Following the introduction, the girls split into two groups for a workshop on HTML coding, led by SCC faculty members Lisa Sandoval and Ava Meredith. Students got information about online resources like w3schools.com and JS Fiddle, while also learning how various tags can format information. The girls gave input, such as their favorite foods, which was incorporated into the lesson. Finally, they learned how to embed videos into their webpages!
After the activity, students heard from two STEM professionals who are also YearUp graduates.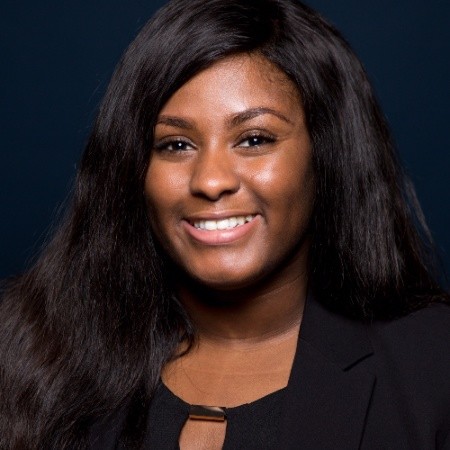 Heaven Hamilton, Infrastructure Project Manager at T-Mobile, emphasized her early feelings of inadequacy in STEM. She described her struggles with math growing up and how for years she thought herself incapable of a technological career. She regrets not believing in herself earlier, but expressed how grateful she is to fulfill her dreams as a technologist!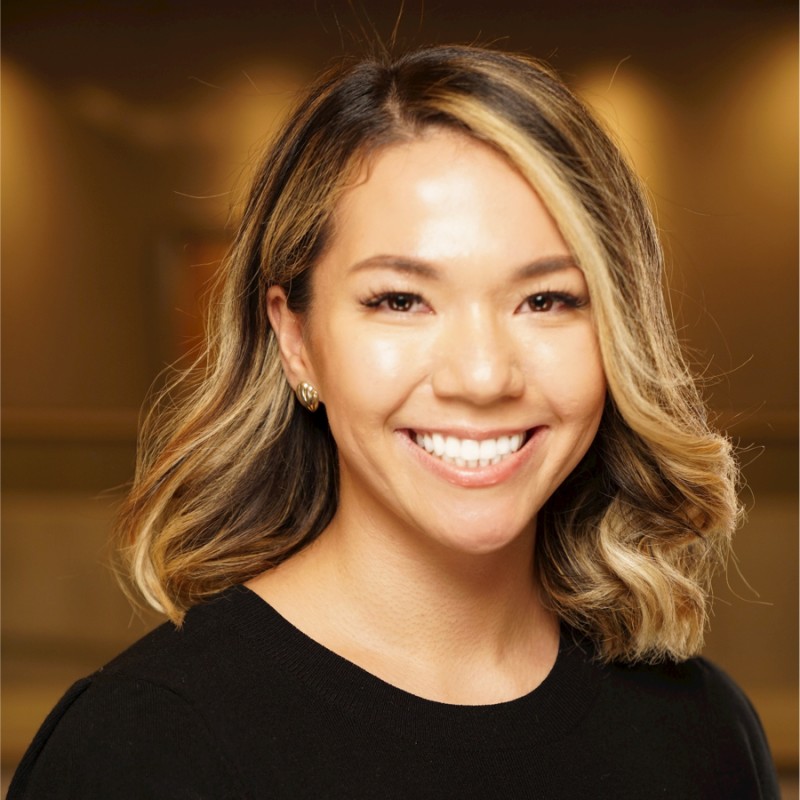 Sophia Price is a Project Manager at Expeditors, which is a global logistics company that works across industries including Aerospace, Automotive & Mobility, Fashion, Healthcare, Manufacturing, Oil & Energy, Retail, and Technology. Sophia also shared that math was difficult for her and that she felt inadequate for a technical career. She didn't initially apply to college and worked retail for a while before deciding she deserved better. This led her to YearUp, and she met Heaven! Sophia wants girls to understand the diversity in STEM topics: "It's not all coding and engineering."
After the panel concluded, the girls had an opportunity to ask their own questions and got some great advice from the speakers:
How did you decide on a tech career? Heaven gained the confidence for a technical career after earning a rigorous business degree. Sophia joined YearUp because it was a generous opportunity, and then later interned at AT&T. She enjoyed the internship, and it was instrumental in shaping her later choices!
What is a project manager? A project manager handles communication, scheduling, and organization for a given project. Sophia noted that many people already use these skills in their everyday lives!
What skills have you learned during the Covid-19 Pandemic? Both speakers emphasized the importance of using this time wisely to gain knowledge about subjects you're interested in by doing things like reading and completing online certifications.
How do you ensure you are treated as fairly as your male counterparts? It is important to advocate for yourself and believe in your own equality, as well as being quick to call out injustice. Be willing to have tough conversations.
What classes should you take in middle/high school? Heaven advised the girls to challenge themselves in school, take more math and science courses, and learn to think in an expanded way. Sophia recommended LinkedIn Learning, coding bootcamps, and open source resources. Take advantage of free tech classes to gain experience and exposure to new things!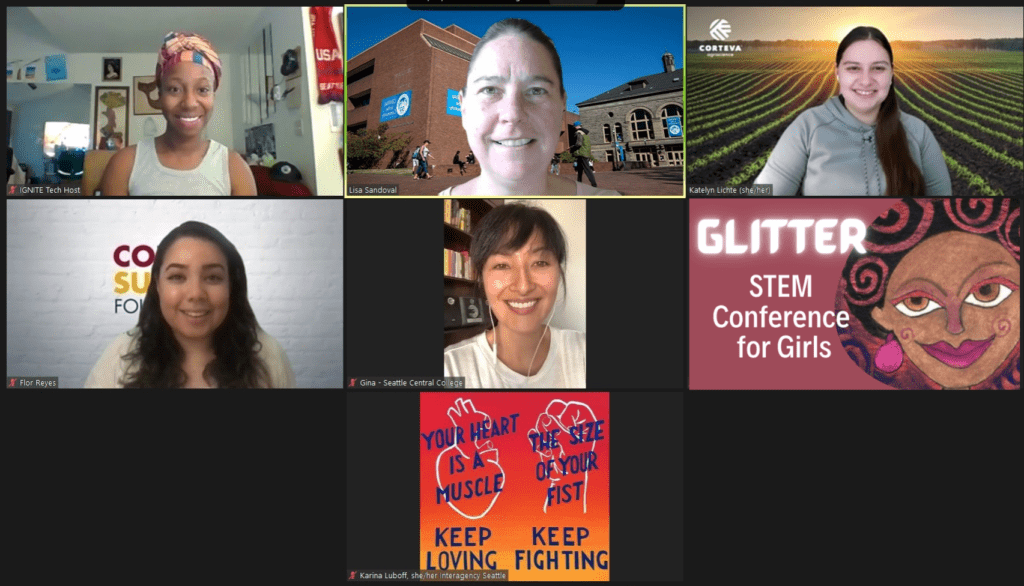 The event concluded with a quick lightning round of advice where each volunteer shared something they wish they'd known when they were younger:
Sophia wishes she had known earlier that there is no shame in curiosity – and how useful Excel is!
Heaven advised against self-limiting beliefs, and suggested networking with classmates.
LaTeefah Johnson, the event Tech Host, shared that she wished she had learned to love herself and be confident in fulfilling her dreams.
Facilitator Katelyn said that failure is a critical part of the learning process. Don't doubt your abilities based on setbacks.
This event showcased strong, independent women that young ladies can look up to. It was a reminder for them to not give up on their dreams and goals, to think big, and not let things stand in their way!
Thank you to Katelyn Lichte, Margarita Elias, Gina Nakamura, Lisa Sandoval, Ava Meredith, LaTeefah Johnson, Heaven Hamilton, Sophia Price, and Sebastian Rodionov for volunteering your time to educate and inspire girls in STEM!
After attending this event:
Here's what the students thought of the event:
"It inspired me to think about what skills and interests I have, what I do from day to day that I am good at, and looking at the relation to some jobs in the STEM field that I'd be interested in. Seeing women in this field being successful also inspired me to look further into STEM and be part of powerful women in this workforce. Thank you for taking time from your day to spend time with us and share some information and teaching us about these things. These times are very weird and we're all going through it so thank you guys so much, I really appreciate you doing this for us!!" – 10th grade

"Thank you for coming in today to talk to us! I've never really considered a STEM field career before or even a corporate job, but I think I could look into it after today." – 9th grade

"It's inspired me to pursue my interests even if I'm scared. It's inspired me to work harder towards what I want even if I'm not the best at it because I can always improve. And that mistakes are okay." – 10th grade

"Today's event inspired me to look into a wider range of career opportunities. I've never been too confident in my math skills and it's never been my favorite topic, so I always thought that I couldn't get into a STEM career. But now that I've learned you don't necessarily have to be the best mathematician to be in a STEM related field, I think it's opened my eyes to the possibilities." – 9th grade

"I liked it! Right now I'm in life where I'm trying to try new things I wouldn't and I liked how when I was in the breakout room we went over a little bit of the coding and it made me kinda interested to learn more. I liked the coding. It was pretty interesting. I am willing to try to learn more." – 12th grade

"I thought today was very cool, I really liked listening to Heaven and Sophia. It's easier to think of me in this kind of field when there's people similar to me in it already. Thank you for talking to us!" – 10th grade

"I like the speakers don't like math. But after hearing them talk about how while they don't they still are successful in the field inspired me to try. Thank you for the information." – 12th grade

"I feel more comfortable in pursuing careers that are not necessarily filled with people of color or women. Thank you for sharing your experiences with us." – 12th grade

"Hearing from Heaven and Sophia! They were incredible, inspiring and truthful. I appreciated their genuineness and insight they offered."

"Thank you for inspiring me to follow what I want to be even if I'm scared. Also for speaking to us and telling us your stories, it's made me more confident to try and pursue my interests." – 10th grade

"My dream career is to be a firefighter. There is only a small percentage of women firefighters and listening to how these women of STEM work with all men but they aren't using that to intimidate them but to push them to be better. I would like to thank the volunteers. I would really like to share to them that they are role models." – 10th grade

"I got inspired to look into a career in STEM. I loved learning how to do HTML. Thank you so much for inspiring me to look into STEM and IGNTE." – 12th grade

"It made me realize how many options there are. And how taking STEM classes can benefit me. They all seemed really cool and just fun." – 10th grade