On Thursday, February 11, IGNITE Worldwide welcomed 50 girls and non-binary students from San Francisco Unified School District to a virtual panel discussion with four women STEM professionals!
Lauren Johnson, program coordinator for IGNITE Worldwide, welcomed the students, teachers, and the panelists and shared background information about gender gaps in STEM. Students learned that by 2028, 4 million job openings will be computing-related! Lauren encouraged the students to consider STEM as a fast growing career path with versatile options from arts and fashion to rockets and more!
The panelists all took turns sharing their inspiring stories and why STEM is important to them: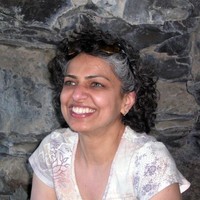 Parul Manek, Director of Program Management at Microsoft, migrated to England while in school and had to learn to read and write in English. Numbers were always her friend, which evolved into an interest in Math and Artificial Intelligence. Parul believes the tech field is interesting since technology can be applied to anything, including helping our current COVID situation! Parul has been in Microsoft for 21 years now, and her advice to the students was: "It's passion not just grades that makes you successful!"
Jessica Gonzalez, Senior IT Consultant at IBM, shared that she always had an interest in business and technology, often pretending to have an office job when she was a child. Initially, her major was in Management, but she later changed to Information Systems due to her affinity for technology. This was intimidating since she was one among only 3-4 girls in class. However, she persevered since she enjoyed applying the knowledge she got from her classes to practical solutions. Her advice to the students was: "If you have a passion for STEM, fight for it!"
Khyati Vyas, Technical Product Manager at Mason, grew up in the United Kingdom after her parents immigrated from India. She initially wanted to be a lawyer (to wear suits and live in a fancy flat!), but later decided to pursue Computer Science. She moved to the United States to join Microsoft, and has since then worked in a number of interesting roles at Nordstrom, Expedia, and now at Mason. She enjoys her current role where she gets to manage the lifecycle of various products from initiation to launch.
Kim Chau, Vice President and GM at Zones, is a big fan of IGNITE and STEM. Her parents immigrated to the USA when she was little. Her family values emphasized the importance of education. She completed her Undergraduate in Electrical Engineering, and then moved on to work at various companies like Ericsson, AT&T, Microsoft, and even NASA! At Zones, Kim now leads a team of 35. Her advice to students is: "STEM equals opportunities!"
After hearing the panelists' stories, students got a chance to ask questions. Several girls asked their questions out loud, and it was great to hear their confident voices! Some of the questions were:
What are the difficulties of being a woman of color in STEM?
What advice would you give your younger self?
What are the options for getting an internship?
How do you develop self-confidence?
What piece of advice has stuck with you?
Key advice from the panelists included:
Believe in yourself! Watch out for the imposter syndrome that makes you question whether you are good enough. If you know your content, the confidence then speaks for itself.
Ask for help – most things cannot be achieved independently.
Advocate for yourself and know that you don't have to be perfect.
Don't be afraid and don't let anyone tell you that you can't!
Don't compare yourself with anyone – everyone has a different path.
Don't sweat the little things!

The students really appreciated hearing from successful women professionals in STEM who have overcome many difficulties. The speakers identified with the students' self-doubt and gave them great advice to help them persevere through difficulties. An important takeaway was that you can overcome challenges in school, in self-doubt, with bullying, and in life and find success in STEM! You don't have to be perfect – you can learn from your mistakes and grow and evolve as you pursue your interests.
Thank you to everyone for attending and asking such insightful questions, and thank you to IGNITE volunteers LaTeefah Johnson and Poorva Arankalle and our amazing speakers Parul, Jessica, Khyati, and Kim for sharing your stories and inspiring SFUSD girls/non-binary students!
After attending this event:
Here's what the students thought of the event:
"I was inspired by the women who are immigrants and had to overcome the language and social barriers in front of them. It's amazing to see people, especially women of color, in the STEM field and as a person of color, this inspired me." – 11th grade

"I enjoyed hearing from such strong, confident women in STEM. This event opened my eyes to different careers and opportunities in STEM that I have not yet considered. For me, pursuing STEM has always been my dream but also has seemed very intimidating. Working in STEM has never felt welcoming to me because of the lack of women in STEM roles. Meeting the volunteers today has inspired me to continue to pursue a career in STEM in the future." – 10th grade

"It was inspiring that everyone came from different backgrounds, but they all work in STEM. I think it helped me see that there are lots of different things that we can do in STEM. I really enjoyed listening to all your perspectives and your journeys. As someone who is about to make my college decision, this really gave me insight on what I want to do in the future." – 12th grade

"I already think that I want to pursue a STEM career. This event just helped me make this decision further. You are all so inspirational and strong. Thank you." – 9th grade

"It's really nice to hear from professionals who have established themselves in a field similar to those I'm aiming towards and seeing that there is a safe place in those industries. Thank you for all the advice you gave today" – 12th grade.

"I was inspired by the stories shared by the panelists today. It was good to know that many other people struggled with the same things growing up, and to see that they have become successful women gives me a lot of hope. Being able to hear more about them as a person and understanding the struggles they went through was very eye opening." – 11th grade

"Today's event really helped encourage me to pursue STEM. I was a bit hesitant before because I am a woman of color. I now know more options in the STEM field. Thank you STEM volunteers! You really encouraged me to look into STEM." – 9th grade

"I really enjoyed seeing other women confident in what they are doing, while also being vulnerable and showing that it isn't always easy. I learned a lot about how to be confident and also that school and grades don't define you as a person." – 9th grade

"I thought the advice and the information given was really helpful for me and also made me hopeful for my future. It's inspired me to pursue internships/clubs in STEM. Thank you so much for your advice and time. It was super helpful and gave me more insight about how it's like to work in STEM." – 10th grade

"I liked how not everyone's story was, "I was always into STEM, and I was destined". Not everyone was a star student, and not everyone was initially successful. It felt more real to hear stories of average people who do awesome things." – 12th grade

"I feel like I have the ability to achieve bigger things. I see challenges as something that helps me grow. You are all very inspiring – it seems so easy but I know it was challenging. I hope that I could become as inspiring as you guys one day." – 11th grade

"This event made me feel very empowered and that it is okay to make mistakes and they might bring me to my ultimate path in life. I also enjoyed hearing the ways to build up confidence because I find that sometimes in STEM classes I leave the questions for others to answer but this panel really helped me stand up and ask questions. I am truly inspired by them and their experiences really helped me."– 11th grade

"It showed me how there are many other people who have been through what I'm going through now and seeing them be successful makes me more confident and positive towards my own future. This event also opened me up to new perspectives and aspects of jobs that I never really thought about." – 11th grade

"Even now, I love to separate things and see how they're made and also love to solder. Knowing there are more people like this, it feels good to know about them." – 7th grade

"I liked hearing about the struggles everyone faced, because it was nice to know that other people went through similar things. Also, it's difficult for me to do speak in front of strangers, but I wanted to say that I really liked all your stories and backgrounds, as it gave me an insight to the STEM fields like Engineering or Computer Science. Thank you for saying that I was confident. I applied to a few internships and activities over the summer, and I want to apply for more because of you guys! Thank you." – 11th grade

"It's really nice to see women in STEM careers and hear about how they overcame struggles on their way to success in those areas. It makes me feel more confident that I will be able to do what I want to do. It was inspiring to get to meet them and hear about their lives so far. I'm sure they have so much more to contribute to the world and I'm excited that I could potentially follow in their paths." –11th grade

"It was cool seeing people of color work in the STEM field and talk about all their experiences. I also learned that you don't need to be good at the "basic" subjects of high school and just do what you are passionate about." – 9th grade

"It was comforting to see other women have struggles that I can relate to. It was even more encouraging to see that they were able to overcome those struggles, and made me feel like one day I'll overcome them too." – 11th grade

"It was a huge motivation to hear all these stories of women coming from different backgrounds, with experiences and so many things that may set them apart, but yet they have a passion and the perseverance to be in fields that seem so intimidating. Thank you for sharing your experiences, wisdom, and overall being a role model for me." – 10th grade

"Seeing the statistic about how many jobs will not be filled made me less worried about having to deal with competition or worry about getting a job after college. Also it was cool to see STEM people who weren't star students. Thank you so much for your insight!" – 11th grade

"I have been to other women in STEM panels before but this one really helped with my confidence. I self doubt myself on every decision I make so it's really nice to know how to get through it and that I'm not the only one. I am very grateful for these women coming out and talking about their careers." – 9th grade

"I heard from women who didn't start with the greatest aspects and weren't thinking of STEM at all but still ended up where they are now: Happy. It gives me hope that although I feel like I'm not doing enough or that other students are better than me or colleges will completely overlook my application I still have a chance. It was emphasized to be confident in myself so I will work on that and hopefully that will be reflected in the activities I will be doing!" – 11th grade

"I felt reassured in knowing that I'm not alone in doubting myself sometimes, and that's it's totally okay to feel that way and it's important to surround yourself with people who support you. Thank you so much for coming! I enjoyed hearing all of your stories and experiences!" – 11th grade

"I got inspired by the fact that so many people encourage me for what has been my dream for so long. Knowing that there is so much space for me, this makes me feel positive. I'm very happy I got to know you. Seeing that women are expected in STEM makes me feel much more confident." – 6th grade

"I learned that everyone has impostor syndrome sometimes, but you shouldn't let that stop you from pursuing your passion. Furthermore, it is fine (and even recommended) to try out challenges you might not be so sure about. You definitely inspired me today and I learned a lot :)" – 10th grade

"It inspired me to keep going because I have a much brighter future ahead. I'm also inspired to keep learning and searching for new opportunities, even in the midst of Covid-19. They helped me become more comfortable and confident with pursuing a career in STEM. They also helped me realize that everyone has a different journey and as long as I am able to meet my end goal, I shouldn't beat myself up over mistakes but rather learn from them." – 9th grade

"Today's event inspired me by showing me all the possible STEM career choices I can choose from. I was inspired mostly by coding. I am surprised by how not many girls are in STEM jobs. I hope that I can fill one of these jobs in the future." – 6th grade

"It told me that there are job openings in STEM and that there are people like me who want to pursue STEM or already doing so. Thank you for sharing about your experiences! You gave me confidence to pursue what I want to even though it is not really that popular among females." – 9th grade

Hearing everyone's story was amazing. It made me realize there are others like me. Thank you for taking time out of you day to speak with us." – 11th grade

"Today's event was definitely very informative and encouraging. In the beginning, I was a little nervous perusing a career in the STEM field but seeing other women accomplishing amazing things was very inspiring. I really enjoyed your presentations and all the helpful advice you gave. It was all incredibly inspiring and motivating. Thank you!" – 11th grade

"It was inspiring to see so many strong women doing what they love. All of their advice was very helpful. It was amazing to listen to them." – 9th grade

"I was able to see more people like me in careers I would like to pursue. They also gave really great advice. Thank you so much! You have really inspired me." – 9th grade

"It was inspiring to hear the stories of people who had years and years of experience working in STEM and being successful. I was also inspired in hearing about their paths into STEM. Thank you, thank you :)" – 12th grade

"This event inspired me by showing me the variety of STEM careers that are available to pursue. I enjoyed learning about each STEM field. I would like to thank the volunteers for sharing the STEM careers that they are in. Each career was very interesting and has given me more options of STEM careers to pursue." – 11th grade

"Seeing other successful women in STEM showed me that I was not alone in my pursuit of a STEM major." – 12th grade

"Seeing strong women who are where they want to be inspired me." – 10th grade