On April 14th, IGNITE Worldwide welcomed girls and non-binary students from South San Francisco Unified School District and Jefferson Union High School District to a virtual panel with women in STEM!
To start, students participated in a poll that asked, "25 years ago, 37% of computer science graduates were women. What percentage of women were computer science graduates in 2019?" Students were surprised to learn that the answer was "26%" and that this percentage has decreased over time. They also learned that of this 26%, only 9% are women of color. The poll highlighted the importance of the panel and IGNITE's mission to inspire girls and non-binary students to pursue careers in STEM!
The students then got to meet four amazing women in STEM as the panelists took turns sharing about their unique backgrounds and journeys in STEM careers.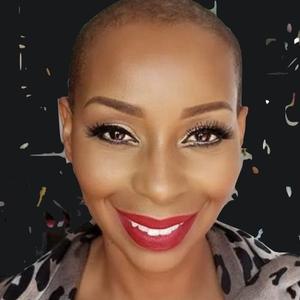 Mukami Kinoti Kimotho, Founder, CEO & Chief Girl Crusader at Royelles Inc, was raised by parents whose lives revolved around STEM (a pharmacist and a doctor) and who reminded her that she could do anything she put her mind to. Still, never in her wildest dreams did she imagine that she would become the CEO of a technology company! Mukami's degree in management information systems paved the way for her incredible career where gets to do work that makes a difference in the lives of others.
Radha Mathur, Product Manager at Google, is the first in her family to gain experience in STEM and to develop know-how in technology! She credits having inspiring teachers growing up who encouraged her to consider a career in tech. Radha found that as her interest in tech was developing, the key was her being able to adapt a lot in order to find the right role for her.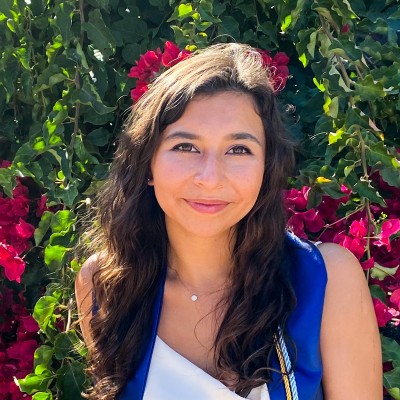 Milena Gonzalez, Program Manager at Xbox/Microsoft, always loved science and participated in her middle school robotics team, but never pictured science being more than a hobby. After participating in Girls Who Code, Milena was sold on tech and the immense impact technology can have on the world! Milena's leadership experience in college, especially around making computer science education accessible, helped her get noticed by recruiters and land her current job!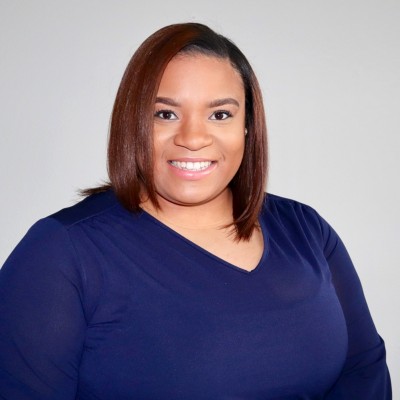 Dominiqueca Edwards, Industrial Engineer at Boeing, loved math and science and was encouraged to look into engineering when she was in middle school. In high school, Dominiqueca took engineering classes and was eventually introduced to the National Society of Black Engineers. She quickly realized that being an engineer was the job for her and that it would also afford her the opportunity to see the world! Dominiqueca credits her college experience for molding her into the woman she is today, and now she works for one of the best engineering programs!
The students then got to ask the panelists questions, which focused on how they got to where they are now in their STEM careers and tips for success when pursuing STEM. Panelist responses came down to three main pieces of advice:
Don't give up!
You might be the only female on a team and that's okay!
Don't let someone else take away the things you need to reach your goals!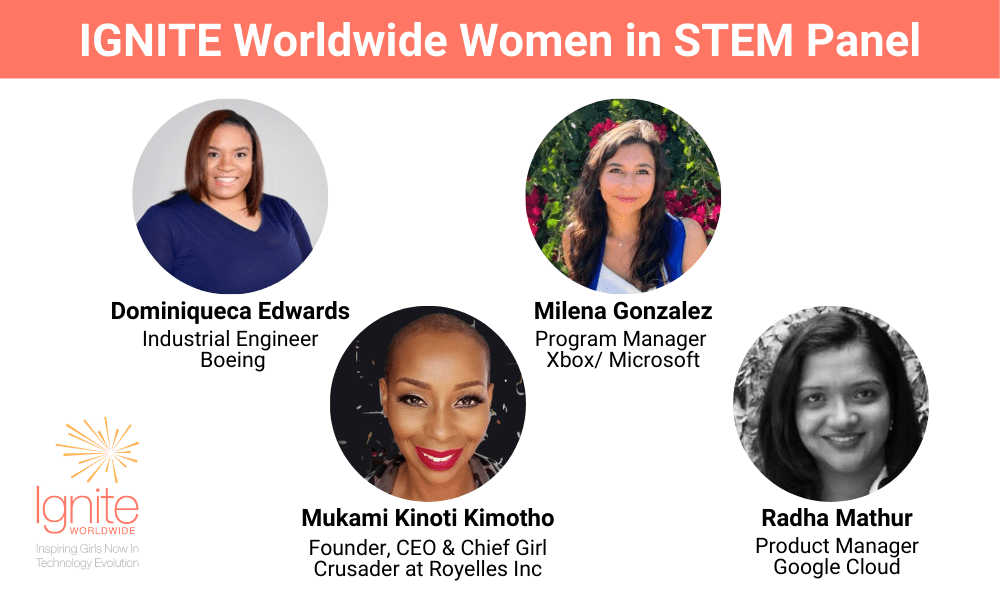 A huge thank you to Facilitator LaTeefah Johnson, Tech Host Carol Madison, and our amazing panelists Mukami Kinoti Kimotho, Radha Mathur, Milena Gonzalez, and Dominiqueca Edwards for hosting such a wonderful panel and inspiring every girl and non-binary student in attendance!
After attending this event: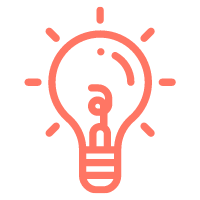 100%
of students are interested in STEM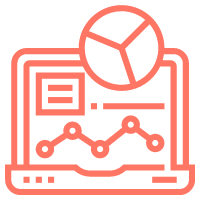 85%
of students know more about STEM career choices and the benefits of working in a STEM field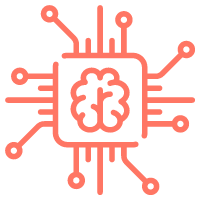 95%
of students feel more confident in pursuing STEM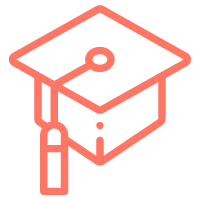 90%
of students gained perspective and feel more hopeful about the future
Here's what the students thought of the event:
"Being able to see successful women in leadership positions in STEM fields inspired me a lot. Also, hearing them acknowledge the difficulties and explaining how they overcame them helped me to become more confident in myself and in exploring more about STEM fields." – 11th grade

"Everyone on the panel had the best answers to the questions and radiated boss girl vibes! I love to see women just like me in that powerful position in STEM. This gave me so much hope and inspiration for my own future!" – 12th grade

"I liked seeing people from different backgrounds working together and I now have high interest in working in STEM." – 12th grade

"Today's event definitely gave me the confidence that I needed to pursue STEM, especially as a woman. The event was smooth and very full of useful information." – 10th grade

"I could relate with the experiences of the panelists, and seeing that they still rose above their obstacles and pursued the field they loved inspired me. I've been in chess clubs and tournaments, where I am the only girl or where there are far less girls participating. I found it encouraging to see their confidence, perseverance, and strength despite their challenges." – 8th grade

"Hearing all of your stories and advice was very grounding and helped me become more confident in my future." – 11th grade

"Thank you so much for taking your time and energy to be at this event! I am so inspired by all of your stories." – 12th grade

"Your confidence, resilience, and spirit helped me know I can be like you and be successful in the field I want to be in, even if I don't see a lot of people like me. I will take your advice with me, and I hope to have a future career in STEM too." – 8th grade

"Thank you to everyone that volunteered to speak with us today. Everyone gave me the reassurance and confidence I needed in making my decision to continue pursuing STEM and I'm really grateful for everyone's time." – 10th grade