On October 27th, 2021, women from Dolby.io at Dolby Labs logged on to take students from Grandview High School on a virtual field trip. Social Impact Manager Simone Price, who was the Facilitator for this event, introduced the company, the emphasis they place on STEAM, and the importance of having a broad range of designers for technology that will be used by all sorts of people.
The students then heard from four panelists who hold a wide variety of roles.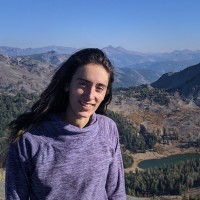 Gianna Scioletti, Software Quality Engineer, participated in a high school robotics club where she got to experience how fun it is to work hands-on with others to create a complex system. In her role at Dolby.io, she gets to "break things" to find product shortcomings.
Jaye Sosa, Media Specialist, uses her background in audio engineering to help customers with audio problems record and mix better. She was also very involved in band in high school and continued exploring her passion in college, where she majored in music technology and minored in computer science.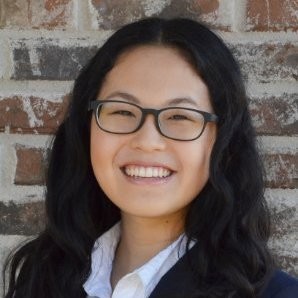 Jessica Zhu, Developer Marketing Specialist, runs social media accounts, leads swag (branded merchandise) programs, and shares the products developers are making with others. She loves that she gets to collaborate with all sorts of people in her role and be very creative.
Katie Gray, Software Engineer, makes demo applications that help developers use various tools. She was heavily involved in band and choir in high school and moved from education into her current role as a software engineer, allowing her the ability to support her family financially and still pursue her passion for music in her spare time.
After listening to each woman's story, the girls got the opportunity to ask questions and got insightful responses:
What can I do to prepare to work for a STEM company?
What classes do you recommend taking in high school for a stem career?

What can I do now to learn more about my career options in STEM?

How do you approach solving problems?
What does a typical day at work look like?
Panelists' responses included:
Take coding/computer sciences classes through your school or free online!
Be ambitious and don't lose sight of your mental wellness.
Keep going to events like this and talking to as many people as you can.
Break problems down into pieces and ask specific questions.
Never be afraid to ask questions, get out of your comfort zone, try new things, and experiment.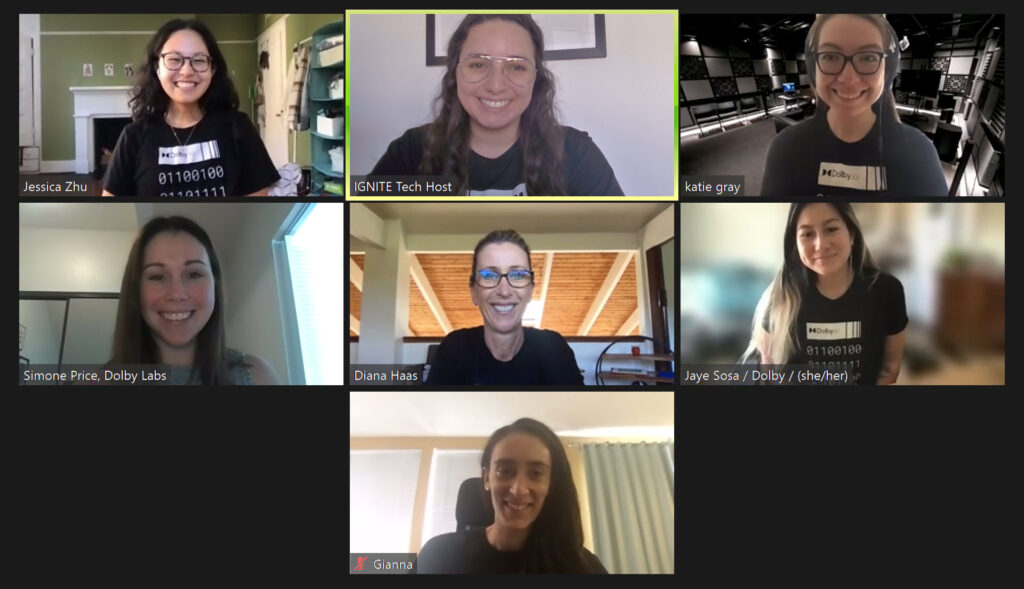 After the question and answer session, students broke into small groups to make an app to delight their friends on Halloween. They learned about APIs (application programming interfaces) to help connect to app features like calling friends, playing spooky music, and locating nearby haunted houses.
Thank you to Jessica, Jaye, Katie, and Gianna for sharing your stories, to Simone for facilitating the discussion, fellow Dolby.io volunteers Kara Petros and Diana Haas, and to Yeraldi Espino Gutierrez and Mackenzie Charvet, Grandview High School Advisors, for your time! Thank you to Blogger Rachel Martin for capturing this event, as well as to IGNITE volunteer Dhriti Roy for attending!
Read more about the Dolby team's best practices and reflections on this event on their blog!
After attending this event:
Here's what the students thought of the event:
"This event inspired me by showing that it is possible to proceed in a career in any field of STEM. It also inspired me to think about classes I should try to join to learn more about a career." – 10th grade

"Today's event inspired me in many ways—with this being my first year in IGNITE I've learned so much about this club. I also feel more confident to pursue other challenging things." – 9th grade

"This event inspired me to look into more options for studying STEM and jobs." – 10th grade

"It showed me how fun STEM can be and how creative you can get." – 10th grade

"Today's event inspired me a lot in many different ways." – 10th grade

"I was inspired to know I could do STEM and marketing at the same time." – 10th grade

"Today's event inspired me to be able to do STEM." – 9th grade

"It seemed like it was a very welcoming and comfortable environment to be in." – 10th grade

"Today's event inspired me about the many opportunities and careers STEM has to offer." – 10th grade