On February 15, 2022, IGNITE Worldwide middle school students from Bethel School District in Washington attended a Virtual Cybersecurity Workshop with Microsoft. During the event, women engineers spoke with the students about their interest in STEM, cybersecurity, and related careers.
Students learned more about jobs in tech and historical women in tech by playing a short trivia game. Then the students learned about common threats like phishing, how to stay safe online, and about encryption. Afterward, Facilitator Kristi Yankacy shared Microsoft's mission statement, which is to empower everyone to do more. At Microsoft, there are cybersecurity roles making products and hardware more secure, as well as hackers who are there to find weaknesses so they can be fixed before products are released.
After the introduction, panelists told their stories.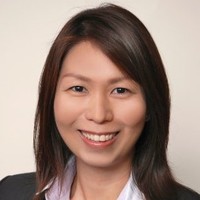 Sufen Fong, a Program Manager, works with hardware. She grew up in Singapore and became interested in technology during her senior year of high school, so she had to work hard to catch up in physics and math before studying electrical engineering at Stanford.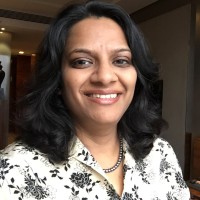 KR Shubha, a Principal PM Manager, was inspired to get into tech as a child because she wanted to find an easier way to brush her teeth. She grew up in India in a family of scientists and engineers and was also inspired by her parents and sister. She enjoys working with teams and customers to find solutions to problems.
Andreea Pintillie, a Senior Software Engineer, wanted a career with flexibility because as a kid she didn't want to have to get up early. She didn't have a computer at home but learned through school and events organized by an IT teacher. One interesting project was trying to secure a Furby.
Students asked the panelists questions.
How do you prepare for a job interview?
How long did you go to school and were you an intern?
Do you enjoy your work?
What would you do for work if Microsoft or technology didn't exist?
The panelists had great answers to these questions. Many of the panelists said they would be teachers, perhaps teaching computer science, if they couldn't work in technology. Some of their favorite things about their work are learning, working and collaborating on projects with talented people, and being able to have a big impact on many customers. Students learned that there are many educational paths into tech—one panelist started working with an associate's degree and continued her education while working, and others had graduate degrees when starting their careers.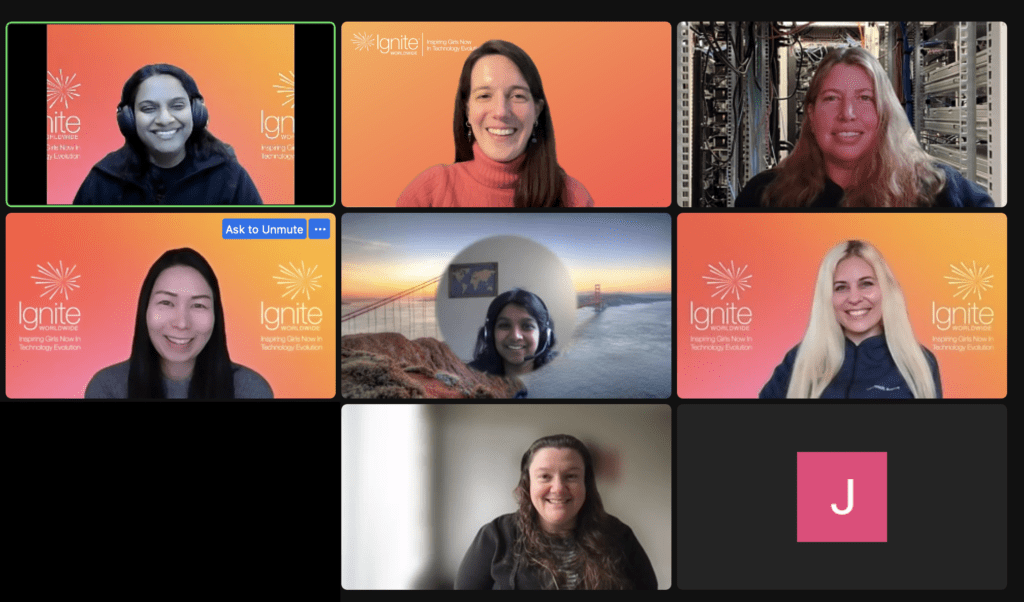 Panelists also recommended beginner-friendly platforms and languages such as Scratch, tinker.io, and Python for students interested in learning how to create websites and code games.

After the panel, students completed an encryption activity in breakout rooms with Andreea, Shubha, and fellow Microsoft volunteers Kierstin Matsuda and Nikhita Vandanapu. They used a Caesar cipher, a type of encryption in which the letters of the alphabet are shifted a specific number of characters. They used this to encode a message and send it to the other participants in chat along with their number "key" so the message could be decoded. They also learned how to decode a message using a key.
We would like to thank all of the Microsoft volunteers who made this event possible, including Panelists Sufen Fong, KR Shubha, and Andreea Pintillie, Facilitator Kristi Yankacy, Breakout Room Leaders Kierstin Matsuda and Nikhita Vandanapu, and IGNITE Bloggers Ariel Altaras and Julia Huang.
After attending this event:
Here's what the students thought of the event:
"It helped me to realize that other people who felt this dream was impossible were here as well. And the origin backstories of some of the presenters were pretty funny. Thank you for taking the time out of your day to tell us students about STEAM. " – 8th grade

"I think it showed me that woman and nonbinary people can do as much as a man can and that inspired me a lot." – 8th grade

"It inspired me to learn more about my future and what I can do when I grow up. This also helped me learn about people in the STEM career path." – 7th grade

"It showed me why I should pursue a career in STEM and why it will help me be successful in the future. I now feel comfortable pursuing a career in STEM." – 6th grade

"It inspired me to chase my goals more and to start being more involved in learning about STEAM." – 8th grade

"Today gave me a new perspective on STEAM. Thank you for giving me a new idea about what I could do in the STEAM and STEM community." – 7th grade

"Caesar code is really fun!" – 6th grade

"I actually want to learn how to code as quickly as possible so I can make this game that can be played in school and is pretty fun for everyone." – 8th grade

"Makes me wanna practice coding more often, pretty cool." – 7th grade

"This inspired me to want to participate in STEAM. Also to learn more about technology." – 7th grade

"This event inspired me to learn more about the letter code. And it made me inspired to learn more code." – 6th grade

"I am now inspired and want to go home and try to trick my family. It would be fun and cool to keep doing this." – 7th grade

"The event inspired me to learn about the different things that happen in STEM." – 6th grade

"I would like to be a game designer and/or streamer to make people all around the world feel the same way I feel about games and I hope to take them out of a bad place and put them in a good place and make them happy." – 8th grade

"It has inspired me in so many ways as a girl." – 8th grade

"I want to do more now. I hope to do it later on." – 6th grade