On February 22, 2022, girls in 6th and 7th grades at two public primary schools in Kałuszyn and Warsaw, Poland participated in an IGNITE event with Ms. Alicja Gąsior, a business analyst at Roche Global IT Solution Centre.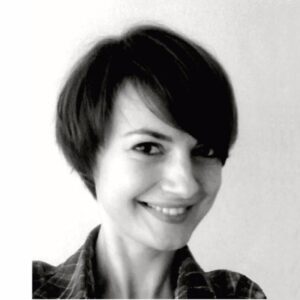 Alicja had many hobbies as a young girl, including painting, sports, theater and math. When she finished primary school, Ms. Gąsior chose a high school without a specific focus because she had so many passions. As a teenager, she decided to study spatial management, designing how cities develop, since it combines her hobbies–drawing and engineering. She would. After graduation, her first job was in the IT sector, which she was glad to find was a good fit.
Ms. Alicja decided to continue on the IT path, and now, as a business analyst, she designs web pages and applications rather than cities. She enumerated the steps off this process:
Collect data from the client
Write out requirements and draw the mockup
Programmers code the application
QA's (quality assurance engineers) test the application
Client tests the application to confirm whether all their requirements are fulfilled
The application is published.
Alicja shared that also conducts virtual meetings, collects data, collaborates with the programmers and creates prototypes. In all her work, visual and analytical thinking are very useful.
As a demonstration of what her work looks like, Alicja asked girls what they would like to get for their birthday – in order to show how her work looks. One girl said that she would like to travel to Italy, and Alicja asked questions to clarify her needs including:
What means of transport would she would like to get there?
What kind of accommodation would she choose?
She also demonstrated that the first sketches are very important in creating an application through a TikTok mockup.
Students were very engaged during the meeting and shared about their own hobbies, including reading, writing books, drawing, horseback riding, and cooking. They also talked about applications including Legimi (to read books) and Spotify. Alicja has recently discovered TikTok herself.
We would like to thank Alicja Gąsior for sharing her inspiring life story with the students. Special thanks to Ms. Krystyna Wasiluk and Mr. Marcin Leśniewski, who coordinated the groups and encouraged girls, and thanks as always to IGNITE Worldwide CEO and Founder Cathi Rodgveller for her inspiration.
After attending this event:
Here's what the students thought of the event:
"I liked the way Alicja talked about her job and her passion for her profession. I was inspired by the fact that despite having many hobbies from various fields, you can find something that will bring them together." – 6th grade

"Incredible and inspiring activities that make me more determined to look for a job that really interests me." – 6th grade

"I was inspired by the fact that so many skills can be put together." – 7th grade

"The event was inspiring and very interesting." – 7th grade

"I was interested in the story about her job." – 6th grade

"She is cool and has a great job." – 6th grade