On Wednesday, February 23, IGNITE welcomed 4th and 5th grade students from Camelot Elementary School in Auburn, WA for a Show-and-Tell Mini-Panel featuring local women in STEM.
IGNITE Program Director and Facilitator Lauren Johnson and Tech Host Juana Rudati welcomed students to the event and shared that STEM stands for Science, Technology, Engineering, and Math. IGNITE aims to teach students about jobs in different STEM fields and inspire them to apply one day!
Lauren shared that many different experiences we all have every day are influenced by STEM professionals, from using the computer or phone to watching a movie or listening to music! Lauren then asked the speakers to introduce themselves.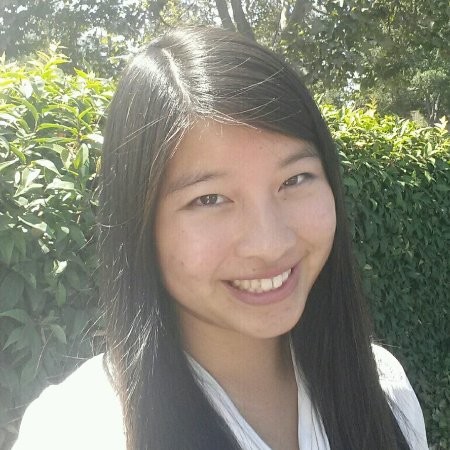 Megan Schumacher, Data Scientist at Microsoft, works on algorithms to create recommendations for customers, similar to how Netflix and Disney+ make recommendations based on shows and movies you watch. Megan likes working in STEM because it allows you to affect people's lives as well as afford things like travel, a house, and more. Megan loved to play soccer and go biking as a kid, and she shared pictures of her childhood activities and her family. She was never interested in technology and even had a flip phone as a senior in high school instead of an iPhone. She did DigiGirlz, Microsoft's free 1-week program for high school girls, and realized that STEM actually was for her! She decided to major in computer science in college—even though her parents didn't initially support that decision, she persevered and it's been totally worth it. Megan now has a job she can do from anywhere with an internet connection and she loves it. She showed off her work "uniform," which includes slippers and a blanket!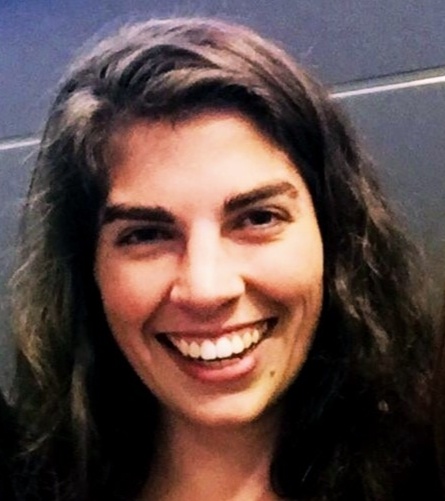 Casey Burt, Flight Test Engineer at Boeing, wears her high-visibility vest at her office, which is on an airplane! She wears headphones to block out sounds and speak to other engineers over the roar of the plane. She put on her headphones to show the students but then had to take them off because she couldn't hear! Casey tests the different parts of the airplane to keep things safe for people traveling. She loved reading and enjoyed math in elementary school, and was very shy. She first learned she loved STEM when she was mastering her times tables in fourth grade. She continued with FIRST robotics soon after. When she got to college, Casey actually failed her first physics exam, and made some tough decisions to prioritize studying over other fun activities and ultimately passed the course. She gets to learn something new every single day and wants others to have the same opportunities that she does. It can be hard, but you can excel in STEM!
After meeting the panelists, the students asked a lot of great questions:
How long have you been doing your job?
Megan has been in her role for 3.5 years and did similar things in college before that to explore her interests, taking classes in robotics and artificial intelligence, among other things. She also did three internships and all of these experiences helped her discover what she was most interested in for her first job after college. Casey has been at Boeing for seven years, and the whole time has been fun!
How did you find your job?
Casey went to a career fair and met people from Boeing, and then applied for the job. Megan explored different options through internships and other learning opportunities.
When you're designing things, how much math do you have to do?
Both speakers said that STEM does not always mean math, and you can do a lot without calculations. Data science does involve math, but it's related to design and finding out the best way to serve customers.
What is your favorite thing about your job?
Casey gets to fly on airplanes as part of her work! Megan loves the people she works with and the products she works on because millions of people around the world use them.
How many years of college do you have to go through to get one of these jobs?
It varies! A lot of jobs like these are available even with 0 years of school after high school! The majority of people Megan works with have Bachelors degrees, about 4 years of college, and many have Master's degrees, 6-8 years. Megan is getting a Masters degree right now and Microsoft is paying for most of it!
When you design things, do you also get to build them?
Casey does not do both, because it would be too much work to do both! Megan gets to help contribute to a team that does a lot of coding, but doesn't do it all herself. STEM involves a lot of teamwork!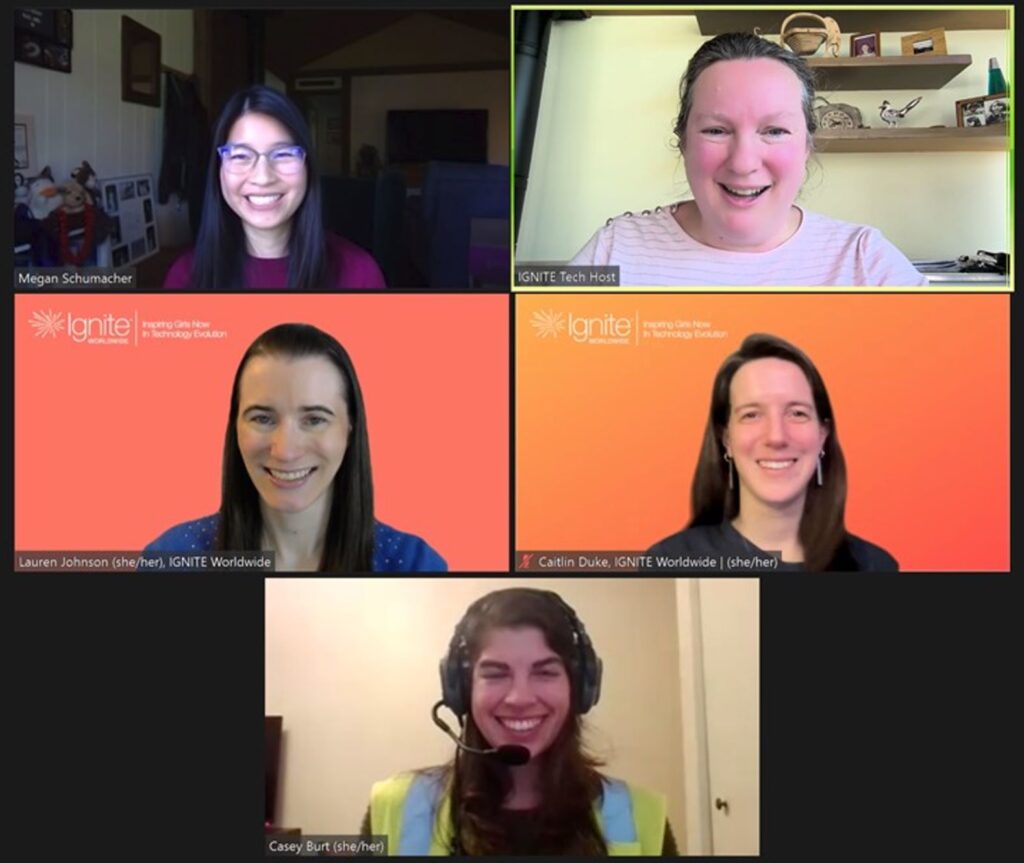 To end the event, each speaker shared one thing they wish they had known in elementary school:
Casey: Be brave and try new things, because you never know if you like it until you try!
Megan: You don't have to know anything about something new before you try it. Explore, have fun, don't worry if you don't know something new, and just try to learn about what interests you!
Thank you to Camelot Elementary School for bringing so much energy and enthusiasm to this event, and thank you to Megan Schumacher, Casey Burt, Juana Rudati and the IGNITE team for inspiring the next generation of women in STEM!
After attending this event:
Here's what the students thought of the event:
"Now I know I can do anything when I grow up." – 5th grade

"Just seeing and hearing people and important women inspire me to work hard for my dreams."  – 5th grade

"I have picked a good career and I will have amazing people to work with. Thank you for letting us hear you today."

"It helped me be more confident to join STEM." – 4th grade

"I'm inspired because you can be a lot in the world. I will be working at Boeing." – 4th grade

"I want to be an engineer. I want to build something new." – 4th grade

"It inspired me about science and how it worked." – 5th grade

"[inspired me to] do more in my life." – 5th grade

"Casey [inspired me] because I also like flying planes." – 4th grade

"It was fun to learn about cool jobs." – 4th grade

"You are all very nice and your jobs seem fun." – 4th grade

"They are very inspiring." – 5th grade

"[It inspired me to] learn more about STEM jobs. Thank you for doing this." – 5th grade

"I liked everything!" – 4th grade