On February 17, 2022, 15 girls in 6th and7th grade from two public primary schools in Radom and Bukowina Sycowska in Poland participated in an IGNITE event with Ms. Magdalena Jaworowicz, a co-founder of Polish Professional Women of Silicon Valley and a marketing expert in the field of technology.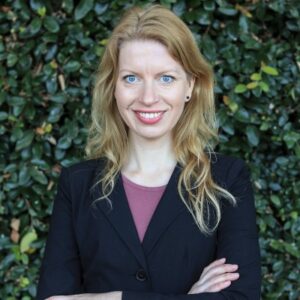 Magdalena grew up in Warsaw, and is now a Project Manager at 10x Genomics. Her mom was a teacher and her father was an engineer who sometimes brought home the machines which he developed. Ms. Magda was more interested in machines than dolls, but her father didn't want her to focus on engineering for safety reasons.
In school she was considered a humanist, so all her choices were constrained by that designation. That's why she decided to choose a general course of study in high school with a strong aesthetic component combining cinematography, theater, and commercial production, as well as other artistic and creative means of expressions. Later she decided to study Polish philology and got a PhD in media communications.
One of her first positions was with the company Legrand, where she could combine her creative and communication skills with her interest in technology. Her main duties included preparing commercials from scratch showing house automatization services to attract consumers.
Her next job was at Omron, a company that creates robots for different purposes. Her main duties were also related to communication, like preparation for fairs and presentation of robots to clients. During this work the opportunity she had dreamed of, moving to the United States, became possible, and she achieved another long-term goal.
Ms. Magdalena told the girls that the thing that helped her in her career was her creative way of thinking, moreover all of her employers have appreciated her for speaking boldly and for asking questions. The expert advised girls to be self-aware of their deep needs, and to make decisions that are not based on their fears.
The expert asked girls how we could use robots in other ways. The participants had many interesting answers. We would like to thank Ms. Magdalena Jaworowicz for the amazing event and sharing her passion. Special thanks to Ms. Katarzyna Kwiecień and Ms. Agnieszka Krasicka, who coordinated the group and encouraged girls, and we would also like to thank IGNITE CEO and Founder Cathi Rodgveller for her constant support.
After attending this event:
Here's what the students thought of the event:
"She is a mega inspiring person and it is great how much she has achieved and where she is now." – 6th grade

"The classes she conducted were interesting and encouraged me to pursue the profession of an expert in the future." – 6th grade

"Today's workshop was very interesting, and I'm looking forward to more." – 6th grade

"I liked the event and it inspired me. I liked how the expert talked about her profession." – 6th grade

"I was surprised that the humanist had good contact with engineers, and the cooperation of employees with employers." – 6th grade

"It was great to listen such an interesting story." – 7th grade