On June 9, students from Cedar Heights Middle School and North Whidbey Middle School in Washington joined IGNITE's final event of the year, a virtual panel featuring five women STEM professionals!
Facilitator Angela Lovest welcomed students and shared how integrated STEM is in everything we do, from computers and phones to medicine and sports—and even developing new ice cream flavors! Besides offering a huge variety of careers, STEM jobs are also readily available. Students were surprised to learn that in just a few years, college graduates are projected to fill fewer than 20% of computing-related jobs!
After this welcome, Angela introduced the panelists: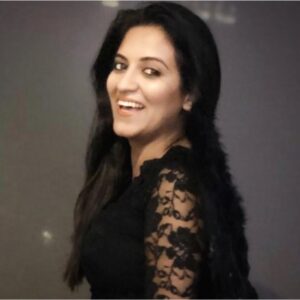 Aditi Saluja, Lead Data and Applied Scientist at Microsoft, grew up in India, where her interests were puzzles, chess, and playing logical games. Her job allows her to solve puzzles and help build new, exciting things, like driverless cars! She encouraged students to find their passions and see what jobs align.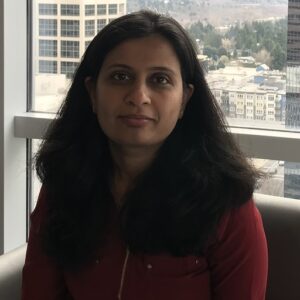 Arathi Shamakumar is a Principal Engineer at SAP Concur, a global company that builds software solutions to solve complex business problems. She was an average student growing up but then had the top score on an 8th grade math test, which helped her realize her interest in math. Arathi earned her Bachelors in Computer Science and Engineering in India, and then moved to the U.S. for her Masters in Computer Science—which was the first time she had her own computer!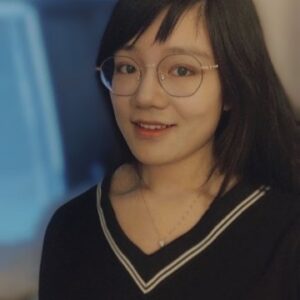 Judy Ji loves solving problems and gets to do that as a Stanford Science Fellow focused on physics research. She showed off her lab and all sorts of research tools! Judy stressed that being good at STEM isn't about being good at subjects like math or physics, but about doing it and practicing. In high school, she failed her first physics exam; now she is one of the youngest women ever to publish a first author paper in a prestigious academic journal!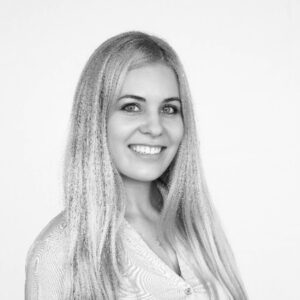 Kierstin Matsuda, a Program Manager at Microsoft, works in cloud security and with internal "good hackers" who try to hack into Microsoft networks to help fix security vulnerabilities. Growing up, Kierstin enjoyed dance, art, and music. In college, a teacher recommended coding as a great space for creativity, and Kierstin loved it! She said STEM is the best outlet for creative people, and, unlike many creative pursuits, you get paid very well!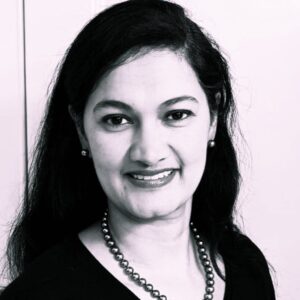 Priya Narayan is a VP, Technical Product Management, at AmeriSave Mortgage Corporation, which makes financial software for people who want to buy homes, make home improvements, or just borrow money. She initially wanted to be a nurse because she admired their passion and empathy, and how they used their skills to comfort and help people. In her job now, she loves that she gets to interact with a lot of people, understand their pain points, and be creative to build software products and technology that is usable for a wide range of people.
After meeting the panelists, the students got a chance to ask questions:
Do you have any tips on how to code more efficiently? Just try it! Part of the fun is thinking and working through it. As you go you learn what you can change or optimize and try different technologies and tools. Start simple and then build, and growth and efficiency will come naturally.
What motivates you to do what you do? Aditi is motivated by her passion to build something new and striving to reach the level where she wants to be. Judy's motivation is thinking about how her work benefits humanity, such as a project focused on solving air pollution.
What can we do now to prepare for a career in STEM? Panelists recommended internships (which don't need to be "official" internships but can include any kind of work-based learning), job shadows, summer camps, high school programs, and free online courses and building tools. Arathi mentioned that in addition to technical skills, it's important to build soft skills like communication so you can explain ideas and convince people to use ideas.
What is the most rewarding part of your job? Judy loves solving hard problems. She said that 99% of the time you're experiencing failures, but when you succeed all the trials are worth it! She also finds mentoring rewarding because it builds young people's interest in the field. For Aditi, the ability to be creative is rewarding—and so is good pay!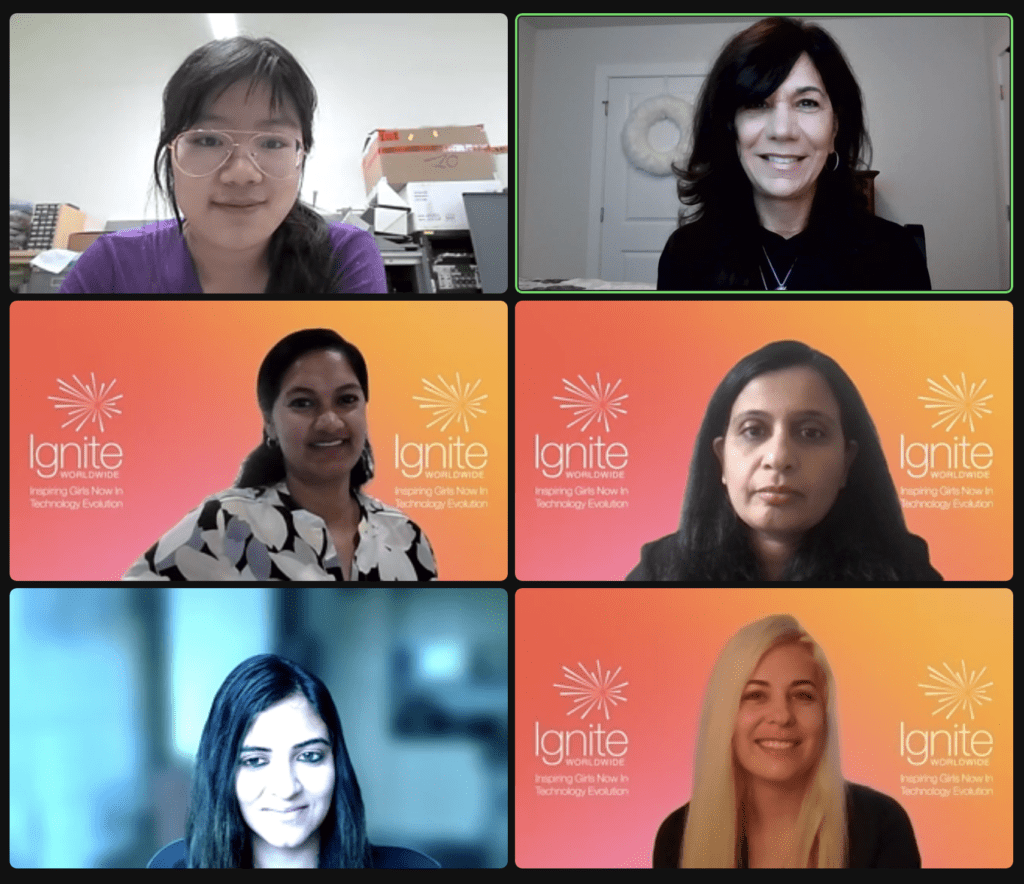 How do you think when you're deciding how to build something or how to create something that gets sold? Priya said it's important to trace back to the root of what the problem is and who you're solving it for. From there, build steps toward a solution. Problem solving is a large, white canvas, and you can paint many different ways to get there! Kierstin added that it's natural to try to make your brain do what you think other people are doing, but your value is that you think differently. Focus on yourself and think how you think, and figure out what works best for you.
To end the event, the panelists each shared one final piece of advice that they wish they'd had at the students' age:
Aditi: There are a lot of options to explore. There are a lot of things that you're fascinated with and passionate about.
Arathi: STEM is not just one field; STEM is everywhere! Focus on learning skills, and they can be applied in any field. Keep exploring your interests and passions.
Judy: If you close your eyes and think about the happiest, most unforgettable things in your life, STEM can give you all of them! In STEM, "You will find your serendipity."
Kierstin: STEM allows you to use your creativity. There's no other job that will let you do anything you want.
Priya: Be curious and ask lots of questions. Talk to people in different careers to learn about what they do and understand if that's something you're interested in.
A big thank you to panelists Aditi, Arathi, Judy, Kierstin, and Priya for their inspiring stories and advice! It was especially helpful to hear about their own school experience and how STEM relates to their personal interests, including creative interests. Thank you also to Facilitator Angela Lovest for moderating the event, and to the attendees from Cedar Heights and North Whidbey Middle Schools for all the great questions! 
After attending this event:
Here's what the students thought of the event:
"You were all so creative and I hope to be like you one day." – 8th grade

"I got to learn more, and find out why these women made a career in STEM." – 8th grade

"It inspired me a lot by showing me that I can do STEM." – 8th grade

"This event inspired me by having a lot of people talking about their careers." – 8th grade

"I remember all of the volunteers being very sweet and supportive. Each one of them were truly doing their best. All of them created a nice and welcoming environment to share experiences." – 8th grade

"I want to continue learning in this career and get the job I always wanted." – 8th grade

"It was interesting and fun." – 8th grade