On October 20th, 10 IGNITE Students from Polish public schools, Kąty Wrocawskie and Wrocław, attended an IGNITE Virtual Event featuring a foremost expert in the field of neurobiology, Marta Gajowa.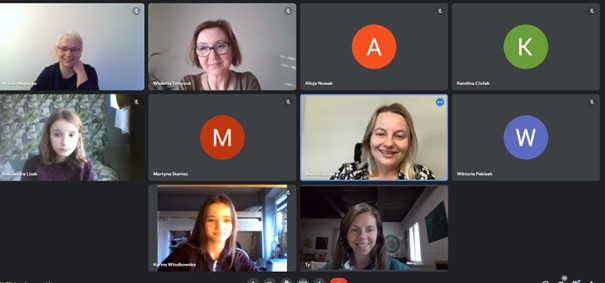 Marta Gajowa shared with the girls at the beginning of the meeting that she loves to travel. She has visited Australia – where she met the smallest kangaroo, Bali, and the hottest place on Earth- the Valley of Death in the USA. She also shared that, during lockdown, she devoted time to cooking and painting. Marta also spoke about her passion for running.
Currently, Marta works at UC Berkeley as a scientist. Her work combines different fields- optics (physics) and neurophysiology (physiology and biology), but mainly she is an electrophysiologist. In her career, she examines neuronal activity in the brains of mice and records the electrical activity of cells with an electrode. Her team builds their equipment, which looks like Legos for adults. Her job is to make neurons "dance to Marta's tune." Marta showed students what the map of neurons looks like. She explained that her workday is in front of her desk, where she creates programs, writes scripts for experiments, and does data analysis. Moreover, she writes scientific articles and reads others' writings, but the best activity is the discussions with other scientists with different approaches and experiences. Marta stressed that cooperation and being open to other's people view is very important in her job. 
Marta then recalled her experience as a young girl. She shared that she was good in every subject and took part in additional courses like scouting, singing, guitar, theatre classes, gymnastics, and many others. She didn't even think that she would become a scientist! After high school, she decided to study acting. It was a significant experience because while playing different roles, she had to define herself as who she was. Later she also studied a pedagogy, but it wasn't her path.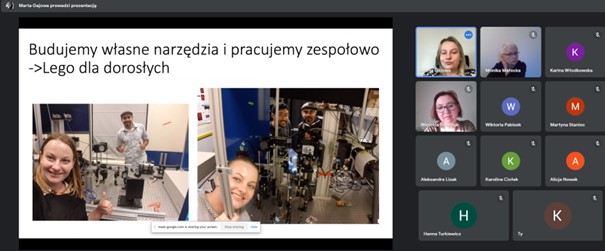 It took her a while to figure out her future with biology and chemistry – her favorite subjects during high school. Eventually, she went on to study neurobiology. In her fourth year, she went on a scholarship to France, where she continued her studies to become a Ph.D.
Marta said to the students that during school, she hated to learn by memorization. Instead, she liked logic-based subjects. She encouraged the girls to ask questions and not take things for granted.
The event was unique, and the girls were very interested and amazed to learn you can become a scientist after acting school. The students asked many questions about Marta's life and experience.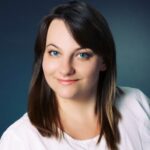 Marta Gajowa, is a neurobiologist, neurophysiologist, and a member of Polish Professional Woman in Silicon Valley. Marta lives in San Francisco, CA, and likes living there for the water, beaches, and skyscrapers. She described where she lives as very unique because it is where the buildings and a national park with beautiful nature meet.
Thank you to Marta Gajowa for the fantastic event and for sharing her passion. Special thanks to Ms. Monika Małecka and Ms. Joanna Morawska, who coordinated the group and encouraged the girls. Additional thanks to Cathi Rodgveller for her constant support.
After attending this event:
Here's what the students thought of the event:
"I really liked the way the speaker views the world. She talked about everything in such an interesting way. Now I don't know if I want to become a scientist or a doctor as I dreamed of since childhood." – 7th grade

"The class was very interesting, I had a lot of fun and I learned a lot of things that may be useful for me in high school. Thanks to the speaker, my interest in biology and the human mind has increased." – 6th grade

"I liked the fact that Marta, while telling her story, has shown that the combination of work and private life is possible. It definitely inspired me. Maybe I will choose another field in the future, but I would like to pursue it as productively as the expert did." – 7th grade

"This event inspired me to self-educate and to not be afraid to develop my skills." – 7th grade

"Today inspired me to ask questions. I appreciated the speaker's great explanation of her work. This meeting made me want to try more activities!" – 7th grade

"Today's meeting inspired me to pursue my goals and to not give up. Sometimes when we fail at something, it doesn't mean that we are bad- we all have the right to make mistakes. This experience showed me that women can be great. The speaker helped me understand that if we want to achieve our goal – we need to put in energy and willingness." – 6th grade

"Today encouraged me to keep trying when something doesn't work out. I would also like to learn about new fields of science to develop myself. I would like to thank you for making me realize that even if something doesn't work out the first time, you have to try again." – 6th grade