On October 25, 2022, Afiniti hosted an in-person Artificial Intelligence/Machine Learning Field Trip with over 40 IGNITE students from Franklin Pierce High School, Washington High School, and Why Not You Academy at their Seattle office. Amber Barbour, Anna Carlson, Mark Mason, and Kashaf Jamshed gave a warm welcome to the students and escorted them to the 71st floor of the Columbia Tower. The students were given the opportunity to enjoy the breathtaking views of downtown Seattle.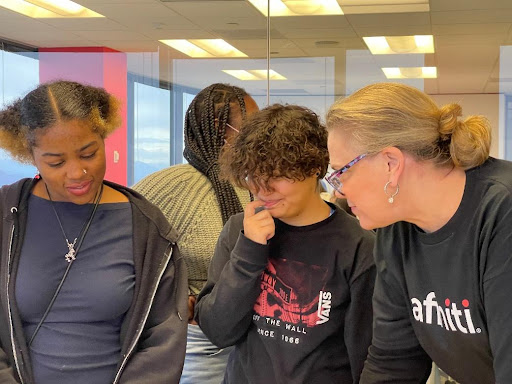 Lindsay Hua, VP of Global Deployment and Head of Diversity in Technology, shared an overview of Afiniti, a world-leading applied artificial intelligence company that uses patented technology to pair customers and contact center agents based on how likely they are to interact. She then taught the concept of artificial intelligence as a way for machines to simulate human brain functions such as logical reasoning, learning, and self-correction. Additionally, she shared day-to-day examples of AI applications from playing chess games against a computer, to Apple's Siri, to targeted advertisements from social media and online apps.
The students then chose from three different AI/ML workshop activities. Teachable Machine involved training the computer to distinguish two different classes of images, sounds, or poses. Students aimed to beat the Afiniti-bot in Afiniti's rock-paper-scissors activity. In Quickdraw, students helped train the computer to recognize doodles and drawings within seconds.
Anna Carlson, Senior Director of Client Services; Amber Barbour, Director of Client Services; Kashaf Jamshed, Sr. Data Scientist; and Mark Mason, Sr. Director of Client Services, worked with the student groups as they tried the activities and later shared their learnings. All the students were highly engaged and voted rock-paper-scissors as their favorite activity. Some of the students were even able to beat the Afiniti-bot by being as random as possible! They also enjoyed drawing while the AI bot guessed their images. Finally, some trained the computer to distinguish different faces, poses, and images!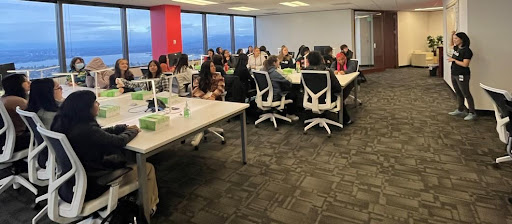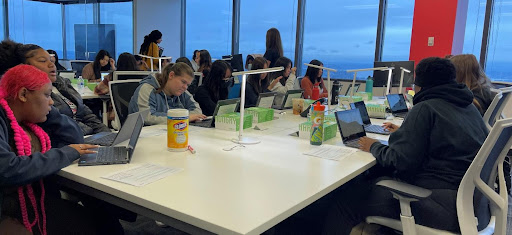 After the activity, students got to know women professionals at Afiniti during a live panel and Q&A: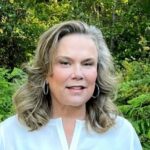 Kelly Whiteside, VP of People Development and Culture, shared an overview of IGNITE Worldwide and led the discussion about why STEM careers are important and beneficial. The group exchanged ideas about traditional versus non-traditional jobs for women and talked about the importance of increasing diversity in STEM. Kelly then facilitated a panel discussion where Amber, Kashaf, and Lindsay shared their personal stories and life lessons.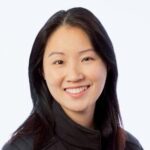 Lindsay Hua, VP Global Deployment and Head of Diversity in Technology, spoke about growing up and studying in the Philippines, where computer science was a relatively new course and how her uncles (with the lack of female role models) served as inspiration and motivation to get into STEM. She also talked about how she was excited to get her first computer in high school and that her first computer class was speed typing, which led her to explore more computer applications like coding, building apps, etc. She recalled how she broke free from the belief that women were not fit to take computer science courses by taking a course called Management Engineering, which was a combination of math, engineering, and computer science, and followed her dream to pursue an IT career.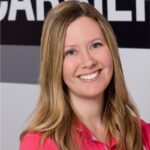 Amber Barbour, Director of Client Services, talked about growing up in Washington and taking up Business Management at UW. She shared her 20-year experience at a telco company where she took pride in bringing mobile and digital capabilities to the retail stores. That led her to getting the highest award recognition in the company, which was a week-long vacation in Hawaii. Her story inspired the students to realize you can still be at the forefront of technology even if you're working on the business side.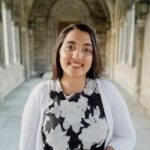 Kashaf Jamshed, Sr. Data Scientist, shared her story about growing up in Saudi Arabia where she dealt with the challenges of living in a closed country and not having any female role models in the STEM field. She then moved to the USA, a big transition in terms of culture and living in a more open society. She pursued a master's degree in Electrical and Computer Engineering at Cornell University, leading her to later work at Afiniti as a data scientist. Her dream was to be a world-renowned data scientist with an algorithm or method named after her! She encouraged the students to go for their passion and never give up – a true testament based on her own personal experience.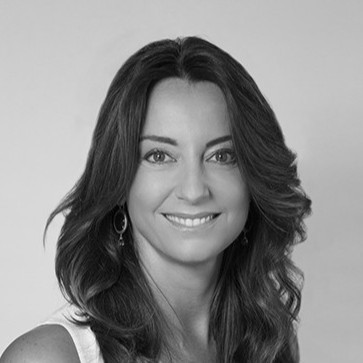 Students also enjoyed a video message and welcome in Spanish from Alicia Richart, General Manager, Spain & Portugal, who shared that STEM can be a guide to the wider world and our own brains, and encouraged students not to let insecurities prevent them from pursuing careers in STEM. Alicia liked to learn languages as well as study chemistry and physics in school, and she continued studying engineering with the encouragement of her father.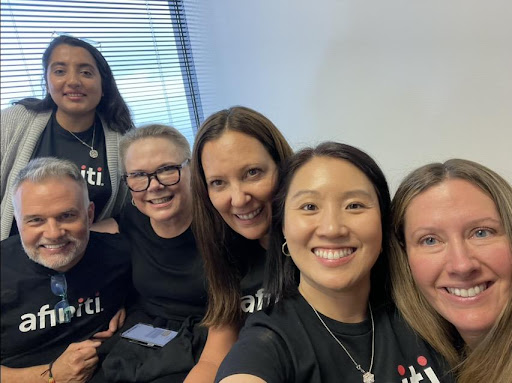 Students asked the panelists for some guidance on subjects and electives to focus on in pursuing a STEM career – whether in the medical field, environmental industry, or even aerospace! Panelists advised students to not be afraid to fail and try things that are new or uncomfortable, and to find opportunities that incorporate STEM into their learning paths now and in the future. The jobs are out there and understaffed with lots of opportunity available for all, especially for women and women of color. Their teachers and school volunteers all chimed in to support the entire discussion – thanks to Educators Bre Brown, Sheryl Moore, Gwen Lennox, Erin Nicol, and Bonita Lee for the amazing participation.
The students also got an opportunity to talk with individual panelists before they wrapped up for the day and took home Afiniti water bottles as souvenirs.
Thank you so much to Panelists and Small Group Leaders Amber Barbour, Anna Carlson, and Kashaf Jamshed, Facilitator Kelly Whiteside, Activity Leader and Panelist Lindsay Hua, and Small Group Leader Mark Mason from Afiniti! You made the students' IGNITE experience an amazing one!
After attending this event:
Here's what the students thought of the event:
"The people I met created a safe and comfortable environment. The activities were simple but fun and creative. It inspired me to continue to explore the STEM field because it has many opportunities. Don't be afraid to be in STEM. It inspired me to look into more activities like this for fun." – 10th grade

"The event inspired me to do something, even if it means you don't fully get credited or recognized. Being in STEM is really interesting and what Afiniti does is really helpful." – 10th grade

"I learned about the predictability of humans, but that they can still be random to AI. I realized that there will always be a high demand for jobs in STEM." – 11th grade

"This inspired me to take charge of my dreams and realize I am capable of going into any workforce. No matter what career I choose, I am more than capable of doing it." – 11th grade

"It inspired me to succeed in what I want to do for the future. Thanks to everyone for talking about everything." – 9th grade

"Today's event taught me more about what people in STEM do. I used to think STEM was all about coding, but wow…you guys are all so amazing! I loved hearing about the experiences and it made me feel great about my career choices. I shouldn't be afraid about my career path! I want to be an architect or civil engineer, I love art. I want to try internships because they'll expand my knowledge on what I want to be! I realized I shouldn't be afraid of my heritage – I'm Chinese, I can accept my differences and use it to my advantage to find job openings." – 10th grade

"The event was good and taught me more about scholarships for students that are my race. Thanks to the volunteers!" – 10th grade

"This showed me that women can find jobs in STEM. There aren't any limits and you can find many ways to get there. I want to thank Afiniti and Ignite for giving me the opportunity to be here today; I appreciated it." – 12th grade

"I'm a very hands-on learner and this caught my attention and engaged me. It gave me more to think about career-wise. I took a lot away from the journeys of the ladies on the panel." – 9th grade

"This event made me realize there are so many more opportunities out there and networking can be a key to success. You don't have to let things limit you." – 10th grade

"Today was very surprising. I didn't expect to learn about everything that I learned. I definitely think it changed my perspective – I've always wanted to be a lawyer, but now I want to have a second option in STEM." – 9th grade

"It was very inspiring being able to hear voices from different areas of the world and their stories when arriving – the culture shock as well as their job shock. I loved how some ladies explained how they made it to where they are now." – 12th grade

"Today's event inspired me and made me realize that women can do the same things that men have been doing. Don't give up and put your mind to it." – 10th grade

"After today, I feel more comfortable and ready to keep up my coding studies. I learned how there are barely any women in the coding field, especially POC. I've always known that the tech field is mostly male dominated, but I didn't think it was by so much." – 11th grade

"This inspired me to pursue what I truly want to do in the future, to explore and reach out to people who could help me with careers, and most importantly – to not doubt myself. My big takeaway was knowing that only 9% of women in STEM are POC." – 11th grade

"Today's event inspired me to try new things." – 9th grade

"This inspired me to broaden my career ideas and choices. To maybe even put two career paths together to find what suits me and to continue going on with my goals and dreams. It inspired me to persevere." – 9th grade

"Today I feel proud to be a woman of color, inspired to pursue a career in any field, and to learn and make connections with people." – 10th grade

"As a woman of color, it was cool to see other people who may know the struggles I have been through. It was very fun! My biggest takeaway would be that even though society has set standards, I can beat them. I am capable of being greater." – 11th grade

"The different paths that everyone took, how they got here, and what they do made me feel more hopeful about my future. It inspired me to try different courses, to learn more about STEM, and maybe also consider having a STEM career. The rock, paper, scissors game and the drawing game were really cool! The volunteers that chose to tell their story and talk about STEM were really sweet and awesome." – 9th grade

"This experience gave me a better understanding of the STEM field and opened my eyes more. I can do anything I want!" – 10th grade

"It inspired me to acknowledge that STEM is important. My biggest takeaway was that women are able to be more involved in STEM." – 10th grade

"The event inspired me to pursue a career in computer science. I realized that I'm more interested in STEM than I thought! I now know more career choices and will consider computer science." – 11th grade

"I know that even if I am a woman of color, I shouldn't give up. Even if I think it's too hard, I should be always ask for help and do it. Never give up!" – 10th grade

"One of the speakers said something along the lines of 'treat your career like exploring a new place.' I had never thought about it like that, and it made me a lot less anxious about being unsure. I'm not a girl – I'm genderqueer/nonbinary, but seeing all the girl power in STEM was really touching. If everyone here was to work at a STEM company, I would apply – they were so nice." – 12th grade

"It was great learning that there will be constant changes throughout our lives and around the world, taking into account what we enjoy, and the possible opportunities STEM can offer. Understanding the importance of exploring and experiencing new things and learning more about AI and technology was a wonderful experience." – 11th grade

"Today's events inspired me to learn more about AI and to research STEM careers. I had wanted to be an engineer, and I took away that there are many different types for me to look through and learn about. I enjoyed learning about the experiences and it inspired me to try my best. My biggest takeaways were that I need to do a lot of research about STEM fields. Another takeaway was that networking is a big thing in the future and that getting an internship would be very beneficial." – 10th grade

"It inspired me a lot more. I have been very interested in STEM since before middle school, but as I entered high school I feel I lost it. Now I feel this is something I should start looking into again. My big takeaway was everyone's story. I love to hear about people's backgrounds and how they push themselves to do big things. It's very inspiring to hear, especially since I am a woman of color." – 10th grade

"The event helped me think about how pursuing a STEM career is more attainable than I thought and can lead me down a very successful path. Realizing that I can go into a career I love and get a good salary with an affordable college path gave me hope. My biggest takeaways were learning that going into a STEM career and being successful is an option and doesn't require as much luck. Also, learning that making connections is important and can help you in the future with great opportunities. I'm thankful that the panelists and volunteers offered to inspire us and help us think about how to be successful." – 10th grade

"Being a woman, especially a woman of color, has become valuable in STEM because of the need for better representation. WOC in these male dominated fields do exist and it is possible to break stereotypes. There are many pathways that can lead to technology. To visually see people like me pursuing unconventional careers for women and thriving was inspiring." – 12th grade

"It inspired me to try harder to not only get what I want, but to be the first female in pursuing STEM. I would love to encourage people of color, especially in my family. My biggest take away is helping people that go through hard times know they can do it. Because no matter how hard it was for them, they managed to look past that and accomplish what they wanted. It really motivated me to put things in the past and do things for myself and not for others." – 11th grade

"This event helped my confidence in pursuing a job in STEM. I loved all the different stories and how they got where they are today. I'm thankful for everyone. I learned that no matter where you come from or where you start off, if you really want to reach your goal – you'll be able to get there." – 11th grade

"I was inspired by the stories and how you can do everything as long as you push yourself to chase what you want." – 12th grade

"Today's event was very informational. I learned a lot about what goes on at Afiniti and it made me want to look more into STEM. My big takeaway was to network with more people." – 10th grade

"The employees from Afiniti, despite coming from different nationalities and races all had one thing in common – they loved their jobs. I felt like I related with them, their situations, and what they went through even though I'm not a college graduate. I learned that life is different, your pathway doesn't have to be linear. Afiniti helped me explore my passions and interests for my pathways, and how to get into them." – 11th grade