On October 27th, 2022, IGNITE students from Dimmitt Middle School and Nelsen Middle School came to T-Mobile's exciting new Tech Experience Center for an IGNITE Field Trip! New technology greeted them right away when a drone flew over the group. The students were surprised by the unique welcome and were excited to grab snacks as they entered the demo showfloor to view the video the drone captured of them getting off the bus.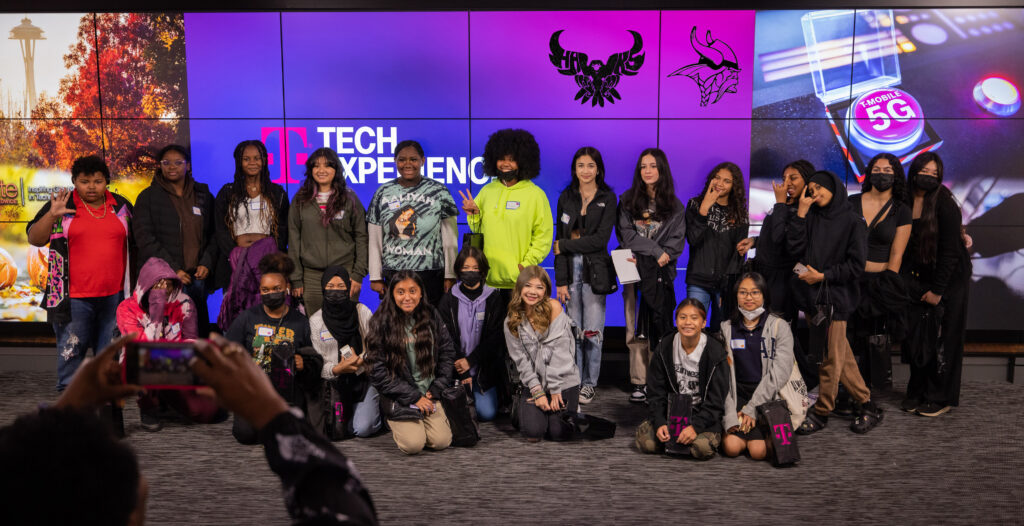 As the event started, the students were introduced to wireless networking, learning about 5G and applications beyond the smartphone. They were given a chance to experience elements of the technologies firsthand as they rotated through different demo sections on robotics, 3D printing, drones, and augmented reality with tour guides Candice Boyd and Henry Li.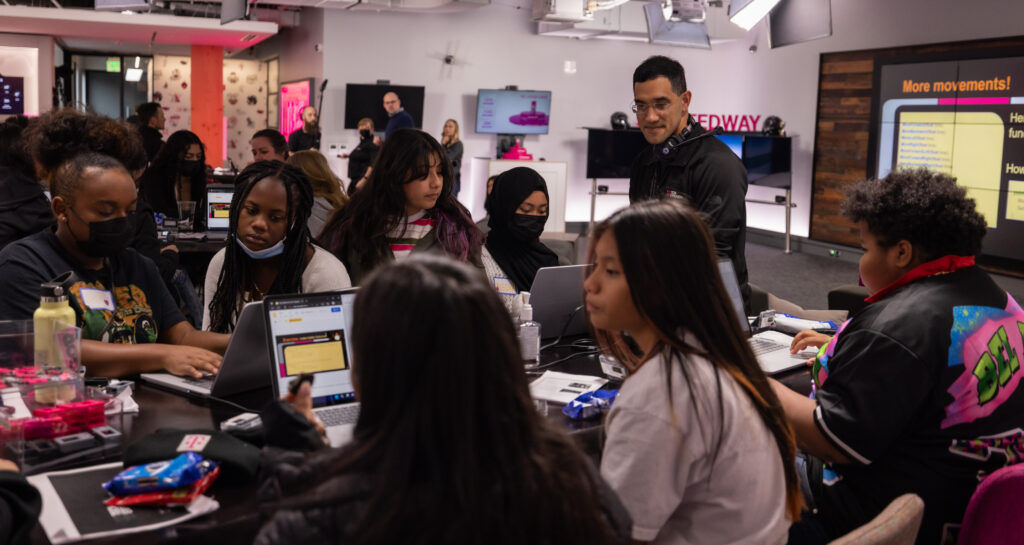 Next, the students split into groups for hands-on learning activities. With activity leaders Nguyen Duong and Henry Li, students learned to code a robot car. Volunteers Rowan Andruscavage and Justin Ho taught about Python Coding, where students each got their own IoT device to code to roll dice with a push of a button. Students were particularly delighted when they successfully coded their robots to drive around the room!
After an eventful morning, everyone was happy to see pizzas arrive as they sat down with T-Mobile employees for a panel to learn about their career journeys and to ask questions.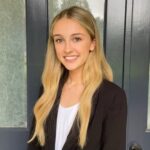 Melanie Bell recently joined the T-Mobile team as a Business Intelligence Analyst. Melanie started in marketing and had a deep interest in data, how it works, and how data tells a story. It was challenging being a lone female in her school projects, not being heard, and being brushed aside because of her gender, but she persevered and kept on giving the right answers until she was noticed! Melanie encouraged the students that it's ok to be different and to stand up for yourself and pursue what you love!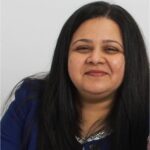 Meena Bhujang, Senior Technical Architect, shared that she was shy at first, but built her confidence as she learned the ropes of her field. She has been at T-Mobile for 8 years! She volunteers for many STEM after school activities and enjoys giving back to her community. Meena advised students to put yourself out there, build a network of peers to help you, and believe in yourself!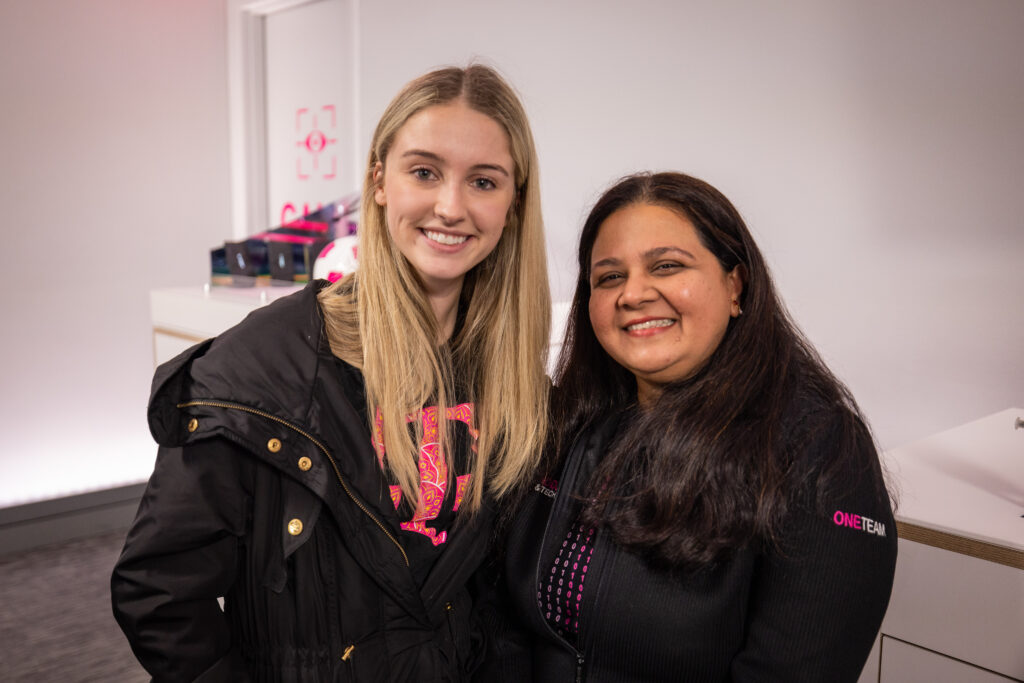 The key messages shared by the panelists during the Q&A discussion included advice to stay motivated during difficult times, be curious, ask questions, and always believe in yourself!
Thank you to the team at T-Mobile for organizing this once-in-a-lifetime experience and giving IGNITE Students a behind-the-scenes look at the future of technology! Thank you to Beckie Stark, Michelle Balatico, and Sid Fox for helping organize the event and providing such a warm welcome, tour guides Candice Boyd and Henry Li; activity leaders Henry, Nguyen Duong, Rowan Andruscavage, and Justin Ho; and panelists Melanie Bell and Meena Bhujang. And thank you to IGNITE Educator Vivi Latch and the students and chaperones from Renton School District for joining the event!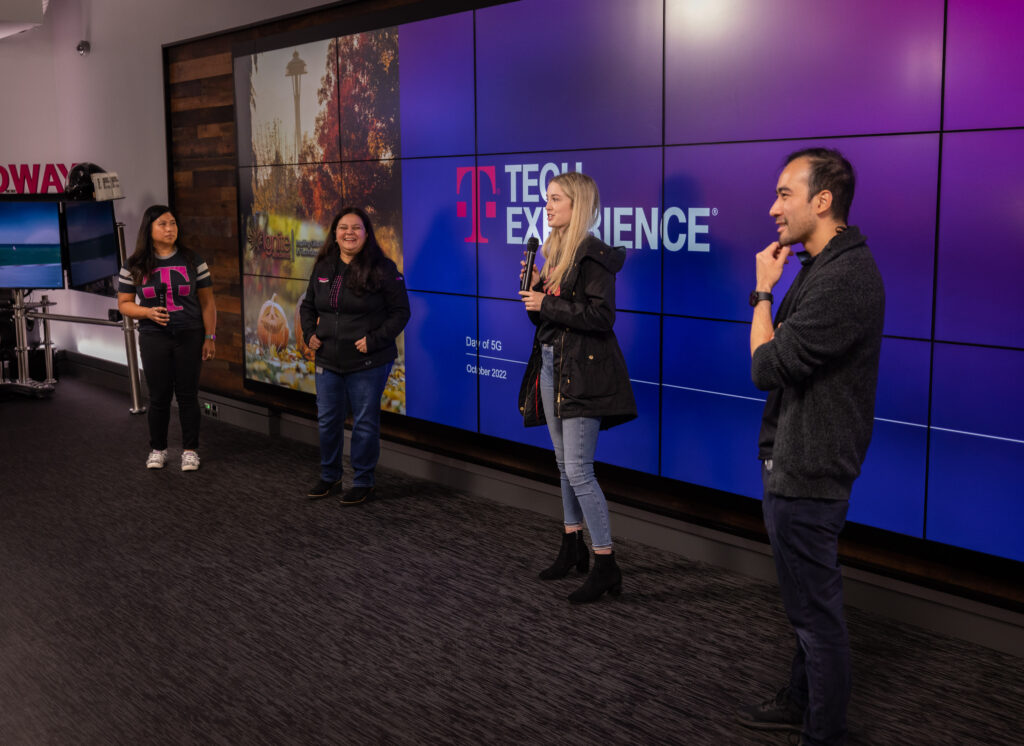 After attending this event:
Here's what the students thought of the event:
"Today's event inspired me to be more motivated for my future. It made me want to work in a cool place like this one day. This event made me believe that I'll always figure things out if I try and that hard work can lead to success. It also made me realize coding is cool." – 8th grade

"This event inspired me to work harder towards what I want to succeed." – 8th grade

"This event showed me that women are equal." – 8th grade

"The event was fun and cool! It made me want to learn more about technology." – 8th grade

"Today definitely inspired me. It showed me so many ways to get stuff done. I had fun and learned how to code!" – 8th grade

"The staff and volunteers made me feel comfortable. I may decide to pursue STEM." – 8th grade

"This was a really nice experience. The event inspired me to work harder at my goals and I enjoyed the small computer coding activity." – 8th grade

"This event gave me motivation to participate in class and figure out what I want to do in the future. I liked how the panelists shared their experiences." – 8th grade

"Today inspired me to be confident in myself. It was really fun and I enjoyed learning about the employees' experiences." – 8th grade

"This event inspired me to learn more about STEM. I was always interested in technology and coding, but I learned how to do more today." – 8th grade

"It was great learning how coding works!" – 8th grade

"Today made me more confident about going to college. I feel more determined in pursuing a career in the future. I realized that STEM is for everyone!" – 8th grade

"There were so many cool, fun, and interactive things to do in this program. The staff was helpful and I had fun interacting with the technology." – 8th grade

"Today was pretty cool! It made me feel confident in my career choices." – 8th grade