On October 28, 2022, IGNITE Worldwide held a panel discussion about STEM careers with various industry guests at Westmoor High School in Daly City, California. The students learned about our panelists' personal stories, how they got into STEM, and their daily work lives.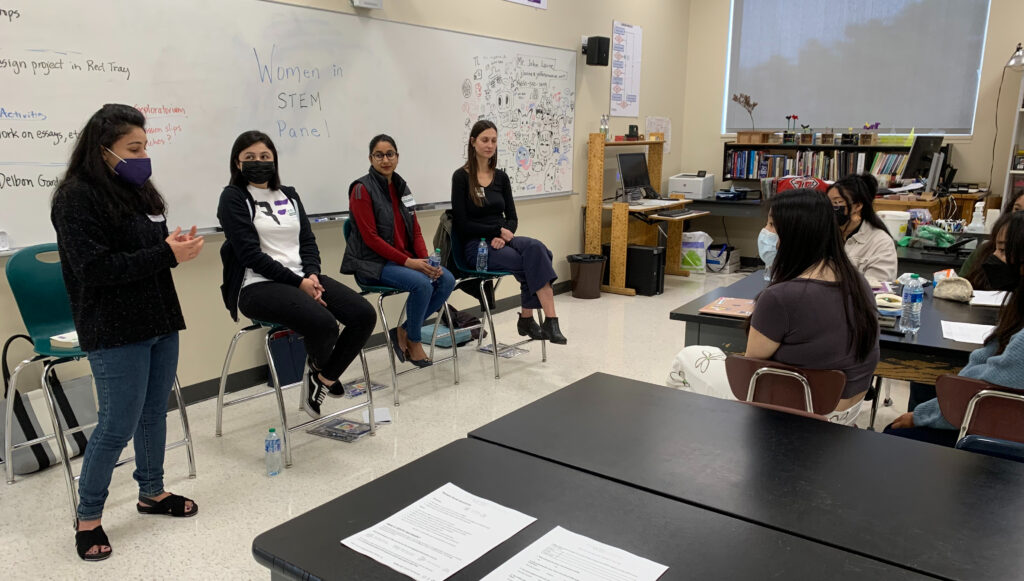 The event's panel consisted of the following STEM professionals:
Bianca Luna-Acosta, a security consultant at Bishop Fox, was initially intrigued by systems engineering courses at school and loves the opportunity to learn continuously as part of her job.

Nandita Narla, who leads the privacy engineering team at DoorDash, studied information security in grad school; she's used to being in the minority and thinks that should change.
Prutha Parikh, who leads two cybersecurity research teams at Palo Alto Networks, first got interested in math and physics in high school, then went on to specialize in computer security in college. Her job requires her to work smarter and faster than malicious hackers and is never monotonous.

Sybille Roth, an acoustic consultant at Salter, was initially fascinated by math and astronomy and experimented with various STEM specializations before landing in acoustical engineering. She works closely with architects to design for (or deal with) the sound characteristics in living and working spaces.
After the panelists introduced themselves and shared their stories about getting into STEM careers, the event moderator posed questions about their work experience before inviting questions from the students in the audience.
Questions asked included:
Is it necessary to get a master's degree, or is a bachelor's degree sufficient?
How can I build my confidence in the field, and why is it essential to have it?
Have you ever been belittled or discouraged in the workplace because you are a woman? And if so, how did you overcome it?
The panelists responded to each question thoughtfully and with candor. Students learned that there is no ideal educational profile for any given field; some people find success with no college degree, but other areas may require advanced study. Panelists also discussed the importance of knowing your worth and building confidence through community. Some had largely positive and respectful experiences as a minority in their field, but others had dealt with dismissive attitudes in the past. Panelists agreed that support from mentors and friends had been crucial to their success and felt it is essential to promote diversity of thought and experience in the workplace, to ensure better outcomes.
After the Q&A session, students had the opportunity to ask questions of the panelists directly and to share their thoughts on the experience.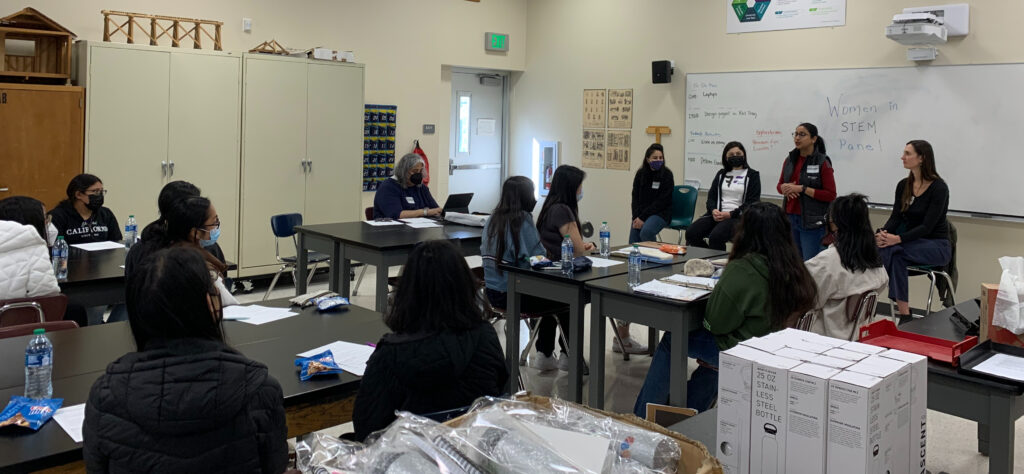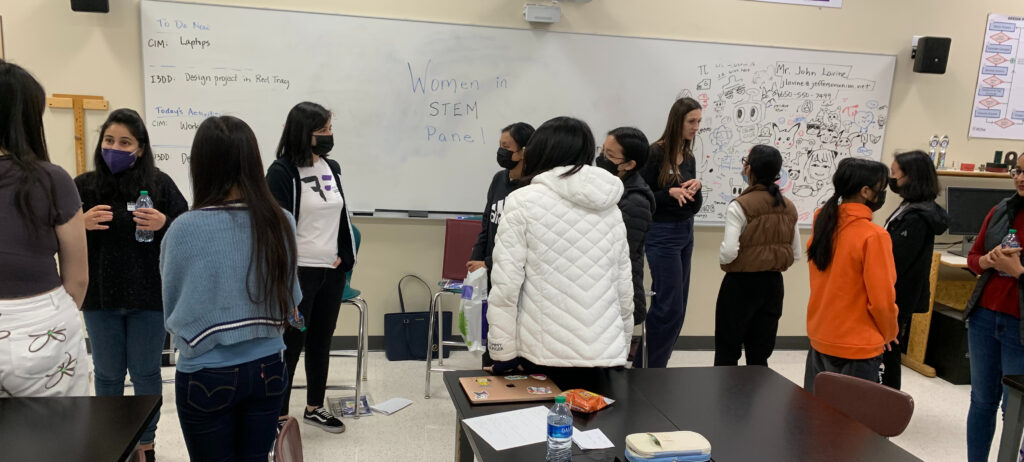 Thanks to the panelists – Bianca Luna-Acosta, Nandita Narla, Prutha Parikh, and Sybille Roth. Thank you to our IGNITE Educator, Denise Shreve, and Event Recorder, Richa Avasthi. Additional thanks to the staff at Westmoor High School, the students, and other event organizers!
After attending this event:
Here's what the students thought of the event:
"Today's event inspired me because it made me feel hopeful about the future of women in STEM. A big takeaway was confidence. The professionals' passion for STEM inspires me to try new things and get more involved." – 9th grade

"Attending today's event has inspired me to explore the many different opportunities and occupations in the STEM field. This event also inspired me to step out of my comfort zone and pursue fields I'm interested in, even if they may not have as many other women or people who look like me. Something I will take away from this event was the many career options and how different they can be from each other. I will remember how rewarding and satisfying it is to work in a field full of inputs and outputs." – 10th grade

"Today's event inspired me because it's nice seeing women do jobs like that and seeing women enjoy doing those jobs. I should be doing something that makes me happy. My big takeaways were that you should do what makes you happy and what you're good at. You can grow confidence in that industry." – 9th grade

"This event made me feel more confident in deciding what career path I would like to take. This event was very inspirational for me. I liked hearing the many people in the STEM professions tell us about their experiences and what they went through to decide on this career path." – 12th grade

"I felt inspired to follow my interests in STEM and felt confident in different jobs. I learned a lot about different experiences from the speakers." – 12th grade

"I wasn't interested in STEM at first, but now I want to be and am considering a career in it. I want to know more and I'm curious to find out what I'm interested in, specifically in STEM. There are so many job opportunities and goals in STEM." – 12th grade

"It was nice to hear about what different careers are out there. This event was very helpful as someone still figuring out what I want to do in the future. I learned you don't necessarily need a degree for a career." – 12th grade

"This event helped me feel more confident in working in the STEM field and made me feel like I would have a better chance at pursuing what I want. This event inspired me to try to step up and join stuff I was nervous about doing. STEM is easier for women to work in now, and it's okay to feel like you're struggling in pursuing your career. The job you want now may not be what you want in the future." – 9th grade

"I loved learning about each woman – their stories were all great. I loved learning about each career field and how they got there. This event was super diverse, and I absolutely loved it." – 12th grade

"I found it comforting knowing I do not have to have a degree to pursue a career. It is also nice to know that women are very successful, and I can become successful in the future." – 12th grade

"It felt comforting to hear about STEM careers from the panelists. The panelists also had some good advice. Joining these panels makes me want to join more similar events in the future. I am thankful to have this event available to me, and I enjoyed it." – 12th grade

"Today's event inspired me to pursue a career in STEM. My big takeaways from today's panel were that it is okay if you initially don't know what you want to be and there is always constant learning in the field." – 12th grade

"At first, I wasn't too interested in the STEM field, but after hearing about the panelists' jobs, I thought it was intriguing. Acoustic engineering interested me because I didn't know it was part of STEM. Don't be afraid to pursue your passion, and don't be intimidated! Thank you to the volunteers for educating us more about the STEM field!" – 11th grade

"The event inspired me to learn new things I didn't know before. I had fun learning what I want my future to be." – 9th grade

"It was nice seeing an inside look into how women actually work in STEM. It made me hopeful because it made me think, 'Oh hey, I can probably do that too.' Building confidence takes experience and time!" – 9th grade