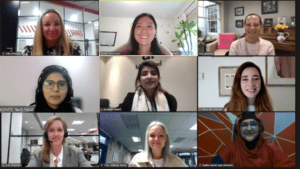 On November 30, 2022, IGNITE Volunteers from Afiniti led a Virtual Work-Based Learning Experience for IGNITE Students from Tumwater High School in Washington and Jefferson High School in California.
Lisa Prince, VP of Diversity, Equity, and Inclusion at Afiniti, kicked off the event, discussing the many STEM-related pathways available to students in almost every imaginable area of interest- from sports, to agriculture, to entertainment. She loves working for Afiniti because it is a world-leading organization in artificial intelligence technology (able to analyze data on interactions in under a second!).
Lisa facilitated a panel of Afiniti professionals from around the world: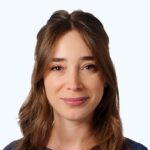 Efsun Bal, Group Leader of Business Transformation and Operational Excellence, talked to the students from her office in Istanbul, Turkey, about her experience finding her pathway. Efsun loved the sciences, but she knew she wanted a career where she could also put her creativity to use. Efsun studied industrial engineering and music to keep her options open and pursue her passions. After graduating from UC San Diego, she landed a job in Information Technology, helping to improve processes within companies. She loves the communication and cooperation involved in problem-solving. Efsun advised the students to "reach out to as many people as possible and stay curious, and you will find what you love!"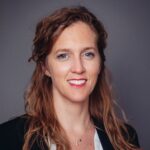 Lola Alarcon, Senior Director of Data Services in the UK, grew up in Spain. In her youth, Lola loved sailing and having fun with her friends but recalled being overwhelmed when deciding what to study. She loved biology but hated needles and blood, so she said no to medicine. She loved art but was terrible at drawing, so architecture was out. She spoke with many professionals, which ultimately helped her decide on a career in engineering. Broadband communication was just starting, and she loved communicating with people around the world. She has enjoyed varied roles in her STEM career, from Program Manager to AI analyst!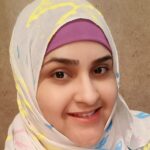 Nadia Komal Qazi, Manager People Partner, spoke about her role at Afiniti's offices in Pakistan, working closely with HR and managing teams. She feels lucky to be part of a team that "thinks big, works smart, and supports one another." As a young girl, she knew she did not want to follow the traditional pathway to medicine that was common for women in her community. With the help of her father, they figured out a different path for her. She started with a computer science course – aimed at college graduates – when she was 11 or 12! Nadia now gets to work in a job that she loves at an organization she is proud to work for.
Students then had the opportunity to ask the panelists some questions:
How do you deal with people who don't believe in you? You need to believe in yourself first, take the positives from others, and leave the rest!
What is the most rewarding part of working in STEM? If you are a curious person, there is always something new. STEM is a dynamic industry with so many opportunities that you never get bored.
How does college prepare you for becoming an engineer in the real world? College wires your brain for problem-solving and gives you tools.
After the panel, Lindsay Hua introduced the concept of design thinking, a user-centered approach to problem-solving that helps engineers think about how a product works and feels in addition to how it looks. Students joined breakout rooms with Breakout Room Leaders Julie Rimmer, Efsun Bal, Lola Alarcon, Nadia Komal Qazi, and Roshaan Saeed, where they each used an Empathy Map template to brainstorm product features for designing a new smartwatch and even a smart backpack!
A huge thank you to all of our Afiniti volunteers: Lisa Prince for facilitating the panel and kicking off the event; Panelists Efsun Bal, Lola Alarcon, and Nadia Komal Qazi for staying up late to share their wisdom; Tech Hosts Aafia Khalid and Lindsay Hua for deftly managing the video call; Breakout Room Leaders Julie Rimmer, Efsun Bal, Lola Alarcon, and Nadia Komal Qazi, and Activity Leader Roshaan Saeed. Thank you for sharing your time and your stories!
After attending this event:
Here's what the students thought of the event:
"I feel like today's event made a positive impact on how many girls view the work field and brings hope for the future. I feel more confident about things I can explore for my future as a girl." – 9th grade

"This event made me see there are other women doing the same thing that I want to do. It makes me feel more connected to them. It also makes me more ambitious to do what I want. Myself and my fellow students have a place among women in STEM, even if we don't know exactly what we want to do in the future." – 11th grade

"Today's event inspired me to see that women can be success full in the STEM community. Woman all over the world are involved and able to work, even outside of America! This made me see that nothing is impossible if you put your mind to it. The breakout room activity was fun- brainstorming and talking about what it could be in the future. I loved the volunteer in our breakout room, Lola. She had lots of good ideas." – 11th grade

"A STEM career seems like a more plausible and less stressful option now, and makes me excited to think that I can work a stable job and enjoy in the future. Nadia was so nice and very helpful at explaining the assignments and her experiences in life, along with her enjoyment of her career." – 10th grade

"I feel like I understand more about what working in STEM is like, and I want to be in a STEM career now more than I did before. We need more diverse people to be a part of STEM, and there are many more careers than I thought there was!" – 10th grade

"Today made me feel like STEM is something I can thrive in and make my way through society feeling confident in myself. I realized that no matter what the people around me believe, I can do whatever I want! Nadia inspired me to break away from bad feelings and believe in myself." – 12th grade

"It was nice seeing so many people from several different backgrounds and personalities together in STEM. It is nice to see diversity in any career. No matter what background, personality, or gender, you should feel free to follow the career you want, whether that be STEM or something else. It is okay to feel afraid or nervous or scared to go through with something; it is even good, just do not let those feelings hold you back." – 12th grade

"I think that today showed me that there are so many more jobs in STEM than I would have thought, and there are many job opportunities possible. This career is possible for anyone who tries, and I can do it if I try to put in the effort!" – 9th grade

"This event gave me a confidence boost to following the career paths I want. What Nadia said about doing what matters to you and dropping the rest helped me. I was inspired to work towards what I want to do, even if I'm scared or think I can't. I also learned to speak with those doing what you want to do because they are living your future. All the volunteers gave me a lot of hope for my future in STEM." – 12th grade

"I would describe today as a fun and eye-opening activity. I enjoyed talking to the different STEM professionals about their jobs and their life. My biggest takeaway was that there are not as many women working in STEM as I thought." – 9th grade

"I felt empowered and creative. The activity allowed me to feel as though my ideas were relevant. It doesn't matter what other believe, it ultimately comes down to whether you are willing to push past and fight for what you want. Creativity has no limits and it's important to speak up- your voice could make a difference! Diversity in a community allows ideas and products to bloom. I appreciated every one of our panel members; their ideas and stories were inspiring." – 12th grade

"Hearing about the different pathways people took to get into STEM and what they like about it was inspiring. I feel like a lot of the time, people around me don't seem to like STEM courses or don't care about school, but listening today helped me realize that many people love STEM, and that there isn't anything wrong with liking STEM. My big takeaway today was from Nadia- she said that you shouldn't care what other people think, and that it is your journey to go on. She helped boost my confidence." – 11th grade

"It was inspiring to be able to meet women who've succeeded in STEM and to learn about their backstories. My big takeaway was that the most important thing is to believe in yourself rather than others' beliefs in you." – 12th grade