On December 6, 2022, IGNITE Worldwide hosted a Virtual Panel of engineers and managers from Salesforce, Anya Creatives, Microsoft and Disney. Students from Lowell Senior High School and Mattson Middle School learned that STEM jobs are available in every industry, not just traditional software. Panelists each shared their journey to discover their passions and how they led to careers in STEM. Panelists also discussed the challenges and advantages of having a career in STEM.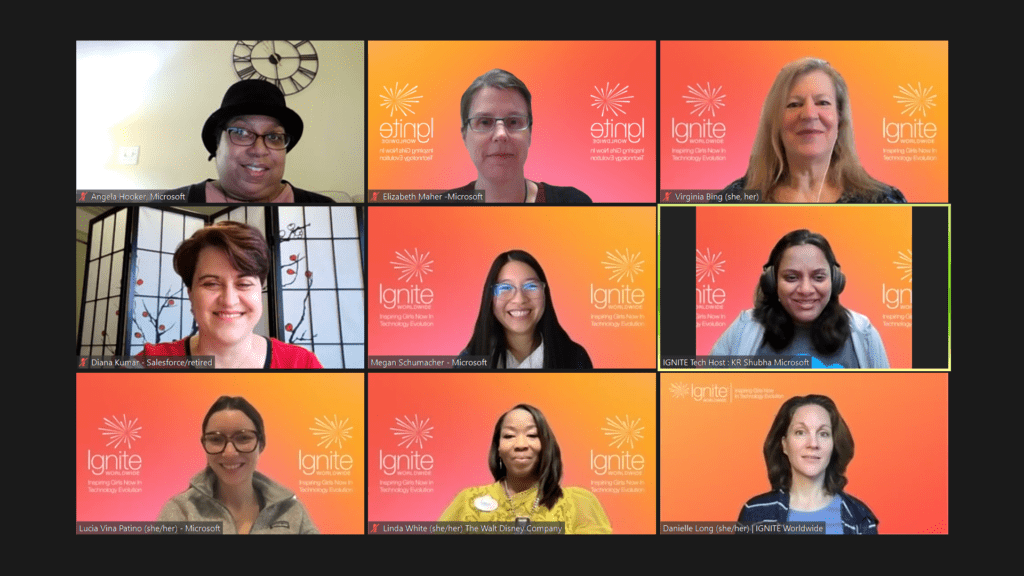 Megan Schumacher, Senior Data Scientist at Microsoft, moderated the discussion. The event's panel consisted of the following STEM professionals: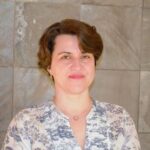 Diana Kumar recently retired from the position of Senior Director of Engineering at Salesforce. She attended college in Romania and relocated to the United States after being hired by Microsoft. Diana encouraged students that there will always be a need for talented people in STEM and that need can open many opportunities for those with a passion in any STEM discipline.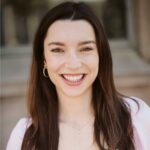 Lucia Vina Patino, Software Engineer 2 at Microsoft. Growing up, Lucia loved math and science. Initially undecided when she started college, she discovered Computer Science and hasn't looked back. She aims to be a role model to younger students.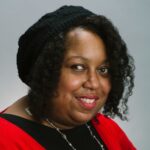 Angela Hooker, Senior Accessibility Program Manager at Microsoft, fell into a career in STEM. She taught herself how to code and now has a job where she helps make programs easier for everyone. She encouraged students to be themselves and not worry about conforming to preconceived notions of what a programmer should be.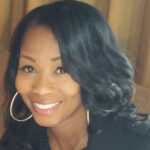 Linda White, Senior Manager IT Program Management at Disney, works on the behind-the-scenes software required to make a large corporate run. Linda described herself as tech-curious in high school and took all the tech-related courses she could in college. She reminded students that life and careers are a marathon, not a sprint. Each is a result of many tiny decisions along the way.
After introductions, the moderator opened the panel to questions from students. Questions asked were:
Did you face challenges because of your gender?
Looking back, is there anything you would do differently?
What does an average day look like?
How did you know a career in STEM is what you wanted to do?
Are there specific things that STEM jobs need?
What is something middle schoolers can do now to prepare for a career in STEM?
What is the most difficult part of being in the STEM field?
Panelists emphasized the variety of options in STEM. Students were encouraged to be curious and find what interests them most. Somewhere there is a job that combines their passion with technology. Many expressed the favorite part of their job was that it was never boring because there are always new problems to solve.
Several questions were asked about the challenges faced during their career. Everyone faced a challenging time at some point in their career. Sometimes the difficulty stemmed from not being able to find a role model, sometimes from self-doubt, and sometimes from being the only woman in the room. Panelists overcame challenges by believing in themselves, creating allies, and using their innate empathy to provide additional and useful viewpoints. Students were also encouraged not to see failure as bad, but merely as another data point to learn from.
The panel discussion ended with hope and advice. Every company represented by the panel has made deliberate strides to increase diversity and acceptance in those companies. Panelists agreed those efforts had made a difference. Students were encouraged to remain curious and be lifelong learners.
Thanks to the panelists Lucia Vina Patino, Angela Hooker, Linda White, Diana Kumar, and the moderator, Megan Schumacher. Thanks to the tech hosts, KR Subha and Virginia Bing, and the event recorder, Elizabeth Maher.
After attending this event:
Here's what the students thought of the event:
"This panel helped me really understand that I can do anything I put my mind to. I think the panelists are very strong and I appreciate that they came to talk to me today. I hope they try to reach out to more students." – 12th grade

"I really liked hearing about the personal stories about pursuing STEM. I enjoyed how a lot of advice was given and wanted to hear more storytelling." – 11th grade

"Today's event was really inspiring! It showed me that women can do so many different things within STEM. This presentation helped me learn about many different opportunities within STEM that I would be interested in." – 9th grade

"Today's event inspired me to be more interested in STEM. I am appreciative for the time the panel took to talk to us." – 9th grade

"Meeting people who have overcome struggles and who have similar interests was really cool. Thank you to the panelists for talking with us." – 10th grade

"By listening to all the women of different races and ethnicities, I was able to get perspectives of different people. This also helped me understand what IGNITE meant. Thank you for sharing your experiences and clarifying what STEM meant." – 11th grade

"Hearing everyone's experiences as women in tech has reassured me in my decision to pursue a career in IT. Thank you for taking the time to speak with us today and answer questions." – 9th grade

"This event inspired me by showing me ways STEM can be interesting and special and how it can give you new opportunities that include your hobbies in a way that's fun for you. This was so important and it was fun learning about all of the things in STEM." – 7th grade

"This event inspired me because I heard many stories that are similar to mine. Those stories made me hopeful for the future. It made me want to inspire other young people, too." – 8th grade

"Today's event inspired me to be open about exploring new things and to not be scared to try something new. The panelists helped me get an idea of what I would like to do in the future. It helped me realize that not everything in life will be easy, but to still try. I'm currently in robotics and hoping that I can join a club in my school that has my interest!" – 7th grade

"Today's event was very interesting and learning about careers in STEM was a very cool experience. This panel also taught me about career paths that I could possibly follow. My friend and I are currently in robotics class and we're learning about circuits and robots and code!" – 7th grade

"Knowing about the experiences that real people face in the workplace was very interesting. Hearing about what they've faced and what they do was good knowledge gain. I want to build a rocket in a robotics club and start a club for science!" – 7th grade