On Thursday, December 8, 2022, 30 IGNITE Students from Highland Middle School in Bellevue and Thomas Jefferson High School in Federal Way attended a Field Trip at Remitly, a leading digital financial services provider for immigrants, based in Seattle, WA with offices around the world. Remitly's vision is to transform the lives of millions of immigrants and their families by providing the most trusted financial services on the planet. A relentless focus on providing customers with best-in-class products underpins their commitment to bringing trust, reliability, and transparency to cross-border remittances and broader financial services.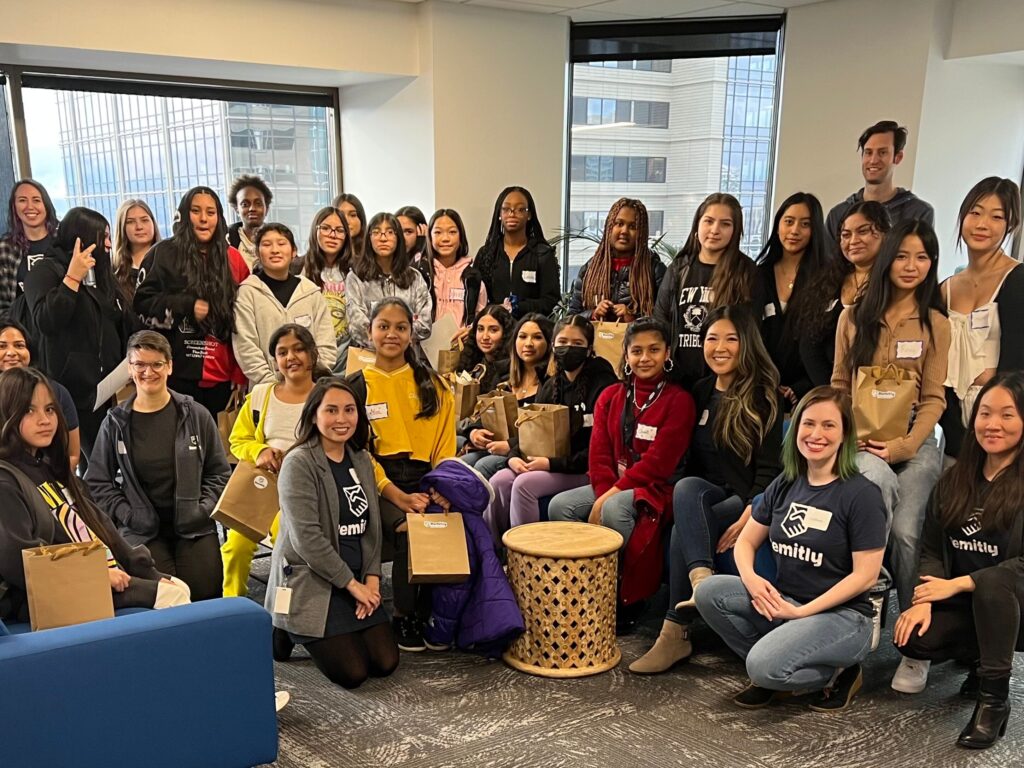 The day was led by Colleen Briant, Engineering Manager. After a fun office tour, students were shown Remitly's current app experience and how Remitly builds to bring peace of mind to their customers who send money back home.
Students were then invited to think about a problem either in school or within their community and worked with Remitlians (Remitly employees) to design their own app to address the issue. The students were drawn towards creating applications that would change the world! With the guidance of small group leaders Megan Stachura, Shayla Grymaloski, Sathya Chandrashekar, Nancy Benter, Vivie Nguyen and Matt Selby, they enjoyed discussing how their solutions would solve issues like language translation.
Remitly is a company built on a set of cultural values that guide how Remitlians deliver on their promise to their customers. This was shared with students as they think about their learning journey and explore the world with the mindset of continuously improving, aiming for the stars, and being a compassionate partner.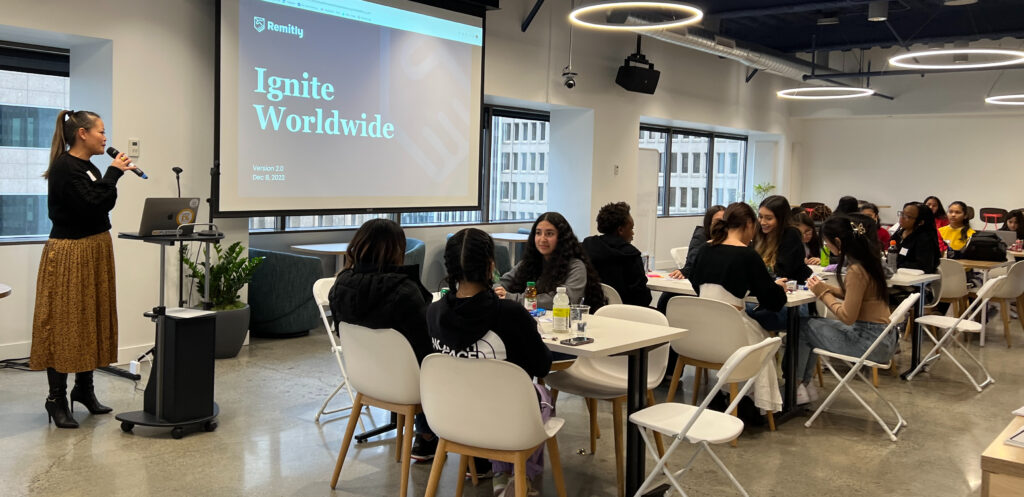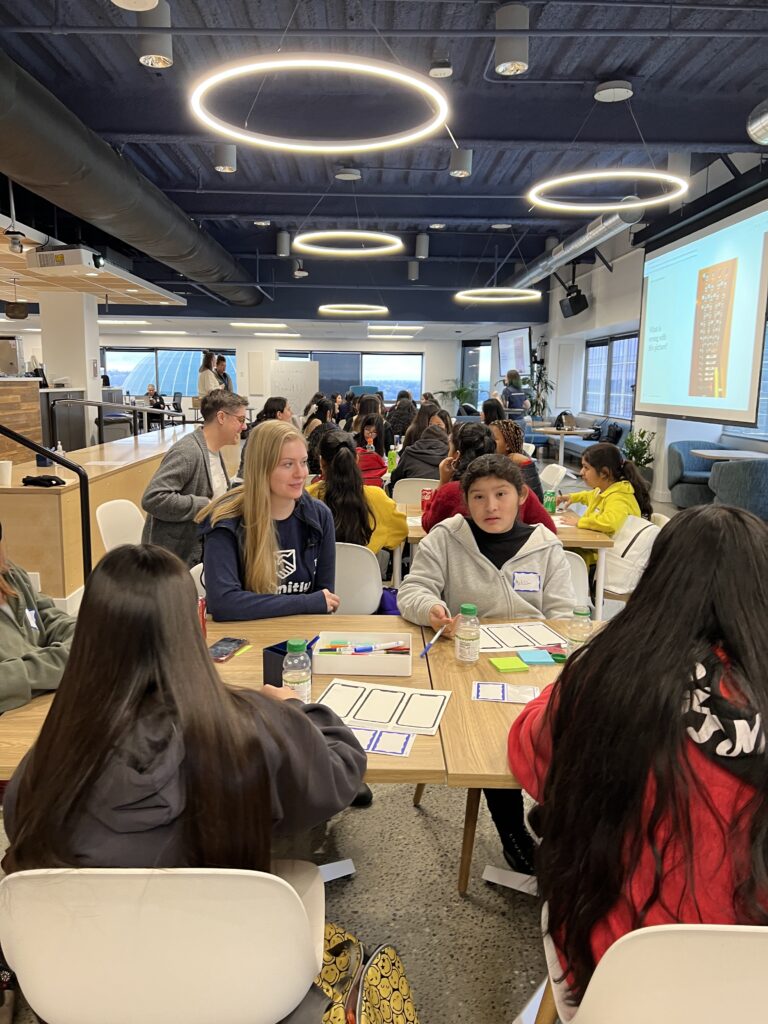 After the activity, students had the opportunity to learn more about women in tech, the possibilities for their future, and how our passions can lead us into the world of tech as four Remitlians shared their journeys in STEM: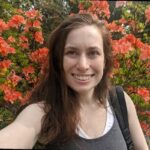 Colleen Briant, Engineering Manager, has spent 11 years in the Software Engineering field, first as a developer and then as a manager. She didn't discover a love of coding until well into a different degree in college! Colleen has worked at various companies, from four person startups to Google. Away from work, she cooks, bakes, learns, and cuddles with her cat.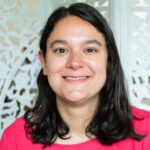 A love of the outdoors and animals led Megan Stachura, an Analytics Engineer, to pursue a career in marine biology. She discovered the power of data, which led her to her current position at Remitly. Megan enjoys using her data skills to do work that has a positive impact on others and the world, in addition to hiking, restoring native habitat, and traveling.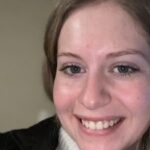 Shayla Grymaloski, Software Development Engineer, is a recent university graduate, where she studied software engineering. During school, she was able to complete an internship as a camp counselor teaching youth 12-14 coding, plus two other internships working as a software engineer. Outside of work, Shayla enjoys playing music, cooking, biking, and backpacking.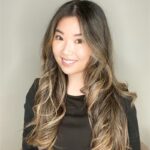 Nancy Benter, Senior Manager, Customer Experience, is a daughter of immigrant parents and was born and raised in Olympia, Washington. Nancy is proud of her heritage as a first-generation Chinese American woman and believes in creating equity in tech for people of color. Nancy has a 10+ year track record of driving high-impact customer-focused initiatives and a passion for people development. A few notable mentions include leading flagship iPhone, Samsung, and OnePlus device launches for T-Mobile. Now at Remitly, Nancy leads a customer experience team responsible for delivering flawless experiences for customers. Nancy is also an Affinity Leader and supported events for International Women's Day and led the vision for the first internal Stop Asian Hate fireside panel for the company. What brings Nancy joy includes raising her two boys alongside her partner, finding new places to eat, and exercising.
Students asked incredible questions about overcoming failures, internships, how to find one's passion, regrets, and advice. The speakers focused on opportunities to learn from mistakes, take risks and think about their long-term goals. They stressed the importance of building self-confidence and knowing your authentic self; don't care so much about what others think!
The students had a great experience seeing a startup in action, with some inspired to go into app design! They enjoyed learning about new applications for STEM and loved the friendly environment, snacks, lunch, and goodie bags!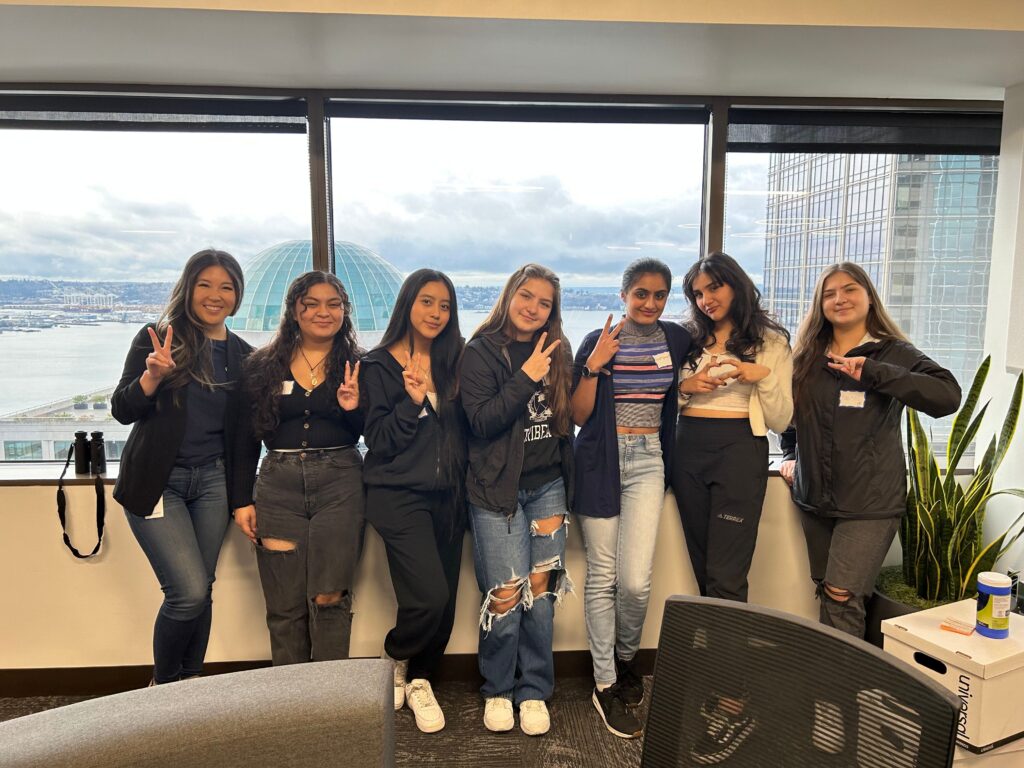 Thank you to IGNITE Worldwide and the amazing students and staff from Highland Middle School and Thomas Jefferson High School! And a big thank you to Remitly's volunteers for providing such a memorable experience: Sarah Rith, Colleen Briant, Lee Faris, Divya Mary, Kyle Ellman, Kenya Chauche, Kaan Yarar, Erin McClure, Megan Stachura, Shayla Grymaloski, Sathya Chandrashekar, Nancy Benter, Vivie Nguyen, Kate Shaffer and Matt Selby.
After attending this event:
Here's what the students thought of the event:
"Listening to the panelists' stories made me realize I should follow what I want to do and pursue what interests me. I learned about different career choices I can go into and different opportunities for me in pursuing STEM." – 10th grade

"Today's event helped me feel more confident in joining STEM and working for startup companies with good mission statements." – 10th grade

"I feel more confident in my personal career choices. I also feel more confident in myself." – 8th grade

"Today taught me to try my best and not let anyone tell me that I can't do something. Also, that STEM pays a lot, and they have a good community. " – 8th grade

"Seeing women of color taking on such impactful roles assures me that I can do anything I set my mind to. One takeaway was that the challenges you face in life don't determine your future and that we shouldn't let our plans limit us from the unknown." – 12th grade

"The way these women had the confidence to pursue their dreams and didn't let anything stop them impacted me not to give up." – 8th grade

"Today's event inspired me to consider doing something in STEM in the future." – 6th grade

"This event inspired me to make my own path. Thank you for making me feel hopeful for my future." – 6th grade

"Today's event was wonderful." – 6th grade

"This event inspired me to see that there are many opportunities for women and other people who aren't men. We can be big things in the future! You just need to keep going, even if you feel like giving up." – 12th grade

"I liked how Nancy talked about her personal experiences. It made me feel comfortable knowing that things can get better. You can't give up, even if you went through hard times. Don't let what you went through keep you from doing better." – 11th grade

"I've been interested in learning coding, so it was pretty cool to learn about it at today's event." – 7th grade

"I enjoyed hearing about people's background, how they came to find themselves, and their pursuit in engineering careers. Today definitely opened my eyes more into taking STEM into consideration." – 11th grade

"This event really inspired me to continue considering pursuing business or marketing. One of my biggest takeaways was to never let anyone put me down and to continue in what I want to do." – 11th grade

"Today inspired me to think bigger about my future." – 8th grade

"This event inspired me to feel better about my future." – 6th grade

"Today's event inspired me to work hard in my computer science class, even though it's really hard. Anyone and everyone can go into STEM. Computer science is important to our world and there are many different types of people and jobs in one field." – 11th grade

"This inspired me to not give up. I learned that it's ok to change your mind and career. Listening to the women's stories was inspirational and made me want to be like them when I grow up and do something in life that positively impacts others in some way." – 11th grade

"This event inspired me to not give up and to try again if something doesn't work. I was surprised to learn how small a percentage there is of other genders in STEM." – 6th grade

"Today inspired me by showing me a different perspective to STEM." – 8th grade

"This inspired me to think more broadly about my career. It also inspired me to choose a career I want and not what others want. I learned that sometimes you don't stick to your 1st career choice and it's okay to feel lost in college." – 10th grade

"I felt that the people on the panel were very similar to me. It helped me view myself as a POC in these positions. My biggest takeaway is that everyone has struggles and different roots, yet they all can come together to make an impact." – 10th grade

"It was fun to see other perspectives on engineering and STEM." – 7th grade

"Hearing the panelists' stories was very inspirational. It helped me see that it's okay to have regrets." – 7th grade

"This event helped me to follow my dreams and do what I love to do. My favorite thing was learning the panelists' stories." – 8th grade