On February 8, 2023, IGNITE Students at Rainier Beach High School participated in an IGNITE Panel consisting of STEM professionals from a wide range of careers.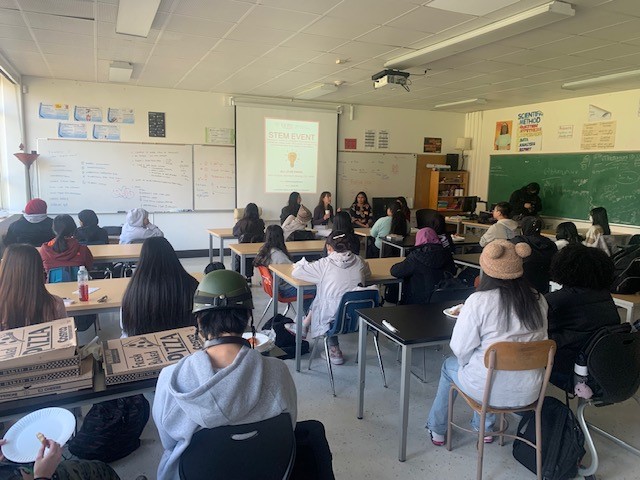 The IGNITE Panelists included: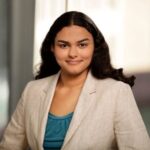 Valerie Smith, Acoustical Consultant at Salter: In school, Valerie was most interested in math and science classes. When she got to middle school, she became involved with a minority engineering club, giving her an opportunity to explore some traditional engineering fields. From then on, she knew she wanted to be an engineer. During college, Valerie took a course describing different disciplines and ended up looking at the things she loved doing most – music, math, and physics. Combining those, she pursued acoustical engineering. Valerie now spends her days helping to make loud things quiet and improving the built environment for occupants. She works on a variety of projects, making every day different.
Joyce Bacic, Software Engineer at Microsoft: As a kid, Joyce didn't know if attending university would be a possibility for her. She was diagnosed with dyslexia, a learning disability that made it difficult for Joyce to learn how to read and write. However, ever since she was young, she loved patterns, which translated into a love of problem-solving as Joyce got older. A job in tech was totally off her radar and she didn't consider herself "technologically inclined", but because of the recommendation of a high school math teacher, she attended a conference for high school girls interested in pursuing a career in mathematics. At this conference, Joyce ended up meeting young professionals who studied Computer Science in college. She was hesitant to try Computer Science, thinking it was only for technologically savvy people. Despite her reservations, attending that conference encouraged her to try a high school Computer Science class. Joyce immediately loved the problem-solving aspect of Computer Science and the freedom that comes with a career in tech. which then lead to her pursuing her degree in Computer Science and now working for Microsoft, one of the biggest tech companies in the world!
Binu Mathew, IT Product Manager at Boeing: Binu's journey into STEM included a lot of perseverance- from growing up in a different culture and immigrating to the US, to being a first-generation college student. Binu carved her own path, pushed boundaries, and stayed true to herself along the way. She now encourages others to be yourself and do what you love!
Alexandra Hines, Senior Land Use Planner at ESM Consulting Engineers: Alexandra always loved buildings, but didn't realize until her senior year that she could go to school to design them. In college, she studied architecture and then supplemented her undergraduate degree with a graduate planning degree. Alexandra never imagined a professional career in land use planning. College wasn't easy for her, having to cope with financial strain from her parents' divorce; she is grateful for the FAFSA grants she was able to receive and the retail/restaurant jobs she had during college. Alexandra faced some difficulty landing jobs throughout her professional career, but has seized some amazing opportunities. She has been able to learn and contribute in the public sector and now the private sector and she has harnessed enterprise systems & drawing programs from college to career.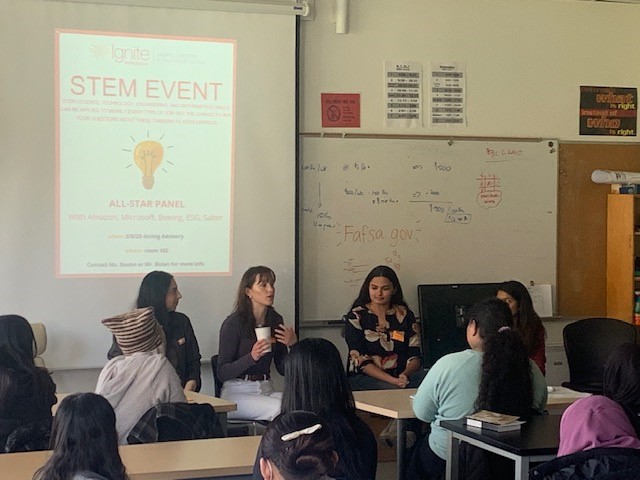 The Q&A session was very helpful and relevant. Once students warmed up, they were able to hear real answers and have their questions re-framed. One student asked if it's okay to ask a college professor if a certain degree is "worth it". The panelist helped the student re-frame the question to ask, "what careers do your students typically pursue with this type of degree."
Questions asked:
How do you handle college?
How do you choose that job/career?
What would you do differently?
Do you prioritize salary or job?
Advice Panelists shared:
Don't be dissuaded if it's hard.
It's okay not to meet all goals with your job – sometimes, your career just enables you to do what you want.
Use current opportunities to develop new paths.
Thank you to our Volunteer Panelists: Valerie Smith, Joyce Bacic, Binu Mathew, and Alexandra Hines. Additional thanks to Educator Geoff Bolan and all of the wonderful IGNITE Students for participating!
After attending this event:
Here's what the students thought of the event:
"It was interesting and exciting to learn more about STEM and learning about the panelists careers and journeys." – 12th grade

"It was helpful to learn that I don't have to go to fancy school to become who I want be." – 12th grade

"After this event, I know that the STEM field will be an option for me. I'm grateful to have the opportunity to hear the panelists' paths to their careers. I could relate to some of the stories, which surprised me." – 12th grade

"This event inspired me to overcome obstacles, despite the difficulty. It taught me to not be afraid to try new things and follow a path which makes you happy while providing decent pay. I thank the volunteers for sharing their own experiences." – 10th grade

"Today inspired me to do more work and learn more." – 9th grade

"This event inspired me to give STEM a chance, even if it might seem hard. It inspired me to enjoy my passions and taught me there are many different pathways to success." – 9th grade

"This event showed me how you can be more creative in life, even if it's not rainbow and sunshine everyday." – 9th grade

"Today was helpful to learn about finding a job that pays well." – 9th grade

"This event taught me that I can have a career I like and also get paid a lot for it." – 9th grade

"Today reminded me that change is okay and not knowing your career is okay. It was helpful to learn about work ethic and how to build it." – 10th grade

"This event inspired me to check out other STEM fields, especially engineering." – 11th grade

"This event made me realize that even though my life seems to be bound for STEM, I can incorporate my other passions into my career. It also taught me to not constantly pursue perfection and reminded me that I don't need to be perfect to be accepted into college." – 10th grade

"It was inspiring to see women in power and so professional. Whenever I talk about the future, it's so scary, but today I feel better about it. I learned that you don't have to have everything planned to the point. Hearing the volunteers talk about figuring out their own path was really refreshing." – 10th grade

"This event made me more interested in STEM. I'm not sure what I want for my future, but this was helpful to learn about my options." – 9th grade

"Today taught me that you can love your job and what your job offers you. I also realized I have a lot of options too." – 9th grade

"Today I learned that STEM can be a passion job not just a money job. I enjoyed hearing about how much the panelists love their jobs. It also taught me that not having it all planned out is okay." – 10th grade