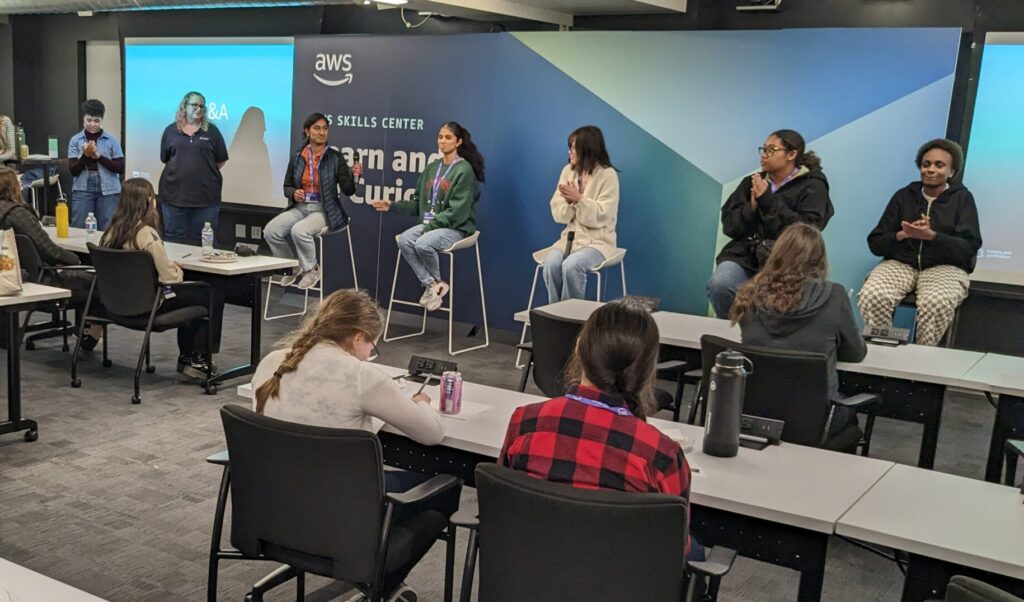 On March 7, 2023, students from Thomas Jefferson High School in Federal Way Public Schools and Sumner and Bonney Lake High Schools in Sumner-Bonney Lake School District, visited the new Amazon Web Services (AWS) Skills Center in Seattle for an exciting IGNITE Field Trip!
AWS is Amazon's cloud service, and the group was in awe as they entered the building and walked through the Cloud Discovery Space, full of intriguing exhibits like video game stations, robotics, and a giant interactive globe—but it wasn't time to explore just yet! To begin, the students met several enthusiastic volunteers and leaders at Amazon Web Services who provided an introduction to AWS and the cloud and why it's a great area to learn about and consider for a future career, particularly for those from underrepresented backgrounds.
Maria Petrova, the AWS Skills Center Seattle Lead, originally from Bulgaria, said that speaking another language and understanding another culture makes you special!
Maureen Lonergan, Vice President of Training, shared that whatever your passion is, tech is a part of it. For example, AWS powers cancer research!
As the Inclusion, Diversity, and Equity, Head of Global Community Activations, Shyla Martinez's job is to make sure everyone feels included, and all have the opportunity to be involved.
De'Rell Bonner, External Community Activations Leader, Inclusion, Diversity, and Equity, advised students to be curious, which will help in any job.
Tina Einkauf, Manager of Program Management, walked through some myths about STEM, like "Math is for boys." She stressed the importance of not letting people tell you what you are and aren't good at.

Following the warm welcome, students got a chance to dive in at the Cloud Discovery Space! Through a scavenger hunt or self-paced exploration, they got hands-on experience with a number of different applications of data and the cloud, including a smart home and smart kitchen, robotics designed to help with repetitive tasks, and sensors in Formula One race cars. The globe space display captured data on everything from weather predictions, to the atmospheric makeup of Saturn, to turtle migration!
After a busy morning, everyone was excited to enjoy a delicious catered lunch. While students ate, they heard from four women who work in different areas of STEM at AWS: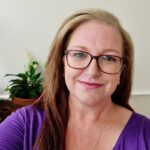 Erica Vismer, Delivery Readiness Technical Lead, grew up in South Africa, where the only computer science class was offered at the boys' school. She was too shy and didn't think she was smart enough to join, so she started on a different career path. After some personal challenges, Erica wanted to do better for herself and ultimately found her way into Technical Training. Now she travels all around the world to train people in technical skills!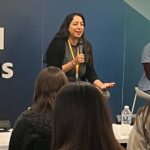 Bianca Richman, Inclusion, Diversity, and Equity Business Partner, had a difficult childhood and encountered challenges as a Latina trying to navigate the education system and working in different industries. She had to learn to be self-sufficient and worked very hard and put herself out there to meet new people, which led to her dream job at Amazon. Bianca stressed that anyone can transform their pain and sorrow into courage, power, strength, and love to inspire and heal themselves and others.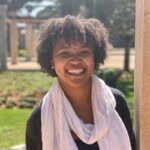 Zené Sekou, a Software Development Engineer, always liked math and sports. She took a computer science class in college to please her dad and ended up majoring in it! Studying computer Science was the first time school wasn't easy for her, but Zené learned valuable lessons about failure, perseverance, and growth.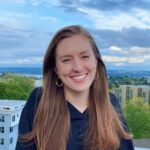 Kira Gobes is Technical Program Manager at AWS Spark, a cloud education program for youth, which she helped create and launch! AWS is Kira's first job out of college, and she loves that she gets to work on a program that helps students engage with technology. She shared that she has dealt with imposter syndrome and encouraged students to recognize how capable they are.
Students appreciated how honest and vulnerable the panelists were with their stories, which created an opportunity to relate to them on a more personal level. The panel was followed by an insightful Q&A discussion, where students asked questions like:
Do you work from the same place every day?
What does a typical day look like?
How do your jobs involve STEM?
What has been the most challenging part of your journey?
What classes should I take to prepare for a STEM career?
Have you ever been the only woman or person of color in a meeting or class, and how did you handle it?
Key takeaways from the panelists included:
There are many different opportunities in STEM and many different paths to get to a STEM career, and the work environment can vary widely.
Being the "only" is your superpower because you bring valuable perspective.
Everyone deals with imposter syndrome! Believe in yourself, be kind to yourself, and find mentors and allies who support you.
Don't be afraid to do hard things – that's how you learn and grow!
Never allow others to dictate what you're capable of.
When the panel wrapped up, the students and professionals switched places: Four students volunteered to form their own panel and answer a few questions about their experience throughout the day! They shared how helpful it was to learn about so many different areas in STEM, including some they didn't know existed, and how meaningful it was to meet professionals who came from backgrounds similar to their own and who dealt with the same kinds of challenges.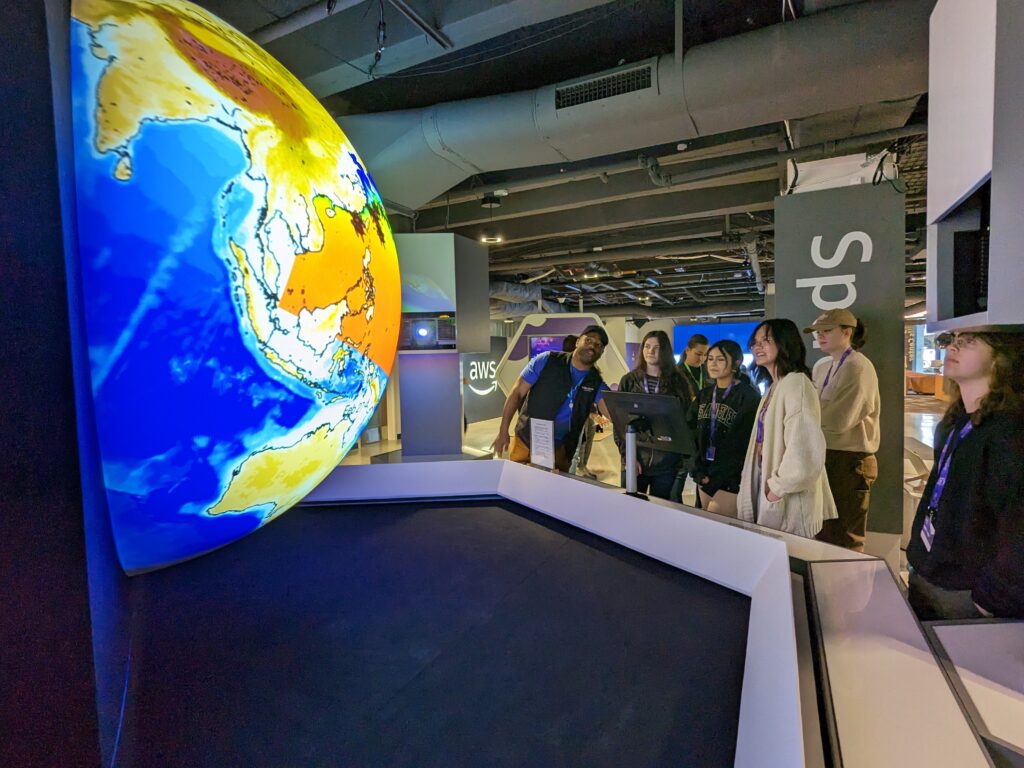 The students and volunteers all left feeling energized and excited! Thank you to the team at the AWS Skills Center for hosting an incredible first IGNITE Field Trip: Maria Petrova, Maureen Lonergan, Shyla Martinez, De'Rell Bonner, Tina Einkauf, Erica Vismer, Bianca Richman, Zené Sekou, Kira Gobes, Lexie Knauer, Bree Al-Rashid, Nick Gorzkowski, Daksh Kuma, Ali Imam, and Rohini Mettu. And thank you to the educators and students at Thomas Jefferson High School, Bonney Lake High School, and Sumner High School, for attending and sharing your enthusiasm!
After attending this event:
Here's what the students thought of the event:
"Seeing people in STEM who look like me and have similar stories as mine was a truly ethereal moment. It reminded me to keep an open mind and try new things fearlessly." – 12th grade

"I gained insight into how technology and innovation will shape the future, and was inspired by the panel members' emphasis on diversity and female empowerment. I realized that technology plays a crucial role in numerous aspects of life and careers. It's essential to embrace and take pride in who you are, as it can be an advantage in achieving your goals." – 12th grade

"This event inspired me by demonstrating how people can excel in unexpected areas. It also illustrated that it's possible for women to thrive in STEM fields. My key takeaways were the message about proving people wrong when they underestimate you and the idea that our differences are our superpowers." – 9th grade

"I was inspired by the diversity in this group and how each member has a role to help improve the team as a whole. I learned that I am not alone and that women are becoming more and more involved with STEM. No matter what your gender, race, or beliefs, you can achieve what you wish the most. Thank you to all of the employees, volunteers, and chaperones who helped put this together! Thank you AWS team"! – 9th grade

"I've learned that putting myself out there and trying things I'm not naturally good at can be worthwhile. My hobbies and skills can translate into a variety of STEM jobs, and if I keep searching, I can find a job I'll love. I've realized that there are numerous paths to take in the STEM field, and there's a job that can suit anybody. Regardless of our background and identity, everyone can find their place at Amazon. This experience has taught me to find something that can push me through hardships and help me reach my goals." – 12th grade

"This event opened my eyes to the range of options within the STEM field and how many diverse options are available. It made me inspired to have a STEM career even if it seems hard because I'm probably not alone in feeling clueless. I think the STEM field offers a lot of different benefits and experiences. I appreciated the interactive stations and especially the panel and availability to ask questions." – 12th grade

"Hearing from so many people with different stories at one company was very empowering. I learned that car racing is hard and that the things that make us different are our superpowers." – 12th grade

"This experience showed me that the STEM field has more job opportunities than I initially thought and that there is a diverse range of people working in this industry. If I face any issues or don't understand something, it's important to speak to someone about it. I shouldn't let anyone bring me down and should stick to my beliefs while also standing up for myself and others." – 9th grade

"This event inspired me because it showed me and made me realize how many options there are for careers in STEM." – 9th grade

"Today showed me that STEM has many, many different fields. There are so many things that women in STEM have open opportunities to do. No matter what gender, race, or anything that someone might identify as, there is always somewhere where they will welcome you." – 9th grade

"Today was a fascinating look into the cloud workings of Amazon. Many of the panelists didn't have jobs solely dependent on STEM. Even though I'm not good at math, it doesn't mean I should give up entirely. I should still try, even if STEM isn't my favorite thing ever. I also learned that Amazon is everywhere! Thank you, AWS! The food was delicious, and the panelists were awesome!" – 12th grade

"Today's event was inspiring because I got to see and meet many women who do different things in the STEM field and who are working at Amazon." – 12th grade

"Today's event inspired me to seize every opportunity and reminded me that my future is not determined by other people's expectations, but by my own efforts." – 10th grade

"Because of this experience, I feel like I can be proud of being the only girl in my class. I loved how kind everyone was." – 10th grade

"I learned a lot and heard a lot of stories from people that had similar experiences as myself. I learned to be emotionally independent and to not take any words other than my own. Some key takeaways included: 1. Motivate yourself and be the best. 2. Hardships are a challenge to overcome. 3. Do not take anyone else's opinion about yourself than your own. 4. AWS is a class that teaches for free. 5. Cloud is a technology service that powers digital tech like phones and internet engines." – 9th grade

"I'm inspired to continue with my passion to become an engineer. I already knew I wanted to go into something with the STEM program, but today taught me that there are so many other options. The biggest takeaways I had today were that women can do anything in STEM, no matter what their background is." – 12th grade

"I'm not that good at math so I thought that would cancel out a lot of careers for me. After listening today, I feel better about working harder and getting into STEM. Don't let people tell you what you can and can't do." – 10th grade

"I learned about the diverse range of careers in STEM and that where you are now doesn't dictate your future. STEM encompasses various fields beyond coding, including travel and collaboration with others. It's crucial to remember that just because you may not excel at something now, it doesn't mean you won't improve in the future." – 9th grade

"It was really fun to participate in the scavenger hunt and explore the various inventions, such as the robots, giant globe, and tiny house. They were all incredibly inspiring. The different perspectives shared during the Q&A session were also enlightening and helpful. It's important to continue pursuing what inspires and interests you, regardless of your race or gender. Keep following your dreams and goals, even when faced with difficulties or obstacles." – 9th grade

"The event inspired me by showcasing some of the many career options within tech and learning more about how tech can be used for empowerment. Learning about other experiences that I relate to was inspiring. My biggest takeaways from today is not to let fear and what others are saying stop you, and that there are many ways that tech can be worked into any career." – 12th grade

"Today's event inspired me to expand my knowledge about the diverse array of jobs available in STEM-focused careers. Initially, I believed that a CS degree solely leads to programming and coding opportunities, but there's much more to it than that. One of my significant takeaways was the importance of girls to have confidence, regardless of skill level, as pursuing one's interests is a significant achievement. Another key takeaway was the realization that there are now more opportunities for women in STEM careers than in the past, which requires hard work and dedication." – 12th grade

"Today's event was inspiring as the volunteers came from diverse backgrounds and achieved success in their respective fields. It gave me hope that I too will find my path and eventually work a fulfilling job that makes a positive impact. My takeaways from today were that a tech job doesn't necessarily have to involve coding and programming if it's not your strength, and there are alternative career paths to explore. Lastly, I'd like to express my thanks to all the volunteers for taking time out of their day to share their experiences and inspire us. You're all truly empowering." – 12th grade

"So many of the volunteers faced challenges and overcame them. They are now doing what they love and living their best life, unafraid to share their story. That inspires me. Don't let others become your inner voice. Other people's opinions don't matter. It's how you see yourself and your mindset. Thank you for showing me that defeat and judgement don't stop you." – 9th grade

"The event provided me with a diverse perspective as I listened to different experiences and received valuable advice. I felt supported by the community, and I now have a clearer understanding of how to take the next step towards my goals. Furthermore, I gained insights into the many pathways and choices available in STEM, and I found it inspiring to hear about the diverse experiences of the speakers." – 9th grade

"All of the guest speakers inspired me by telling us to believe in yourself, no matter what!" – 12th grade

"At first, I was a bit overwhelmed because when I applied for college, I chose to major in computer science. I chose it because it was different, but I didn't have as much knowledge as others who had been in clubs or had more experience. However, after attending today's event, it opened my eyes to the career field, and I am now eager to learn more and explore this path further. Thank you to all volunteers for being kind and taking your time to talk with me and answer my questions. You're all very inspiring!" – 12th grade

"This event showed me more people are interested in STEM than I thought. It showed me that even if you miss an opportunity or a class you wanted to take, you can still persue a job in the STEM field." – 9th grade

"Today helped me learn a lot. I learned about jobs that I could possibly have and things that interest me. I also discovered that there are other people who are interested in the same things as me. There are many opportunities for women in STEM. Working in STEM, you will feel included because of the workspace and the people." – 9th grade