On March 6, 2023, 34 students from Polish Public Primary Schools, Wrocław, Bukowina Sycowska, and Kąty Wrocławskie, participated in an IGNITE Event featuring STEM professionals from Dolby.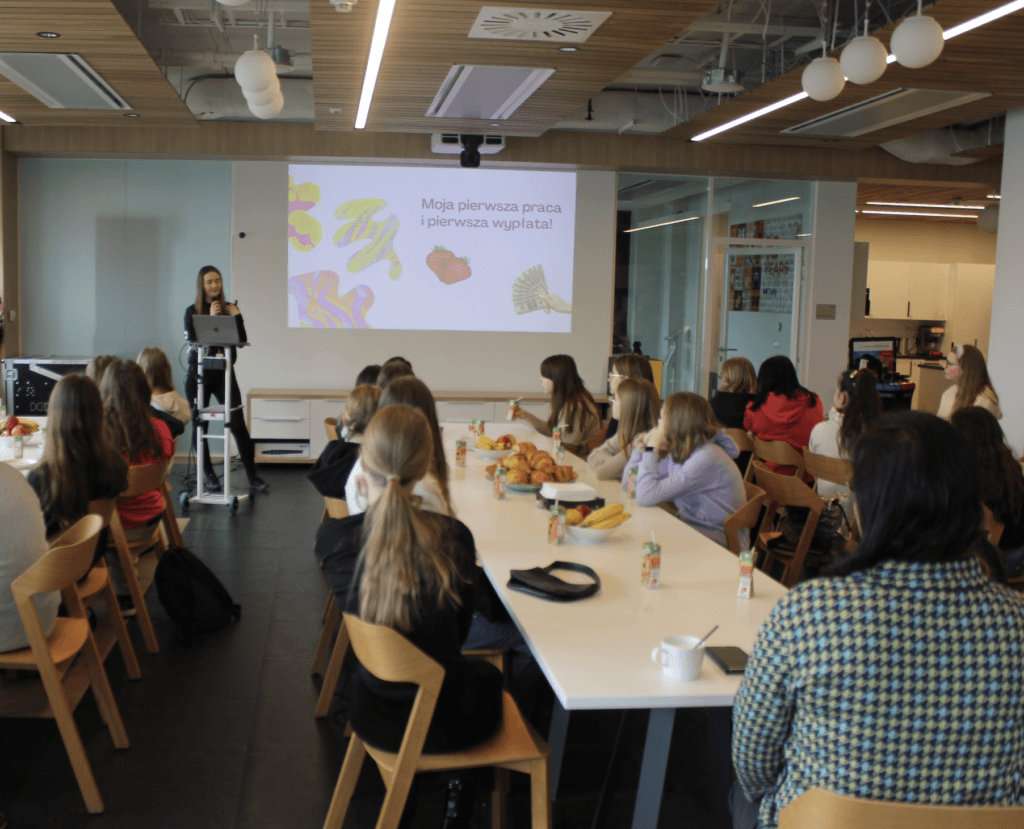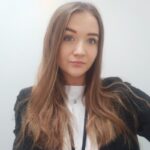 Magdalena Buczek, HR Specialist
At the beginning of the event, Magdalena told the students that she grew up in a small village, and as a teenager, she got her first job picking strawberries. She shared that she was very excited to have earned money by herself. When she was older, she went to Wroclaw to work in the gastronomy sector. This job taught her to manage her time and work within a team. She finds those skills very useful in her current work. Now she is 22 years old and combines her studies with an internship at Dolby. Magdalena is responsible for human resources but is also very interested in new technologies. She knows that she is at the beginning of her career and all doors are open for her; everything is possible. She advised the students not to give up when something seems to be difficult and that they can overcome all obstacles.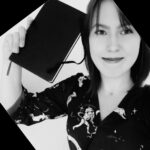 Alicja Jasińska, Acoustic Engineer and QA Engineer
Alicja Jasińska works at Dolby as an acoustic and software tester. As a young girl, she used to listen to loud metal and rock music because her father was a big fan of it. When she was at school, her math teacher said that not everyone can be good at this subject, because it requires specific skills – skills that Alicja didn't have, in her teacher's opinion. Her mom sent her to additional math classes, which helped her a lot. After that, Alicja felt that she liked that subject very much.

In her small village, there was a workshop in a recording studio, and Alicja discovered that audio was her career path. She felt a great motivation to learn hard to take exams to study acoustics, and she succeeded. During her studies, she discovered her passion for different kinds of instruments and for singing. She had also dreamed of becoming a psychoacoustic – a scientist who deals with sound. After graduation, she got her job in Dolby, where she can combine and bring to life all her passions.
At the end of the discussion, the panelists advised the students:
Don't be afraid of trying new things.
When you feel passionate about something – don't give up after facing the first obstacles.
Be brave, and don't be afraid of being yourself.
Allow yourself to make mistakes.
If you need to, just ask others for help.
Break stereotypes.
Later, the participants took a tour to experience Dolby's laboratories firsthand. The students saw the rooms where they checked the music, watch a movie recorded in Dolby's Atmos system, and also learned about the new technologies developed and created by Dolby.
The students were very impressed by the professionals' stories and Dolby's headquarters in Wroclaw.
Thank you to Magdalena Buczek and Alicja Jasińska for the amazing event and for sharing your stories with IGNITE Students. Thank you to Aneta Parulska for coordinating the event in such an excellent way. Special thanks to Monika Małecka, Agnieszka Krasicka, and Joanna Morawska for coordinating the groups and encouraging the students. Thanks to the students from Wroclaw, Bukowina Sycowska, and Kąty Wrocławskie for being such enthusiastic participants in this event and an additional thank you to Cathi Rodgveller for her constant support!
After attending this event:
Here's what the students thought of the event:
"Today's event inspired me to work at Dolby in the future! Thank you very much for the presentation and for showing different paths in STEM." – 8th grade

"Today's event inspired me to make my dreams come true, achieve my goals, and not give up – despite the obstacles. Thank you to the role models I discovered and for showing me that everything is possible and to believe in myself." – 6th grade

"Because of this experience, I have more courage to achieve my goals and more confidence. Thank you for the event." – 8th grade

"Today inspired me to achieve my goals and to not give up." – 7th grade

"This event inspired me to learn more scientific subjects and taught me not to give up. It was cool, thank you!" 8th grade

"Today inspired me to work hard to achieve my goals. My dream is to work in a law office!" – 7th grade

"This event inspired me to be more focused on my future career and to be more determined to focus on my hobby." – 8th grade

"Today inspired me to develop my passions, and the lectures were very interesting." – 8th grade

"This event inspired me to learn more scientific subjects and focus on my goals." – 8th grade

"This experience inspired me to be more focused on my dreams. I liked it very much and thought it was a great place to work!" – 6th grade

"Today inspired me to find a good career that I like in the future. It made me want to try everything I like. The volunteers were very nice, and I could tell that they like their work. The panelists have great careers and stories." – 8th grade

"This event inspired me to follow my dreams. Thank you for the event, and I wish all of the volunteers lots of success." – 6th grade

"Today inspired me to focus on my hobby, which is mixing. It was great meeting everyone, and Dolby created a wonderful team." – 8th grade

"The event inspired me not to give up, to achieve my goals, and learn from my mistakes. It inspired me not to follow the stereotypes." – 6th grade

"Today reminded me that I am confident and believe in my dreams. It taught me that science is hard, but you still succeed." – 6th grade

"This event was an interesting experience." -6th grade

"After today, I'm more confident! It was great, and the experts were very nice." – 6th grade

"Today inspired me to believe in myself and my dreams. I liked it very much." – 6th grade

"This event inspired me to achieve my goals and to be more confident. Thank you very much for this huge amount of knowledge, and thank you for the great fun." – 5th grade

"Today inspired me to achieve my goals, not give up, and continue doing what I like." – 5th grade

"This event inspired me to learn English and Math. I learned that I can overcome difficulties and achieve my goals. Thank you for showing me so many interesting things." – 5th grade

"Today inspired me to continue studying and to be more confident. I would like to thank the volunteers because they have shown us the STEM industry in a very realistic way." – 8th grade

"This event inspired me to follow my dreams and continue studying. Today's event was very valuable, and it made me think more about STEM." – 7th grade

"Today inspired me to achieve my goals and be confident. It was very cool." – 5th grade

"This event inspired me to continue learning." – 8th grade

"Today inspired me to follow my dreams, and I realized that STEAM careers are also for girls!". – 8th grade

"This event inspired me to believe in myself. I would like to join Dolby's team in the future. Thank you for the knowledge." – 7th grade

"This experience inspired me to follow my dreams and to work at Dolby. Today's event was very valuable." – 7th grade

"Today inspired me to follow my dreams and not to give up. I learned that every job is valuable and it's not always important what your first work experience is. It was great meeting the volunteers and listening to music with them. Thank all of you for showing so many interesting things, I hope we will meet again." – 7th grade