On March 2, 2023, 138 IGNITE Students from Oak Harbor High School in Washington participated in an IGNITE Event that featured a panel of professionals from a wide range of STEM and skilled trades careers. This was Oak Harbor's second annual STEM and Skilled Trades Panel, and IGNITE Educator Chris Whiteman shared that it's one of the events he most looks forward to!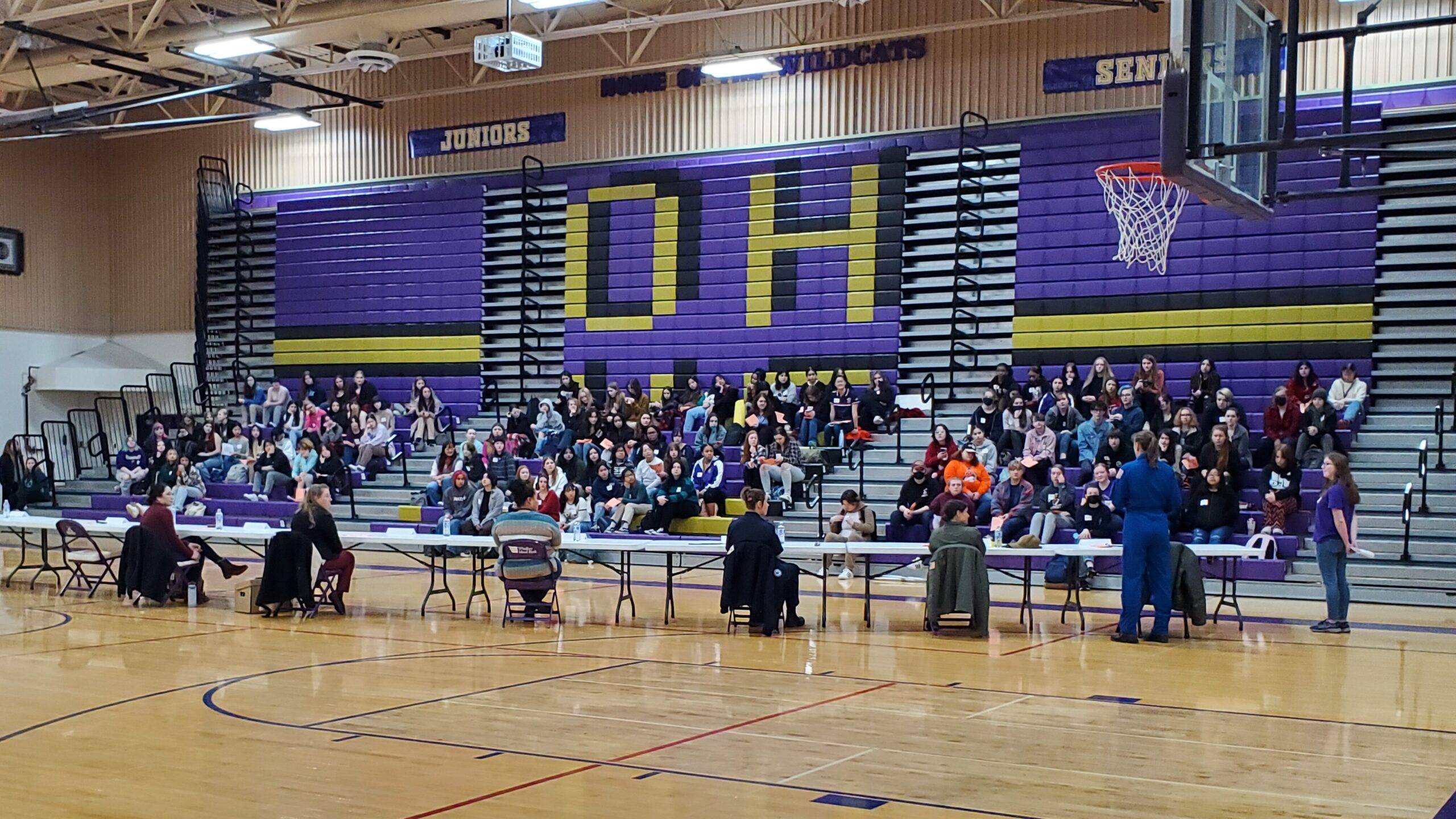 At this year's event, Oak Harbor High School SkillsUSA President Mikell Green kicked things off by sharing how important it is to have programs like IGNITE, because without venues to explore different career fields and without teachers and advisors to encourage that exploration, girls and gender-diverse students may not be aware of all the opportunities available to them. Mikell spoke from experience: she thought she would go into a traditional field like becoming a secretary or teacher but was able to forge a different path by going to motorcycle school—she is now an Apprentice at Bull & Bear Cycles in Oak Harbor!
Next, the SkillsUSA State Officer Representative, junior Erastine Gee, introduced the panelists:
Heide Stefanyshyn-Piper – former NASA astronaut and retired U.S. Navy Captain
Raquel Smith – Helicopter Pilot at U.S. Navy
Angela McFarland – Powertrain Calibration Engineer at PACCAR
Melissa Gehrmann – Environmental Director at Naval Facilities Engineering Command
Susan Rogers – a Mechanical Engineer by trade who has worked as an Applied Research Engineer, Stress Analyst, Quality Engineer, and Program Manager
Vanessa Villa – Program Manager 2 at Microsoft
Charlotte Thayer – F-18 Pilot at U.S. Navy
Ana Leetch – Architect at Pelletier + Schaar
JoAnn McCleary – Electrician
Jennifer Porter – Lieutenant at Central Whidbey Island Fire & Rescue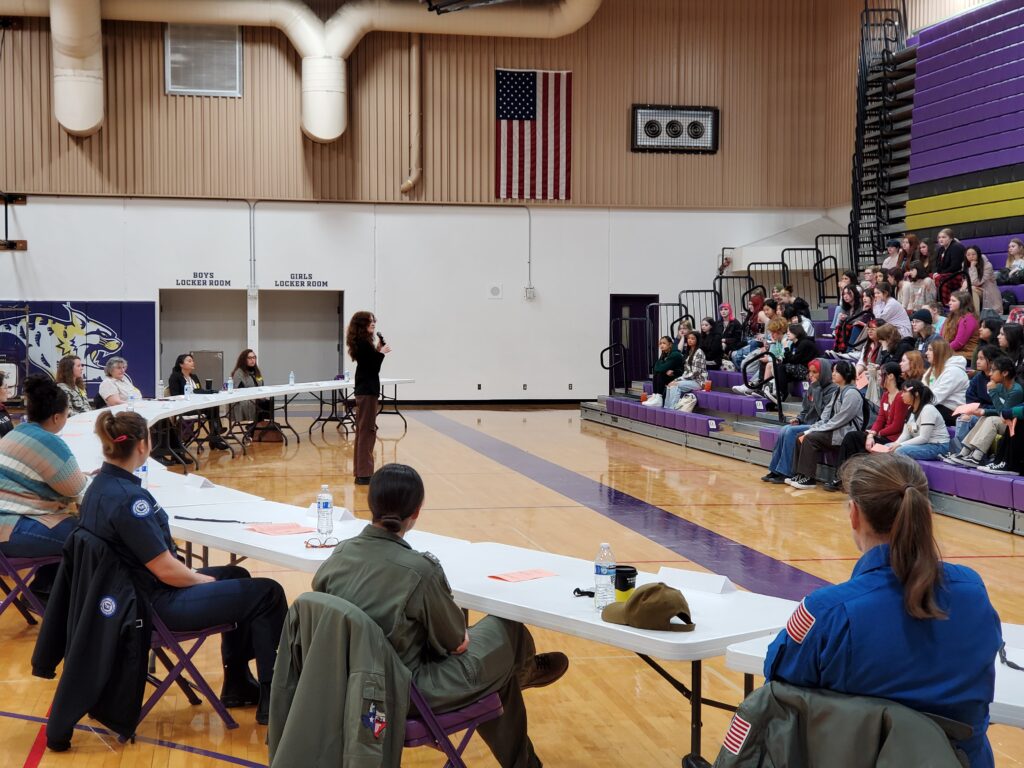 Many of the panelists shared the education it took to get them to their position and the experiences that led them there. A few even shared that they work in a 'man's world' and they've had to be comfortable in their own skin.
The students got a chance to talk with each panelist and asked questions including:
What was your toughest life experience?
Did you always know you wanted to do this career?
Panelists' advice included:
Keep an open mind and try new things
Build a supportive network and support each other
There are a lot of options and different pathways, and it's okay to change your mind!
Failure is a part of success
Be confident—you can do it!
Throughout the event, the students loved seeing and hearing from women in fields where women are less represented. They also enjoyed making connections with a wide array of industry professionals and learning what it took for them to get to where they are. Many students left feeling empowered and excited to explore opportunities in STEM and skilled trades!
Thank you to Heide Stefanyshyn-Piper, Raquel Smith, Angela McFarland, Melissa Gehrmann, Susan Rogers, Vanessa Villa, Charlotte Thayer, Ana Leetch, JoAnn McCleary, and Jennifer Porter for sharing your stories and experiences with IGNITE Students. Additional thanks to Oak Harbor High School educators Chris Whiteman and Christy Kellison, SkillsUSA representatives Mikell Green and Erastine Gee, and the great group of OHHS students for your enthusiasm and participation in this event!
After attending this event:
Here's what the students thought of the event:
"Today's event inspired me to make an effort towards seeking a STEM career, despite the hardships I might face. Although you will face hardships as a woman going into careers typically dominated by men, you'll get to enjoy the feeling of succeeding in an area where you weren't necessarily accepted. Thank you, volunteers!" – 11th grade

"I feel more inspired to get into the STEM field because of how cool all these jobs sounded. I'm really interested in space, and I really can't wait to pursue my knowledge in astronomy. I really liked how positive everyone was throughout the event. I really loved how the panelist brought examples of things that they do and they explained things very well and I enjoyed the free food too. Thank you to the volunteers for helping me and other girls learn more about STEM and for giving us a role model to look up to." – 10th grade

"It was inspiring to hear that many of the panelists didn't know what STEM was and now it's taken them so far. A lot of them fell in love with a job they didn't even know was a thing and now they found their passion. I loved how excited all of the volunteers where by seeing how many girls where interested in STEM and can change the future. It was amazing to be in a room full of powerful smart women!" – 11th grade

"Now I feel like I know more about potential options in STEM. The panel made me feel like I can pursue something I might not have otherwise thought about. I am more seriously considering pursuing engineering or I may work for the navy, likely as a civilian." – 11th grade

"I think STEM is super cool and very supportive." – 12th grade

"Today made me more confident about choosing my dream career in STEM. It also helped me determine what classes I need to take. It reminded me that anything is possible with a little math and to believe in yourself, even when people say otherwise." – 11th grade

"I didn't think of pursing program engineer as a career before, but now I'm really considering it. Thank you for the student speakers and volunteers for making this happen and letting us explore different things for our future." – 9th grade

"This event gave me a success story I could follow, and know it's possible. There's a lot of stuff that I was surprised about applications of STEM in day to day life." – 9th grade

"This event was good!" – 9th grade

"This event really helped open more opportunities for me that I didn't even know of. I liked learning about everything the panelists do and how cool it all was." – 11th grade

"Today was really interesting and I learned a lot. I feel more confident going into a STEM career. The panelists were really nice and I learned a lot, like how women can get into a STEM career and what type of things they do." – 9th grade

"This experience showed me how successful women can be in a STEM field and showed a strong community in STEM. It might be really hard in college, but it's totally worth it in the end." – 11th grade

"Today's event inspired me because it really helped me consider being an engineer. My big takeaways were the speakers – they were really nice and helped me understand STEM more." – 10th grade

"Today was really fun and cool. I enjoyed talking to the volunteers about how STEM is a really great career option because it pays well and is really fun." – 9th grade

"Today's event helped me feel confident as a girl in a male-dominated industry. It made me feel empowered and want to purse careers in the STEM field! My big takeaway was the confidence everyone had in their careers and it makes me want to feel that way too." – 10th grade

"I was really inspired by the fact there are women in fields that are mostly men. Hearing the amount of hardships the panelists overcame and still succeeded was wonderful and it made me see that you truly can go into any career field." – 9th grade

"I was so glad for this opportunity. I was immediately interested and now I have learned more about different careers in the STEM world. Today taught me to keep an open mind; there are so many different pathways and you are not bound to just a single one." – 10th grade

"Today's event was inspired me by showing that other women can be leaders. It was great to see how amazingly dedicated to helping and supporting others the panelists were." – 11th grade

"This event showed me that it's okay to not be sure about my future job while I am so young because most people change pathways. I've become more confident in working in STEM as a woman because of this experience. I loved it." – 10th grade

"It was helpful to see successful women in STEM." – 11th grade

"I thought it was super cool to see women doing impactful STEM careers. We need more representation for women in STEM." – 10th grade

"I liked hearing from other women about their experience in STEM. It showed me how many other job paths there are and I loved how they provided snacks. Everyone was so nice to talk to." – 9th grade

"I loved hearing about the panelists struggles and what they do for a living. I learned about how some women are treated as displays, but in better workplaces they are treated equally." – 11th grade

"It was nice to see successful women in such a male dominated field. There are many STEM options for women." – 11th grade

"Today's event inspired me because it helped me realize that there was no "big barrier" between me and joining STEM. I realized that the experts and professionals started as high schoolers just like me. I feel hopeful about the future of what i can do and I'm also motivated to study harder." – 9th grade

"I really like how the panelists were easy to talk to. STEM is cool😎 and everyone was super sweet and super nice." – 11th grade

"It was really interesting to see women in the Navy because I didn't think most girls could get that far in the military. Girls can do anything guys can." – 10th grade

"This experience inspired me to look more into STEM careers." – 10th grade

"Today made me more confident in pursuing my chosen field in STEM. It also helped me get insight on how life is in the STEM industry. My big takeaways are the different careers involved in STEM and the different paths and options for my chosen career." – 11th grade

"I really liked learning about the different careers in STEM. I already wanted to go into a career in STEM, but I'm glad I got to see the different options there were. Space is super cool and a fun career. Engineering is super fun and cool too." – 10th grade

"This event inspired me because I see mostly men in STEM fields and careers. Seeing women here today in impactful and powerful positions made me more interested in STEM and hopeful. My big takeaways from today were that it's okay to not know what you want to be yet, and it's important for people to have good role models when looking into careers." – 10th grade

"The panelists inspired me to think that even though I'm still in highschool, I have more time to grow and pursue my career. I may not stick to one thing but it's whatever I love that will be what I do. This has taught me so much about how in depth the careers in STEM go. The panelists showed me that you can try many careers before deciding which one you like." – 10th grade

"I learned more about the different STEM fields I was interested in and I got personal messages that really helped me hone in on what I want to do. I loved how helpful these local volunteers were and how they gave information that really helps me personally. I also loved that this opportunity dove into specific STEM-based occupations and taught about more specific projects that each group specializes in." – 9th grade

"I really liked learning about being an astronaut and think thought it was super cool to be able to do that. It made me want to go into that field. Today showed me that women can do anything they want to." – 11th grade

"This event made me more excited about the future and I can't wait to start what I love doing when im out of high school! This experience helped me to be more motivated. Thank you so much for today it help me out a lot to be more excited in the future!" – 11th grade

"After seeing the success of STEM careers led by people like me, I feel better about my choices to pursue my dream career. By talking to some people with careers I thought would only be in my dreams, I am able to ground my hopes in the paths they took to get them to this point. The spontaneity and risk of some jobs were revealed to me, but I felt excited every time I met a new speaker." – 11th grade

"I was able to explore many different careers that are in the STEM field today. The different careers vary a lot, but they all hold a lot of interesting similarities. You can do anything you want to, even if it's something you thought you would never be able to do. Today showed me that many people don't know what they want to do at my age, and despite that the panelists found a career they love." – 11th grade

"Today's event inspired me to pursue architecture. It showed me how competitive the architecture field is and it takes 5 years of school in order to graduate. This experience really helped me with what classes to take in high school and college." – 9th grade

"I felt inspired by the women who had to work through the challenges of being in a male-dominated field. I think my biggest take away was to go with what you want to do, and be open to more options that you didn't know of before." – 10th grade

"This event inspired me to look beyond basic career options and made me realize that I can do anything that I want. This event also helped me understand that tailoring a job to your needs and what you want in life is important for an overall better quality of life. Some big take always were that women are strong and they are capable of doing anything and that having a good sense of what you want to do is great. I also learned that you don't have to know what you want to do in the moment and you can take as many paths as you need to find what you want." – 11th grade

"This event was great, I learned so much about the best routes into search and rescue (SAR). I also learned the stuff fire department personnel responds on and so much more! If fire fighting doesn't work quite out, Navy SAR or Navy pilot would be a great career options, especially because the panelist had such great things to say and ways to get to where they are." – 12th grade

"I was able to meet women in STEM and recognize that search and rescue would be a good career option for me. I would love to do something in that field. The volunteers were amazing at answering questions and they were super helpful with everything." – 11th grade

"I got to talk to different speakers and learn about their careers. It makes me want to pursue in STEM. I had a lot of fun and learned a lot. THANK YOU VOLUNTEERS!" – 10th grade

"I got to speak to so many women from a variety of STEM careers. I was especially interested in hearing from the women from the military. They gave me advice and insight on which branch to join. This experience taught me it's not too early to start researching or taking classes that will help your future career. Thank you to all the panelists and volunteers for running this event." – 10th grade

"This event helped me learn what to focus on depending on what path way I choose. I also learned that if you set yourself up for the goal, you can make it if you try and put the effort in. When we asked "what made you choose this path," the panelists said some of them did not know they were going to end up in STEM and they ended up loving it." – 10th grade

"Today inspired me because the women who were telling us about their careers said that you can really do anything you want. My big takeaways from today were that I really liked the architecture career, but I also want to be a mechanical engineer." – 9th grade

"Today's event inspired me by introducing me to ground-breaking women who are passionate in their career and actively enjoy what they pursue. I loved talking and questioning these women because they gave great advice and motivation to be a women in STEM. My big takeaways from today were to pursue your true passions, make sure you have fun, college is hard (but worth it), and women are awesome." – 10th grade

"I loved how the panelists all mentioned their careers and how they involve math. The fact that a lot of them started late and took many different paths before they found the STEM career that was right for them was inspiring. I learned that engineering opens doors to many different jobs and math and science are highly involved in these areas." – 11th grade

"Today's event was very interesting. I learned more about STEM and the paths to pursue a STEM-based career. My biggest takeaway was that all these women have worked hard to get where they are now and they are also really smart." – 10th grade

"Today really made me open my eyes to jobs I didn't think I would be interested in. I really liked talking with the panelists since their jobs really made me feel as if I could do something like that. My big takeaway was I really wanna look into Microsoft and PACCAR since those jobs were really cool and I loved hearing about them." – 9th grade

"Today's event inspired me because it made me recognize just how many options I and other women and non-binary people have. I thank all the volunteers. One of my big takeaways was that I can go in to different STEM career paths and know that I won't be the only woman there and there might be less prejudice." – 9th grade

"I was able to hear about STEM options and I'm glad that the panelists talked to us." – 9th grade

"This experience strengthened my stance on going into a career is STEM. It also helped me consider and narrow down options and hopefully choose a career that would interest and challenge me. STEM fields can be very rewarding, interactive, and door opening. A big thank you to the panelists!" – 10th grade

"I really loved learning about architecture; meeting and talking to an architect gave me more confidence into becoming one myself. One of the takeaways was that with a lot of perseverance, hard work, and hardships you can achieve your dream of becoming an architect, or any other part of STEM. Big thanks to the volunteers, you're all amazing!!" – 9th grade

"This event inspired me to persue what I want to become. It showed me that women can do any career that they want to. Today's event gave me the answers I needed to help me become what I want. I learned that STEM jobs, such as being a pilot or astronaut, take many years and a lot of experience. I learned that being a architect isn't only meeting up to your perspective, but mostly meeting your clients." – 9th grade

"The event inspired me by making me more confident in myself when choosing a career. I now know that there are many different paths that I am able to take. The takeaways I have from today are that there are many different options for even one type of career. The volunteers were amazing at describing what their career involves and how many different paths you can take." – 10th grade

"These women were very inspiring. I already wanted to have a career in STEM, but they are living-proof that it's possible for me and others. My takeaways were that women are capable and awesome and science is wicked cool!" – 11th grade

"This event inspired me by showing that other women are in these STEM fields and that I could do things like they do. It also showed me what different careers entail and the skill sets of the different careers that I'm interested in." – 11th grade

"I had so much fun talking to the women volunteers. I felt empowered and I loved that they were all so excited to be there. I enjoyed learning about how their experiences of being a woman in STEM affects their jobs." – 12th grade

"This event showed me a wider range of STEM careers and helped me to get idea of what subjects to focus on throughout high school to prepare for a STEM degree in college. My big takeaways from today were that it's okay to be unsure about what you want to major in and everyone fails on the way to success – it just takes perseverance. I also learned that chemistry, calculus, and physics are the major areas of study for STEM careers." – 11th grade

"Before today, I felt like I didn't have a chance in any of the careers I had in mind, but this event helped me have more faith in myself to pursue STEM. I was happy I got to learn more about what STEM careers were like and now I have a better knowledge of what STEM careers are like." – 9th grade

"I found out a bit more about STEM and am now considering the idea of going into forensic science because of the different types of cases you can specialize in. I also learned about some of the benefits of STEM careers. Thank you so much for putting this event together and thank you volunteers for giving us your time. My big take always from today were that there is definitely a place for women in STEM and that there are so many careers involved in STEM that do different things." – 11th grade

"This event showed me that you can achieve what you put your heart and mind to. It was cool to see how one thing can change and lead you to a career you enjoy more." – 11th grade

"I got to learn more about engineering. This event really inspired me to consider that pathway very seriously, so I'm very thankful. I got to broaden my horizons in terms of my knowledge on what paths lie ahead of me in STEM." – 9th grade

"This experience made me realize that it is possible to change perspectives when you have an original focused major. Today taught me that even though it is a bit of a hardship, it's beneficial for you to discover what you want to do. My biggest takeaway was learning more about the requirements needed for architecture. It made me more aware and motived to strive to do something I want to do." – 11th grade

"The panelists made me think more about the possibilities in my future. It was inspiring to hear about STEM careers I was not sure about. After today, I became more aware of the flexible career options in STEM and learned that STEM is a very wide field and it can also be a people-orientated career. Thank you for the opportunity." – 10th grade

"This experience really showed me how many woman are actually in STEM. I knew it was technically possible for me to go into those careers, but I didn't think it was actually possible. I really appreciated all of the volunteers and wanted to say thank you for the careers that are now in my mind as I go forward!" – 12th grade

"I found it interesting and enjoyed learning about it all. It got me interested in a few of the STEM jobs and I thought all of them are cool. Thank you to all of the volunteers that came by and gave me a chance to learn about these different jobs." – 9th grade

"I got to talk with someone in a field I aspire to go into and learn from her. She gave me encouragement and advice on how to pursue it. like how I need to plan ahead on how to pay for college to study STEM and to take advantage of classes offered at the high school." – 10th grade

"Today's event helped to give me more to think about and more roads to explore. It taught me to go big, do what I love, don't be afraid to try new things, and explore my options." – 12th grade