On Thursday, March 9, IGNITE Students at Mountainview Elementary School in Washington joined a Show and Tell Mini Panel with two wonderful IGNITE Panelists. Facilitator Danielle Long, IGNITE Program Coordinator, welcomed IGNITE Educator Stacey De Wet and the students, ranging from 3rd-5th grade. Together with Tech Host Rebekah Luce of Seattle Children's, Danielle introduced the prevalence of STEM in students' everyday lives, from cell phones to movies to fashion and more. Danielle then asked the Panelists to introduce themselves: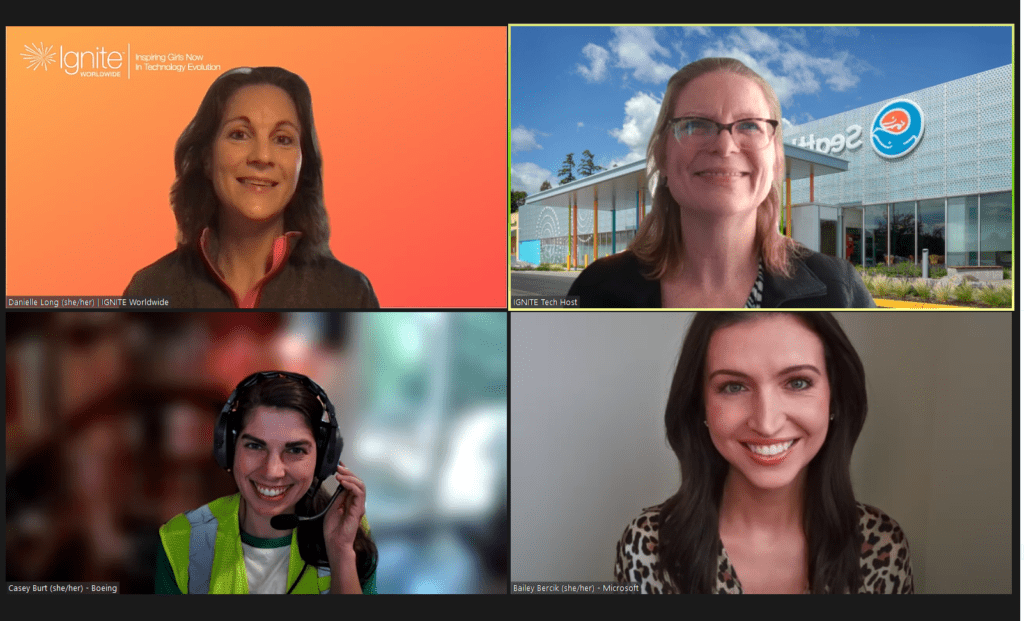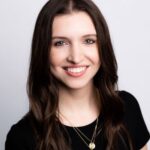 Bailey Bercik, Product Manager at Microsoft, focuses on cybersecurity. Bailey makes sure that big companies are safe from hackers, protecting people's data. She loves that she gets to invent things, and shared an award she received for two patents she had approved! Another perk of her job is working with folks from around the world, and she shared a MetroCard from a previous trip to Japan. The card can even be used to buy a coffee!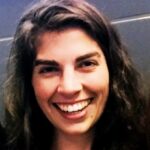 Casey Burt, Flight Test Engineering Analysis Program Lead at Boeing, tests airplanes to make certain they are safe for passengers. Casey doesn't work with many women or nonbinary professionals and wants to inspire others to enter her field. She loved writing as a child and really enjoyed studying her multiplication tables, and wanted to be an umpire for Major League Baseball! Physics was a really hard class for her and her grades weren't that good, but she studied with a physics tutor and it really helped her improve her understanding and grades. Casey explored building things through FIRST Robotics and FIRST LEGO League. Now, she enjoys helping ensure that air passengers get safely to their destinations. She showed her high-visibility vest and headset that she uses for safety and to communicate with fellow engineers and pilots while on a noisy airplane.
Students eagerly asked questions, including:
How long have you been doing this job?

Bailey has been at her job for four years, while Casey has been at her job for eight years.
Do you both like your jobs?

Bailey loves that she gets to work with people all over the world and that she gets to help people.
Casey loves her job and thinks it's really fun.
Where did you go to school?

Bailey went to Georgia Tech and grew up about an hour outside of Atlanta.
Casey grew up in Bremerton, Washington and went to school there, and then attended Gonzaga University across the state in Spokane.
What can I do to prepare myself for a career in STEM?

Work on your creativity and how you break things down into pieces and problem-solve.
What was your biggest obstacle in getting to where you are today?

Bailey knew she wanted to work in computer science, but didn't know what exactly she wanted to do within the field! She decided that she liked helping people, and cybersecurity was a good way to do that.
What would you tell your elementary school self about preparing for where you are now?

Casey shared to keep asking questions and keep being curious.
Bailey has nieces who are 9 and 11, and she encourages them to pursue all their interests, just like she does! She continues to practice dance and as many other interests as she has time for!
What do you do at your house when nobody else is there?

Both Panelists like to put on music, dance, and go on walks outside.
What is your favorite thing about working?

Bailey enjoys meeting all sorts of people from all over the world. She loves learning different cultures and languages, too!
Casey loves that there is always something new to learn. She also is frank that she enjoys getting her paycheck!
Do you have any pets?

Not right now, though Casey has plants she takes care of!
How did you decide what to study?

Bailey was inspired by her grandmother, who was one of the first female electrical engineers in the United States. Bailey thought at the time that STEM was female-dominated and wanted to be just like her grandmother!
Casey loved that she could work with anything as an engineer–she happens to work with airplanes, but could work on boats, or toys, or pretty much anything in any given room!
How did you decide what to do for your career?

Casey loves engines, and airplanes have huge ones that are so interesting and fun to work with!
Bailey's phone was hacked, and it was a scary experience for her! She started getting interested in cybersecurity to help other people avoid and manage this experience.
How old were you when you decided what to do?

They are both still deciding what they want to do as adults! You're never too old!
Where do you see yourself in five years?

Casey loves leading people and wants to focus on leading her team.
Bailey loves to invent things, wants to grow her inventions, and keep creating new ones!
What do you think you'll be doing when you're very old?

Bailey's grandparents kept taking classes and learning new things when they were older, and she wants to do the same!
How should I choose what job I should apply for?

Apply for a lot of jobs! Learn about them to help you decide.
Where are your teams located?

Bailey works with teams all over the world. She sometimes gets to work with people in Germany, which is fun because she speaks German!
Casey primarily works with people in Seattle because she works on physical airplanes.
Is this your dream job?

It's one of many for both Panelists! They are both learning what they want their next dream jobs to be.
How did you get to the job you have right now?

Microsoft came to Georgia Tech to recruit students, and they looked at Bailey's resume and encouraged her to continue in the application process.
Casey's experience was very similar–recruiters came to Gonzaga and began working in jet propulsion.
What do you wish you knew in elementary school?

Bailey wishes she'd focused more on what she wanted for herself, rather than thinking about what other people thought.
Casey knows that every one of us is amazing and special, and wishes she'd known that at the students' age.
To close out the event, each Panelist shared a piece of advice she wishes she had known in elementary school:
Bailey: focus on what makes you unique, and love all of the things that you do.
Casey: Be curious, and keep asking questions!
Huge thanks to the volunteers who made this event come together: Tech Host Rebekah Luce and Panelists Bailey Bercik and Casey Burt. Thank you to Danielle Long for facilitating, and thank you to educator Stacey De Wet for supporting students in attending this event!
After attending this event:
Here's what the students thought of the event:
"This event inspired me to learn new and more things. It also makes me feel good about myself. My favorite thing was learning how girls can do STEM jobs too. Thank you, IGNITE!" – 4th grade

"This event has inspired me. My favorite thing was talking to the panelists." – 5th grade

"It was inspiring." – 3rd grade

"It has inspired me to believe in myself, and I feel more confident. I learned more about science and STEM. Thank you!" – 3rd grade

"It inspired me because they said that you can be anything." – 4th grade

"This inspired me by helping me decide what I want to do when I'm older and not letting anything get in the way of that. My favorite thing about this was when the women spoke about their jobs." – 5th grade

"This event inspired me to believe in myself all the time." – 3rd grade

"Today inspired me to learn new stuff." – 4th grade

"Today strongly inspired me. Thank you so much! My favorite thing about the event was getting to see what the panelists do at work." – 4th grade

"Today's event inspired me to pursue STEM. The panelists were all really nice, cool, and inspiring." – 3rd grade

"It was helpful to have someone to answer our questions about STEM." – 4th grade

"Today inspired me because the volunteers told us that we can do many jobs and don't have to choose one yet. I liked how they told us how STEM is in their jobs." – 4th grade

"The event inspired me by giving me ideas and encouraging me to think about what to work on. My favorite thing about the event was listening to all of the experiences." – 5th grade

"This event was fun, and it made me happy." – 4th grade

"It gave me ideas, especially when the volunteers talked about airplanes and STEM."

"Today's event inspired me to feel more comfortable about my future. My favorite things about the event were hearing about airplanes and learning how they work."

"My favorite part of the event was when we got the chance to ask questions and the panelists answered. Thank you!" – 5th grade