On March 13, 2023, middle school IGNITE Students at Woodmont K-8 School in Washington enjoyed a Women in STEM IGNITE Panel Event.
Teacher Azeb Hagos led the students in a conversation about STEM and related careers, and then introduced the Panelists: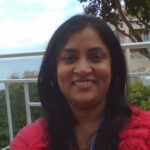 Abhiraami Godala, Technology Manager at REI, is a first-generation college graduate who learned to balance her studies with hobbies outside of school. She studied engineering even though her family didn't think this was the best choice for their daughter, and she is now proud of the choices she's made and the work she does every day.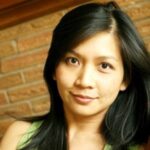 Jasmine Wilkerson, Director of Data Science at Advata Inc., encourages students to have a broader view of what STEM means, ranging from art to education to engineering. As a result, opportunities in the future are unlimited! She also urges students not to be limited by what others think they can do, and to keep up their learning by being curious.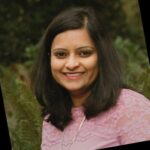 Mugdha Jamsandekar, Director of Engineering at Salesforce, who grew up in Mumbai, India, vividly remembers getting a computer at home as a child in 1995, and being fascinated by how much she could learn in just a few hours on the internet. This experience inspired her to pursue computing, which she often had to do with extracurricular classes. She saw that the number of women around her decreased at every stage of her studies and career, including when she moved to the United States for graduate school at age 21 and when she started working at Microsoft in 2009, when just 5% of the developers in her department were women. She's seen a great increase in the time she's been there, and now 50% of the engineering managers and over 30% of developers in her department are women! She wants to continue growing representation in STEM because it has changed her life for the better.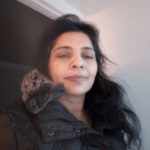 Vaishali Patil, Principal Architect at T-Mobile, enjoys volunteering for nonprofits like the Red Cross in her spare time. Vaishali has a Master's in Computer Science and Bachelor's in Statistics, which both help her with her day-to-day work at T-Mobile, where she has worked in various positions for 17 years!
Students asked questions including:
If you could have lunch with an important woman who contributed to the progress of women's issues and made an impact in your life, who would you invite to lunch and why?
How can I build my confidence, and why is confidence important in the field of STEM?
How did you decide what to study?
What skills do I need to go into STEM?
What should I do now to prepare for a future in STEM?
Did you face discrimination?
The Panelists shared their personal stories, explained their day-to-day roles, and detailed the classes and experiences that had shaped their paths. They encouraged IGNITE Woodmont students to take every opportunity they could find!
A core message of the panel was to dream big because anything is possible if you set your mind to it.
Thank you to Panelists Vaishali Patil, Mugdha Jamsandekar, Jasmine Wilkerson, and Abhiraami Godala for sharing their stories, and to teacher Azeb Hagos for facilitating this event and contributing to this event summary!
After attending this event:
Here's what the students thought of the event:
"Today's event has inspired me to pursue my dreams after learning about all of the things these women have accomplished. Additionally, I learned various strategies for building self-confidence and discovered the vast range of careers available in STEM." – 7th grade

"This event helped me realize that I can achieve my goals regardless of my background. I also learned that it's okay to switch paths if I'm not happy with my current career. My big takeaway is that STEAM is accessible to everyone. Thank you for the inspiration." – 7th grade

"This experience showed me that you can overcome gender discrimination and break traditional boundaries of who or what women are supposed to be. You all also showed me that even though my dreams may change, it's important to pursue what I am passionate about and to always stand up for myself.". – 7th grade

"Listening to the stories of the women on the panel was truly inspiring. Despite facing their own unique challenges, they all had different motivations for pursuing STEM. It was amazing to see that despite our differences, we share common obstacles and can work together to overcome them. One major takeaway was that it's okay to feel like you don't fit in. Many of the panelists shared that they initially felt like outsiders in a male-dominated field, but eventually learned to value their contributions just as much as their male counterparts." – 8th grade

"I feel inspired to explore various fields in STEM because of how interesting and fulfilling it is to be involved in such an essential form of work in the world. My biggest takeaway is that I can pursue a career in STEM while staying true to myself. It's okay to not know everything and to ask questions to learn more." – 8th grade

"This event showed me it's possible to pursue STEM, and I can maintain a family life and a career." – 8th grade

"This experience made me feel more capable." – 6th grade

"This event made me consider pursuing a career in STEM because there is a need for more women in the field, even though it can be challenging." – 7th grade

"Because of this event, I want to study astronomy now. It made me realize that women can pursue STEM." – 7th grade

"This event inspired me to take my time to choose a career path so that I don't immediately choose something and end up unhappy with it. It also made me understand that my interests won't last forever, and eventually, I'll need to choose something different to work on or with." – 7th grade

"This event definitely made me feel more confident in pursuing one of my goals, which is to be an architect and design future buildings. One of my big takeaways is that no matter how challenging it gets, you always have to keep going. Additionally, I felt very inspired by each of the women present, but the architect, in particular, stood out to me as the most inspiring. I am determined to prove the naysayers wrong one day." – 8th grade

"The event helped me understand that there are many types of jobs in STEM that I could pursue and that interest me. One of the most important takeaways for me was the discussion about confidence." – 7th grade

"Today's event inspired me to pursue any job or career regardless of my gender or ethnicity." – 8th grade

"This event has inspired me to pursue a career in STEM despite my doubts. My biggest takeaways are the challenges I may face and how to overcome them." – 7th grade

"I was inspired by the event to believe that pursuing a career in STEM is achievable, despite the potential criticism I may face as a woman in STEM." – 6th grade

"Hearing the struggles of the panelists made me feel sad that there are not many women in STEM. My biggest takeaway was that 14.7% of women are in STEM." – 7th grade