On March 14, 2023, 70 IGNITE Students from five Washington high schools visited Bates Technical College in Tacoma, WA, for a unique STEM Conference.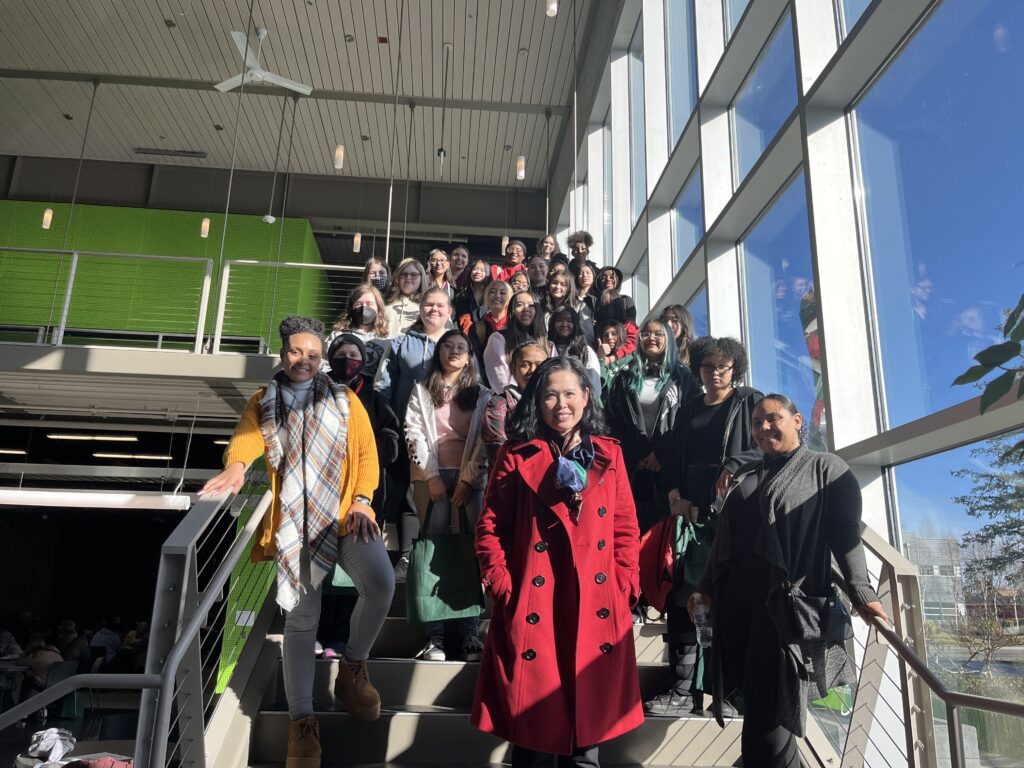 Bates Technical College President Dr. Lin Zhou greeted the students from Kent-Meridian High School, Tumwater High School, Grandview High School, Franklin Pierce High School, and Washington High School. After this welcome, each student participated in two workshops led by Bates faculty members, gaining an introduction to some of the exciting STEM programs offered at the college.
Students in the Cybersecurity workshop, led by instructor Joseph Kauer, learned the basics about jobs like Cybersecurity Analyst or Threat Hunter and got some hands-on experience with the tools of the trade.
In Information Technology, instructor Ingrid Smith shared about the reliability of wired LAN connections, and students got a chance to create their own LAN cable!
During the Mechanical Engineering workshop with instructor Curt Meyer, students used computer-aided design software to lay out their ideas in 3D!
In the Broadcasting/Video Production workshop, IGNITE Students worked alongside instructor Ken Witkoe and current Bates students. Some got a chance to produce a half-hour episode of the Bates e-sports program "Game On!", working behind the scenes to run the camera, audio, graphics or production switcher, be the caster or color commentator, or participate in the competition! Others learned basic soldering skills and used them to build a working digital clock.
Following the workshops, everyone came back together for lunch and a panel discussion featuring STEM professionals from the local community and a current Bates student. Associated Student Government President Trevor D. Moore introduced the panelists and moderated the discussion.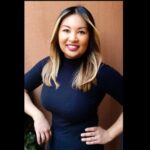 Diane Burkhammer, Senior Customer Experience Manager at T-Mobile, lives in Seattle and started out doing an internship in nursing at Bates. At T-Mobile, she supports customers after a new product is released to the public, which can get pretty technical! Diane learned during her internship that she did not actually like nursing and went on to try various roles at T-Mobile. As a result of her exploration, Diane ended up in the computer science field, where she now handles customer success.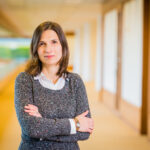 Laura Bartenhagen, Principal at ESM Consulting Engineers, LLC, holds 24 years of industry experience in the engineering field. She shared the benefits of engineering with the students and reflected on the many possible pathways within the industry.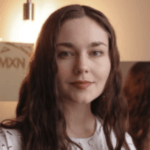 Jessica Chase, Music Publishing Partner Engineer at YouTube, is from Tacoma, WA, and was always passionate about music. Admittedly, she did not like math or science, but she later tried computer science because she found it super interesting. Somewhere along the way, Jessica started downloading different music data sets (like whale sounds!). This led her to data science and her current role at YouTube, where she is extremely happy!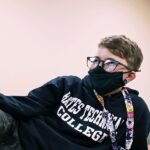 Emily N. Stech is a Bates student in the Administrative Medical Assistant/Certified Medical Assistant program, Chapter President of Phi Theta Kappa, and Washington Student Engagement Networks campus liaison. Emily encouraged students to get involved and take advantage of opportunities to have their voices heard and make a difference!
Questions from students included:
What are some life skills that are important to work on to prepare for a career in STEM?
How can I get experience and prepare for a career in STEM while I'm in high school?
What is some advice you can give for us to get into STEM?
How can you get mentorship from people in the career field you are interested in?
How can students who live in rural areas participate in internships throughout high school?
Panelists gave thoughtful advice in response:
Look for opportunities to job shadow or summer programs to try out different parts of STEM you might be interested in. Start with what you're good at or interested in first and try new things.
Don't be afraid to take classes or choose careers that are male-dominated because there are a lot of people who want to help underrepresented individuals thrive in these industries and are willing to support them.
Find a mentor by reaching out to people and just asking questions. A mentor/champion can help you when times get tough. Job shadowing is another great way to learn about a career.
Do what you want to do, whether it is traditional or not!
Get involved in what you enjoy doing and find other people that are doing the same.
Find what you are not great at and find ways of improving that skill.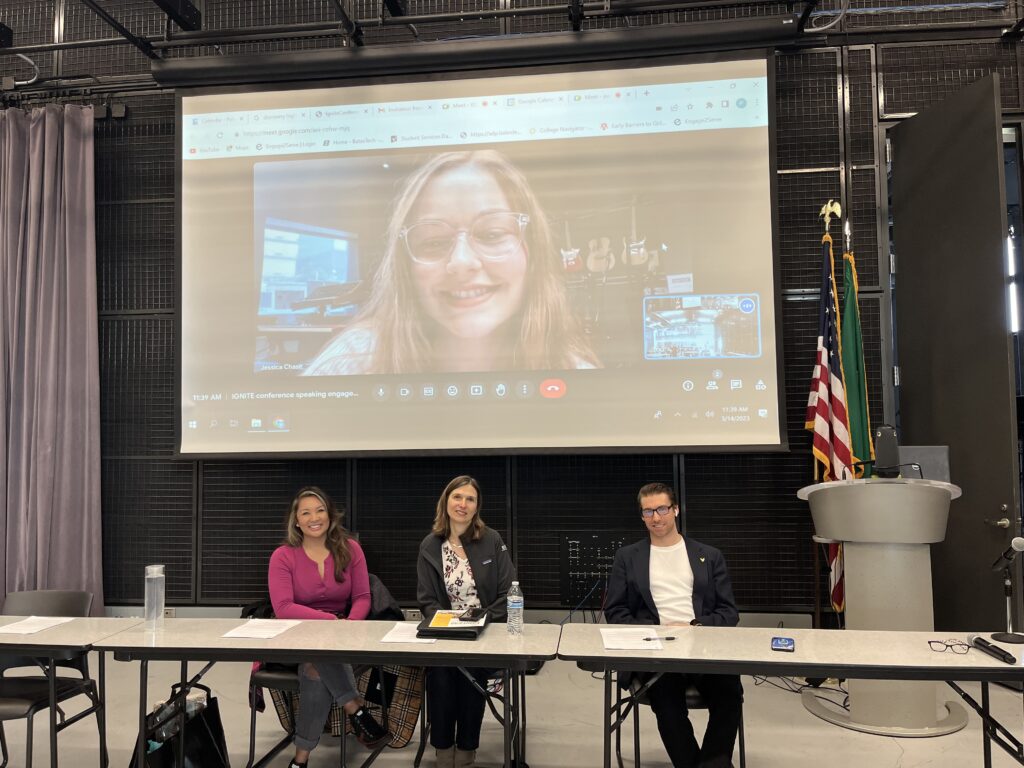 Thank you to everyone who made this event possible! Thanks to Patricia Chase for organizing the logistics at Bates, as well as Dr. Lin Zhou for welcoming students to campus, and instructors Joseph Kauer, Ingrid Smith, Curt Meyer, and Ken Witkoe for sharing their expertise with students. Thank you to Panelists Diane Burkhammer, Laura Bartenhagen, Jessica Chase, and Emily N. Stech for sharing their stories. And thank you to educators Lysa Tran, Michelle Paul, Yeraldi Espino Gutierrez, Bre Brown, and Sheryl Moore for supporting students in attending the conference and providing notes for this event summary.
After attending this event:
Here's what the students thought of the event:
"The event inspired me to advocate for more women's involvement in STEM fields. Today was fun and cool, and I enjoyed learning about all the different activities. I also appreciated the discussion about women having jobs that were typically male-dominated and how they play significant roles in those jobs too." – 9th grade

"This event was inspiring because it showed that there are already many women, gender-neutral, and other underrepresented groups in STEM. It was great to see that diversity. My biggest takeaway was hearing everyone's stories, learning about their backgrounds and what it took for them to get where they are." – 10th grade

"Today's event made me realize that gender should not limit anyone from pursuing a non-traditional career in STEM. I feel motivated to pursue a STEM career that will make me happy as an individual, regardless of the low representation of women in the field. My biggest takeaways from this event are that individuals should not limit themselves when it comes to choosing a career and that I learned more about the importance of cyber technology and mechanical engineering. Overall, I would like to thank all the volunteers who made this event possible." – 11th grade

"Today's event helped me identify my strengths and passions in STEM, which has boosted my confidence in advocating for myself. One major takeaway is to not choose a career solely based on its job security, but instead pursue what you truly love. While it's okay to have weaknesses, it's important to continuously work towards improving yourself.". – 12th grade

"This event inspired me to see that there are no gender limitations when it comes to pursuing a career in STEM. I would like to thank everyone for their speeches and taking time out of their day to talk to all of us who are inspired by STEM." – 9th grade

"Having a non-binary person on the panel was especially meaningful to me as a non-binary individual pursuing the STEM field. It was a reminder that anyone, regardless of gender, can pursue a career in STEM." – 11th grade

"Today's event inspired me to believe that I can achieve anything if I put my mind to it. The event also helped me gain a better understanding of what it means to work in STEM. My biggest takeaway was that hands-on experience in STEM makes it easier to determine if this is a field I want to pursue." – 10th grade

"The event gave me a clearer perspective on the advantages of pursuing a STEM career. Thank you to everyone who organized this event to promote and empower high school girls. It means a lot, especially to those like me who didn't have a clear understanding of what STEM is all about." – 12th grade

"I think this panel was very helpful. I felt like I related a lot to one of the speakers, and I admire their journey of getting into one of the best universities. My biggest takeaways would be to be more open-minded and to do proper research. Mentors are also a huge asset, as I learned from the speaker." – 12th grade

"Knowing that I am not alone in the STEM field makes me feel more comfortable being ambitious. I want to pursue my goals without feeling guilty. My takeaway from this event is that women should have the same opportunities as men, and we shouldn't feel bad about pursuing what we want to do." – 11th grade

"I enjoyed working in the sessions and doing work that might be in STEM jobs or related to them. I even made a clock! – 10th grade

"We built a clock today, and it wasn't as hard as I thought. It gave me the motivation to actually start building things now. My big takeaway is that any problem can always be solved." – 10th grade

"Today's event inspired me to explore STEM further. In the second group, there was a volunteer who was super nice." – 9th grade

"The group activities were fun, and I learned about the under-representation of women in STEM jobs. Broadcasting was also enjoyable. I really liked the different things we could do there." – 9th grade

"Today's event inspired me to learn more about Bates College and how things work in the STEM industry. I had fun trying out the workshops, and they really piqued my interest in doing more. My big takeaway is that there wasn't enough time to learn everything I wanted to." – 9th grade

"The event inspired me to explore Information Technology further. I found it interesting, challenging, but enjoyable. I had many takeaways, but the one that stood out to me the most was Information Technology. It piqued my interest the most because I am highly interested in this field." – 9th grade

"Today's event inspired me because I learned that women have the possibility of pursuing careers that men do too. It also motivated me to explore STEM further. I would like to thank the volunteers for sharing their experiences and insights about their career paths. I particularly enjoyed hearing about how women also have equal opportunities in STEM." – 10th grade

"Today's event was super fun, and I'm glad to have learned more about STEM. I found the video production/broadcasting workshop the most enjoyable. It made me think about the possibility of pursuing that area if my desired field doesn't work out. Overall, it was a great experience." – 10th grade

I enjoyed all the activities that were available to us to explore STEM careers. It was also great to get a glimpse of what the college environment is like. My biggest takeaway was from the video production activity, as I really enjoyed seeing the behind-the-scenes work that goes into creating video games. I also found the mechanical activity interesting because it gave me insight into how everyday items are made. – 9th grade

"I was interested and inspired by the IT department because it teaches many levels of being an IT professional, and the opportunities that come with itI. I was also surprised to learn that they have buildings all over the country and in other countries as well." – 12th grade

"I have been feeling lost and confused about the steps to take after high school, but this event helped me a lot. It was really fun and interesting. The volunteers were amazing, helpful, and kind, and they did a great job teaching us new things. I particularly enjoyed the programming section where we recorded and made the "Game On" videos. My takeaway from this event is to keep working hard to pursue the career you want." – 11th grade

"While forensics has always been my career choice for years, I think I may have found a new passion in STEM after helping produce an episode of a show. The people in the broadcasting room were incredibly friendly and helpful, especially the two who showed me how to work the soundboard – that was a lot of fun!" – 11th grade

"I loved this event and it inspired me by showing me the many options and opportunities available. I particularly enjoyed the conference sessions where they discussed their experiences growing up. I also found the cable-building activity interesting." – 9th grade

"The event inspired me because of how the speakers shared their stories and the message of perseverance and not giving up, even if they were not initially good at something. It also challenged me to push myself out of my comfort zone. My biggest takeaway was how the speakers were able to convey their experiences in a relatable way. I would like to express my gratitude to the volunteers for organizing and supporting the event." – 10th grade

"I really enjoyed all the activities that were provided. One of my favorites was the mechanical design workshop, where I learned about the process of creating something from scratch. Another great takeaway was the video production workshop, which gave me an inside look at the process of creating videos. Lastly, meeting with people who work in the STEM industry was really insightful." – 9th grade

"While using the software in the Mechanical Engineering workshop, I felt inspired that I could quickly learn it. It made me realize that I have an aptitude for computer science. My big takeaway from today was that even though I am not great at math and computers, I can still learn more about them and combine my love of art with math." – 11th grade

"Being able to meet and connect with new people was awesome. Additionally, exploring different aspects of STEM has broadened my knowledge and interests. My takeaway from today is to not be afraid of trying new things." – 9th grade

"I particularly enjoyed the video broadcasting segment. Normally, I'm on stage or behind the camera, but running the audio behind the scenes was incredible. It's definitely something I want to do more of. Although microphones can be glitchy and controlling them can be annoying, it's still really fun." – 11th grade

"I learned more about different STEM pathways that I am interested in, such as broadcasting. It was nice to have an event specifically for young girls because it can be hard to find a place where we won't feel outcasted." – 12th grade

"This event was so much fun! I loved learning about casting. It made me realize how enjoyable STEM can be. Thank you for this great experience!" – 9th grade

It was really nice and fun to get to know the volunteers and their experiences. This experience showed me that STEM is a great opportunity and that girls can do anything." – 10th grade

"Today's event has inspired me to explore more STEM-related careers and consider enrolling in a technical college. I will also search for more programs, internships, and apprenticeships. My major takeaways from today's event are that careers in technology are expanding, and men often dominate STEM careers. However, there are numerous opportunities available if you are willing to invest time and effort. – 9th grade

"This event has inspired me to pursue my dreams. Regardless of the judgment of others, I am the most important person in my life. It has shown me that I am unstoppable. My biggest takeaway is that I can be anything I want to be, and the only limitation I have is myself." – 9th grade

"Hearing everyone's perspective really inspired me. I also enjoyed all the hands-on activities." – 9th grade

"We got to experience different STEM fields! They were all fun to learn about. My takeaway is to work on my soft skills and to go for it!" – 11th grade