On March 23, Auburn Mountainview High School visited the T-Mobile Tech Experience Center on their first-ever IGNITE Field Trip! Upon arrival, the 20 students got a warm welcome from T-Mobile volunteers—plus a drone flying overhead as their bus pulled up!
Inside the Tech Experience Center, students watched the video footage from the drone as they took their seats. After an introduction to wireless and 5G technology and a brief lesson in programming, they dove right into the activities! First, students got to try programming firsthand by coding robot cars that run on the 5G network. T-Mobile mentors Henry Li, Nguyen Duong, Rowan Andruscavage, Elizabeth Zhang, and Woody Sellers showed their groups the basic commands, and before long, the students were racing cars around the room and programming their own tricks!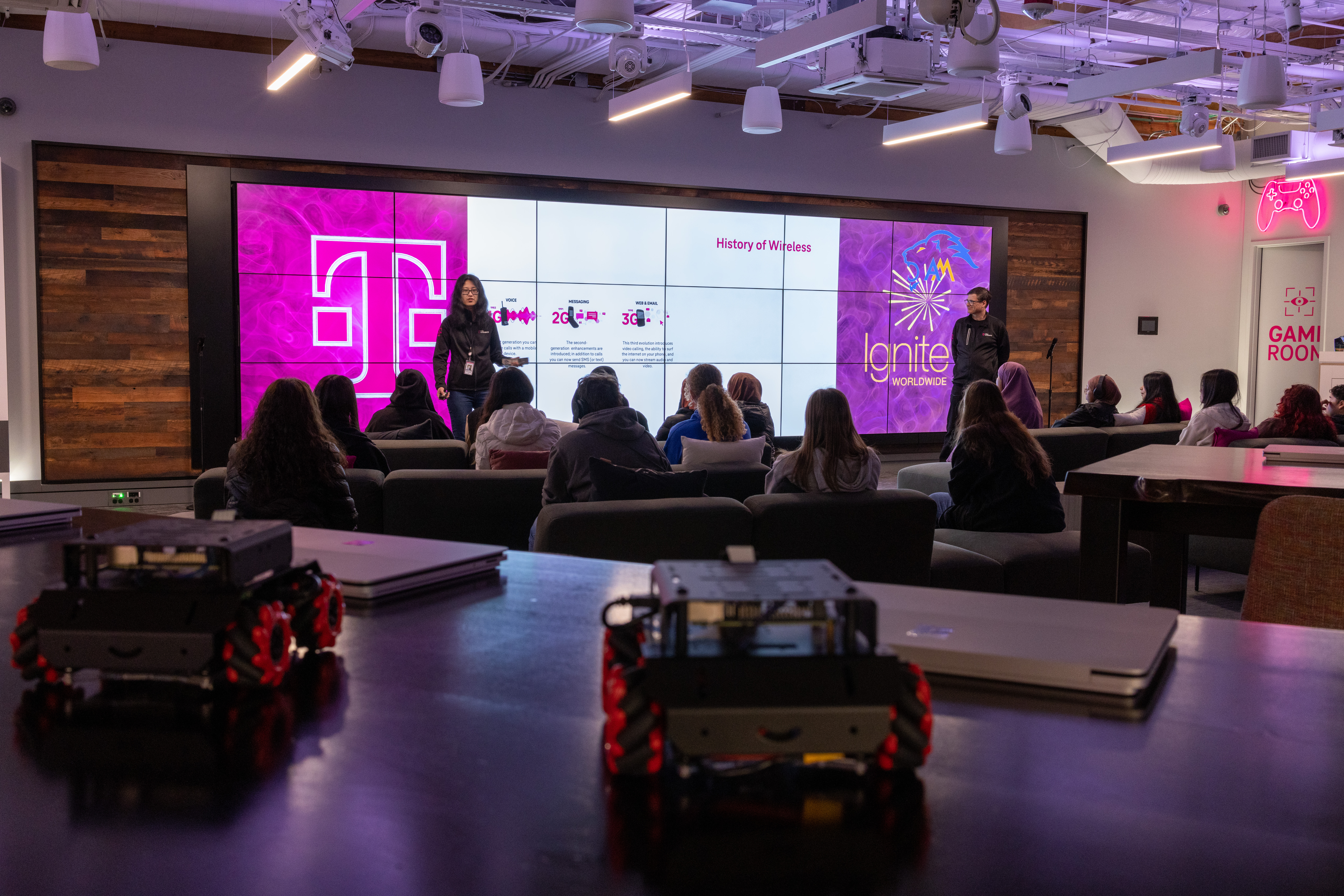 After the coding activity, students got a chance to explore a few of the many demo stations around the Tech Experience Center, showcasing a wide variety of 5G applications beyond the mobile phone, including robotics, hydroponics, and augmented reality. They also learned more about drones, like the one that greeted them, and how they're used in everything from search and rescue efforts to agriculture.
During the second half of the event, students enjoyed a pizza lunch and met two T-Mobile professionals who work in different areas of STEM: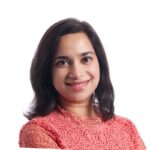 Growing up, Gauri Punekar, Senior Product Manager, loved reading books and was sometimes labeled as "uncool" or a nerd by her classmates. She also loved science and was decent at Math but was afraid of pursuing STEM because she didn't want to be seen as uncool. Thankfully, her parents and teachers taught her to always be herself and never be afraid of pursuing what she loved! The journey wasn't easy—Gauri didn't get into her preferred college and had trouble with a few subjects—but she succeeded because she chose to be herself and work hard no matter what!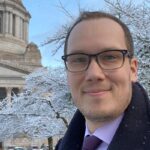 Chris Spanton, Senior Manager, Cybersecurity, didn't know what he wanted to do in school. He was into the arts and involved with drama, but also really liked technology. Even after landing in tech, he continued to try new things, focusing on wireless and then cybersecurity!
Students asked questions like "When did you feel like you were successful?" and "What classes in high school lead to good jobs in STEM?"
The questions were all very skillfully answered. The panelists said that success is a lifelong process, as is failure, and you learn and grow from both. They shared that math is a great class to take in high school because it helps you to think about how to solve problems.
The field trip was a wonderful experience, from the robotics activities, games, education, and great presentation and jobs panel. The facility was remarkable, the staff was friendly and very engaged with the students, and everyone left inspired! Auburn Mountainview looks forward to more IGNITE events in the future!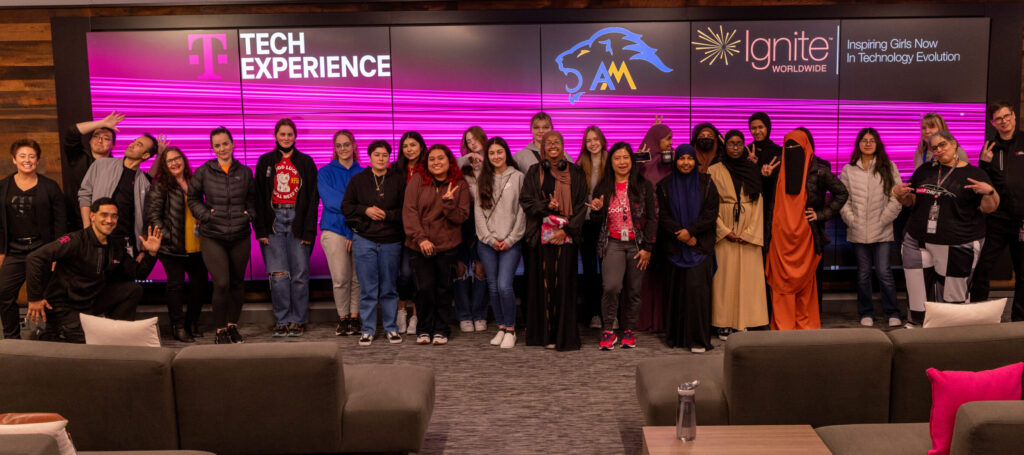 A huge thank you to the amazing team at T-Mobile for providing such a memorable experience: Candice Boyd, Beckie Stark, Meghan Humphries, Henry Li, Nguyen Duong, Rowan Andruscavage, Michelle Balatico, Elizabeth Zhang, Kyle Hokenson, Woody Sellers, Gauri Punekar, and Chris Spanton.
After attending this event:
Here's what the students thought of the event:
"I got to learn about the different careers and benefits of working in STEM. I also got to talk to some people about their day-to-day life in STEM. I have more knowledge about this field and it was also great to hear from the volunteers." – 12th grade

"This environment was inspiring to me because they talked about time management, finding partners, and more. This was inspiring to me because I got to learn new things. My takeaways were to surround myself with good people and talk to people." – 9th grade

"Today's event inspired me to be more confident about going into a STEM field. I now know that curiosity can be the biggest help in finding your passion." – 9th grade

"This event inspired me to feel more comfortable in pursuing STEM. My big takeway from today is pursuing something that inspired me and being confident in myself." – 12th grade

"Today gave me the opportunity to get to know a lot of different perspectives of STEM and gain a lot of knowledge. I feel like technology is quickly developing and this introduction was interesting. Thanks for everything!" – 12th grade

"This experience made me feel better about failure and that it's okay to fail. It made me feel better about not knowing some things and being able to pursue a career that other people may feel is nerdy. STEM is an amazing field and makes me feel empowered." – 9th grade

"This event showed me the parts of STEM that I didn't know about. I feel more confident going into the STEM field." – 10th grade

"The advice that you can fail and it will be okay was inspiring. The biggest takeaway was the volunteers' advice." – 9th grade

"It was really fun to talk to more people working in the STEM field and how they got to where they are. It was interesting to hear about new applications of tech and all the possibilities. This event inspired me to be myself in this field and to see there are many opportunities for me, which is exciting!" – 12th grade

"I learned that engineering is not about all sitting on a computer. A big take away from this was that technology is important." – 10th grade

"This made me see that there are so much variations of different things you can do in STEM and how that can impact my future goals. I feel more connected to the idea of being a woman in STEM. Thank you to everyone today." – 12th grade

"It was inspiring when one of the volunteers said to be yourself and don't care about what others think. I enjoyed coming here and learning more about T-Mobile." – 10th grde

"Today's event was very helpful in learning about what people in STEM do and what their job is. It inspired me to look more into STEM and learn more about what it's like to be in this area."- 9th grade

"This event really made me feel that failure isn't bad thing – failure is the way to success. STEM is an amazing community to learn and have fun. There are so many opportunities in STEM." – 12th grade

"After today, I feel more open to getting to know more about STEM fields. IGNITE is something that shows me more opportunity and allows me to talk to more people who do STEM for a living. I got to see what their biggest strengths and weaknesses are and how to over come obstacles." – 10th grade

"This event taught me to keep going and to do what I want, not what others tell me to do. Your success is neverending; I can continue to grow and achieve more. I was inspired when one of the speakers said "be yourself" and to pursue something you have passion for." – 12th grade

"Today inspired me to have an open mind and see beyond my insecurities. I think it allowed me to follow my dreams and I learned that there are apps to help you put things together." – 10th grade

"The coding station interested me very much, as its so versatile and I felt like I was catching on quickly. I also really liked the plant station, as I'm very interested in chemistry and biology. It showed me a bright future in the STEM field and reminded me to always stay true to yourself and what you feel is right for you. Remember that careers are not concrete and change is good." – 10th grade

"This experience made me consider how a job in STEM can help benefit society. It also showed me that jobs in STEM are more than sitting behind a computer." – 10th grade

"Today's event inspired me to be hopeful for my future. Not everything goes as planned, and thats okay. The speakers talking about their experiences inspired me. Anything is possible and when getting an education, it doesn't always mean doctor, lawyer, or medical. There are many possibilities. Thanks for having us today!" – 12th grade

This event made me feel better about failure and that it is okay to fail. It made me feel better about not knowing some things and being able to pursue a career that other people may feel is 'nerdy'. STEM is an amazing field and I feel empowered. – 9th grade

"Today's event inspired me into being confident about going into a STEM field." – 9th grade

"I got to learn about the different careers in STEM and benefits of working a job in STEM. I got to talk to people about their day-to-day life in STEM and now I have more knowledge about this field. It was also great to talk to the volunteers." – 12th grade

"Today showed me parts of STEM I didn't know about. I feel more confident going into the STEM field." – 10th grade