On March 23, 2023, IGNITE Students from Grandview High School attended a virtual IGNITE Work-Based Learning Experience with Corteva.
Students learned that Corteva is a company that aims to enrich the lives of producers and consumers of agricultural products and protect sources of food. They work to give farmers access to tech to grow better foods, protect crops from disease and insects, and design seed genomes for viability and productivity.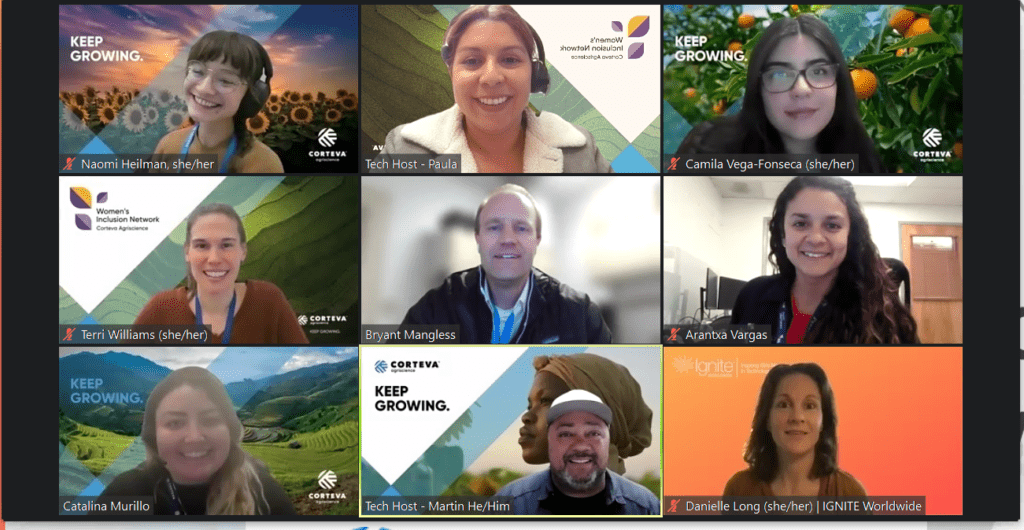 Naomi Heilman and Terri Williams led the activity – to virtually engineer a chemical plant for the food of their choice, in this case, enchiladas, tamales, and spaghetti and meatballs! Students learned that their favorite foods can be considered raw materials, cooking as a chemical reaction, and plating as the 'packaging' of the end result. The students created a blueprint of the plant and learned the importance of including every detail in the process. This engaging experience showed the students the Importance of STEM and how STEM is everywhere in the world – from medicine to sports, games, and even agriculture!
Throughout the experience, students were reminded that STEM needs diversity in order to make sure all perspectives are represented when new products are designed.
After the exercise, the IGNITE Students engaged in a Q&A session with the following Panelists: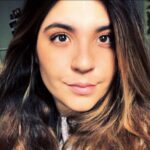 Camila Vega-Fonseca, Process Automation Engineer, makes procedures safer and more efficient through programming. Moving to the US from Santiago when she was very young, she had to learn a new language and had to constantly push herself, which took perseverance and a lot of support. In high school, she loved water polo and hanging out with her friends. She always liked science, and preferred physics and chemistry because they involved problem-solving. She loves her job because it is challenging and rewarding.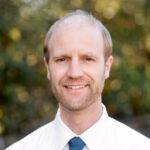 Bryant Mangless, Production Leader, manages the production plant and gets to lead and mentor a team to work together to guide the safe delivery of results. When he was younger, learning was difficult, and he didn't do well in school until he found math. Math made sense to him because there were problems that had a definite solution. This helped him build his confidence to pursue an engineering career. Bryant believes that most, if not all, future problems will be solved by STEM engineers; as a father to two young girls, he wants to help lead the effort to build inclusion into engineering fields.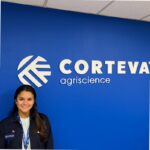 Arantxa Vargas, Asset Technology Engineer, loves her job because she helps take existing materials and turns them into something useful. She spoke about the importance of having girls and women in STEM. Her dad always taught her not to depend on anyone else and to have curiosity about how things work. After moving to the US from Panama, one professor sparked her curiosity in math, and she found that it came easily to her. This led her to take chemistry classes and began her path to engineering. She loves that her engineering job pays well, that there is always a new problem to solve, and that she works with great people that are like family.
The Q&A portion of the event included the following:
Q: How do I build confidence, and why is it important to have confidence?
A: Find the things you can do well, and build from there. Confidence perpetuates itself. Once you gain and build on it, you will take more chances, be braver and bolder, and realize you have a lot to offer.
Q: As a Latina, what challenges did you face in your career, and how did you overcome them?
A: It takes extra tough skin to do what you need to when far from family. Learning a new language was an extra step in the path to success. As a woman in a male-driven industry, you have to work to build a reputation as a smart, capable person to help level the playing field.
Q: What can I do now to learn more about my career options in STEM?
A: Join extracurricular activities and clubs, take a lot of different classes, and talk to counselors.
Q: How did you decide what to study?
A: I tried a lot of different things, asked questions, and had exposure to professionals through internships.
Q: What kind of technical skills should I start learning now?
A: The right technical skills will come with experience in your job. It is more important to work on what you are weak in so you can gain confidence and focus on your goals. Employers look for teamwork, communication, professionalism, and bias for action – when you see a problem, find a solution or find the people that can help you find the solution.
Q: What is a recent project you have finished or are currently working on?
A: There is a residue that builds up in the distillation columns at the plant that affects the whole distillation process and ends up costing millions of dollars. Problem-solving is a big part of the job; leverage your peers to come together as a team to help each other, and you will find an innovative solution together.
The Panelists gave the following advice:
It's important to speak up to make sure your voice is heard.
Surround yourselves with people telling you that you can succeed; don't let anyone tell you women can't do a certain job.
Don't compare yourself to everyone else.
Believe in yourself and use your gifts!
Have confidence and overprepare. Question yourself so you are prepared for what others will ask.
Thank you to Facilitator Catalina Murillo, Activity Leaders Terri Williams and Noami Heilman, and Tech Hosts Martin Montgomery and Paula Alba Green. A special thanks to Panelists Camila Vega-Fonseca, Bryant Mangless, and Arantxa Vargas for sharing their stories and experience with the students!
After attending this event:
Here's what the students thought of the event:
"Today's event inspired me to be more successful in the role that I want to pursue. It also motivated me by showing that Latin/Hispanic individuals can pursue a career as well. It was nice to meet people who have succeeded in their careers despite being from a foreign country. I want to thank the volunteers for their time today and for providing valuable insights on STEM careers. This experience has taught me how to be better prepared for a STEM career as a woman." – 10th grade

"Today's event was inspiring because of the panelists' stories. They were inspirational and very welcoming. STEM is for everyone, and I thank the panelists for strengthening that point." – 11th grade

"This event inspired me by showing that women can join STEM. One of the highlights was when some of the panelists spoke to us in Spanish. It proved that women of color can join STEM too." – 9th grade

"Today's event inspired me to continue my path to a career in STEM. This event taught me that I can keep growing and become anything I want to, regardless of being a Latina. My biggest takeaways are that you can be a successful engineer no matter your race." – 11th grade

"Today's event inspired me because the speakers told stories that I could relate to. It made me understand that even if we are not very good at something, it doesn't mean that we can't do it someday. I really enjoyed how the speakers were asking us questions, and we were all answering in a group and how they took the time to be here and tell us their stories. The speakers were very interactive and very inspiring." – 10th grade