On March 28th, IGNITE Students from South Kitsap High School and Seattle World School visited Weyerhaeuser to explore different technology areas within a manufacturing company.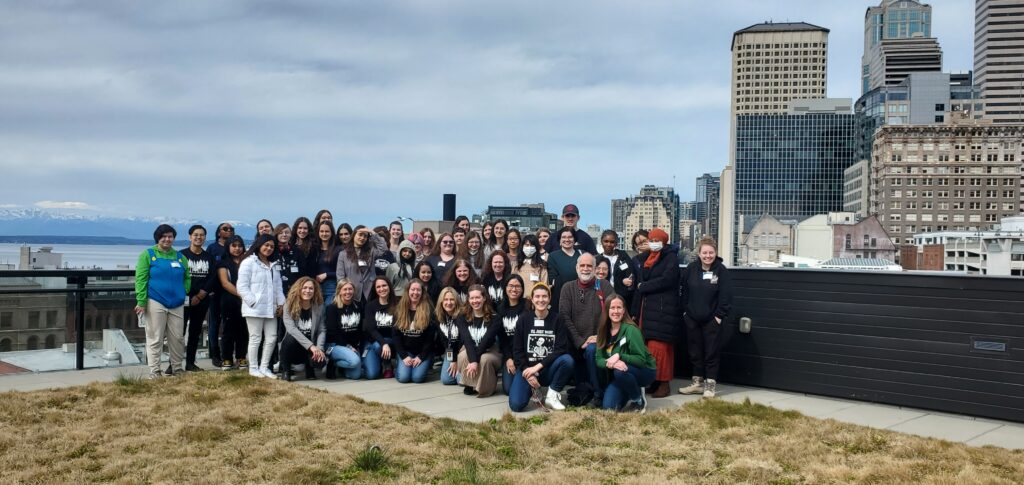 The students were greeted by Jamie Williams, Manager of IT Portfolio & Analytics, and the Weyerhaeuser team of 12 volunteers. After a safety briefing by Tina Hixson, Senior IT Support Coordinator, the students were welcomed by Amanda McKinstry, VP of Enterprise Systems, and invited to tour the corporate headquarters.
After the tour, the students broke out into six tables to explore different aspects of technology at Weyerhaeuser. Table activities included using automation tools, including drones and SPOT the dog at manufacturing sites, and a HoloLens virtual reality exercise where students interacted with one of the volunteers in a different location to solve a puzzle. There were two tables exploring different aspects of design thinking, data integrations and project management in technology, and a UIX table that introduced a coding bug and had students work through solutions to fix it. These activities provided a look into the many different possibilities ranging from super technical to non-technical roles that make up the technology space in an organization.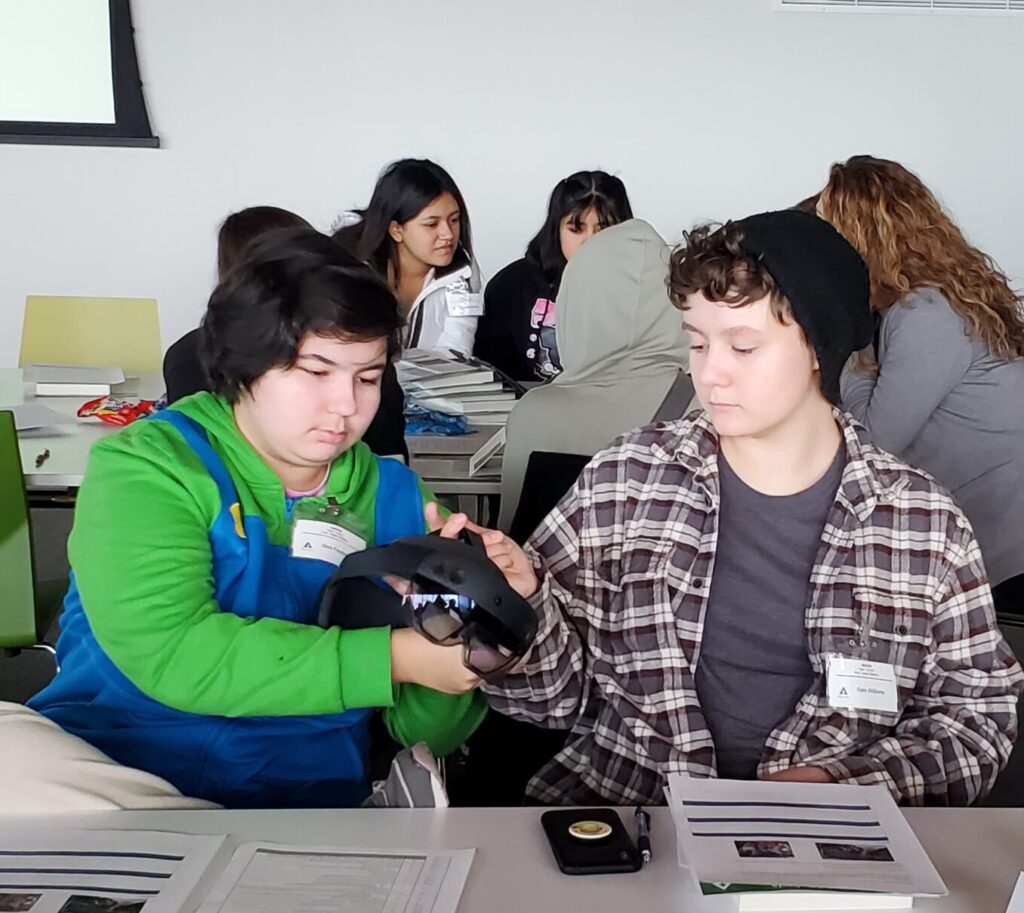 The day concluded with a socializing session over lunch and a panel discussion featuring:
Debbie Lin, IT Manager, Corporate Functions, shared about often being the only person in a space from an underrepresented group. She encouraged the students not to be afraid to go into areas where they are the only ones of their gender, orientation, or person of color.
Stephanie Tanuwijaya, IT Developer/Analyst, described how she went from an interest in mathematics to landing in computer science. She reassured the students that they don't need to have everything figured out when they are in school.

Jasmin Salazar, IT Network Administrator II, opened up to the students about her journey of going through many different career choices before deciding at the age of 30 to go back for her second degree – a BAS in Network Administration and Security. She urged students not to be afraid to try new things and change paths if they don't feel like they're following their passion.
Students were able to ask questions about their experiences getting into STEM and navigating the hiring process. Much of the discussion centered around not being afraid to exist in spaces where they may be underrepresented or maybe not represented at all. The students were encouraged to try different things and not worry too much about having it all figured out when they are young. It is important to find what interests you and makes you feel fulfilled, at a company where you feel valued. Sometimes it takes trying different roles or career fields to find out what fits for you.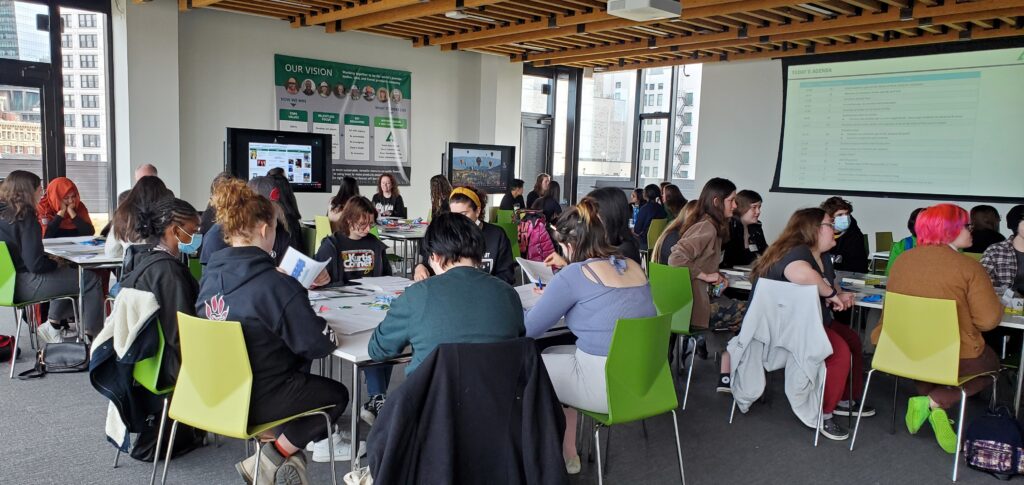 A huge thank you to all of our Weyerhaeuser volunteers: Jamie Williams for hosting and Amanda McKinstry for sponsoring the event, Debbie Lin, Stephanie Tanuwijaya, and Jasmin Salazar for being an awesome panel, Lacey Hawk and Heather Minnella (data integrations & project management activity), Jordyn McNiven and Becca Blackman (virtual reality in manufacturing activity), Jennifer Fosnick, Pam Glaser, and Erin Olson (automation tools in manufacturing activity), Lindsee Purnell and Jade Lamwilai (UIX activity), Debbie Lin, Stephanie Tanuwijaya, Brishan Hamilton and Jelin Thomas (design thinking activities), and Tina Hixson (safety briefing and building tour). Your dedication to creating engaging and informative learning activities made it a great experience!
After attending this event:
Here's what the students thought of the event:
"It felt great to be in a room with people I could relate to. It's difficult to succeed in an environment where you don't feel supported, and this event has given me a better perspective on my future in a potential STEM career. I now realize that I have more support and opportunities available than I previously thought." – 11th grade

"Before this event, I wasn't really sure what I wanted to do – author or game designer? Now I feel as though I want to be a game designer and tell the stories that I've created and crafted over the years. I can do anything and I know what I want to do." – 10th grade

"Today's event inspired me by showing me that STEM is a very nice program that offers a lot of fields. I am now more comfortable with STEM and I am interested in a career in forestry and I now know how to pursue it." – 9th grade

"Today the professionals gave me some ideas about STEM and it might change my mind in future. I gained more knowledge about STEM and I find it useful." – 12th grade

"I was fascinated by the technology used and how it applied to what Weyerhaeuser does. The activities were creative and I enjoyed being able to innovate and present what we did. The panelists were all interesting to hear from with their personal experiences in STEM fields. Hearing what Weyerhaeuser is about and how they treat their employees was great and I am looking forward to my career." – 12th grade

"Today showed me if I follow a career path in STEM, I will be supported as a women. I felt that my problems and interests are important." – 11th grade

"It was incredibly fascinating to see other women in STEM. It was incredibly motivating to see that with proper resources and support, you can be successful in a STEM career. Also, as our understanding of technology expands, the amount of jobs available to people expands as well." – 10th grade

"Today was very inspiring. Thank you for helping me, I really enjoyed today's activities." – 11th grade

"This experience was interesting and useful. I'll think about connecting my future with technology. Thanks to everyone who organized this event!" – 11th grade

"Today's event inspired me to look into STEM careers. My big takeaways from today were there are many STEM careers out there and there might be one that I would like to do, like coding. The volunteers at the table I worked with today were amazing and they really helped me think." – 10th grade

"It was really interesting to hear from other women that are working in STEM. It's good to know that even if sometimes we are not confident or sure, we can do it and have a good career in STEM. My big takeaway was that be a women working in STEM is possible and I can do it too!" – 11th grade

"It was interesting to tour the facility and I liked the atmosphere. I am so thankful for the time that the volunteers allocated to us. It was interesting." – 11th grade

"This event made me realize that professionals in jobs used to feel insecure about their capabilities and intelligence too. I sometimes am insecure about if I am smart enough to do STEM, but now I know that other people feel that way, and I just have to persevere through the hard parts." – 10th grade

"Today showed me that there are multiple jobs that I can select in STEM, and that I can do any of them. There are many job opportunities!" – 11th grade

"Today showed me that everything is possible. It doesn't matter if I'm from a different country, there will always be opportunities for me. I thank all the volunteers and my conclusion for today was that technology helps and is of great importance in our environment." – 11th grade

"I enjoyed hearing the true struggles and how employees overcame those issues to get where they are today. The building tour and some of the information about the company was compelling. I am increasingly interested in pursuing this company and similar companies in the future. STEM is possible for me and others. There is a future for me in this area of study." – 11th grade

"I am very inspired by today's event. It inspired me not to be afraid, but also to work on myself. I learned interesting topics and worked in a group with the guys. Thank you for showing me I can choose my best path and decisions for my life. Also, that there are ups and downs in our path, like mistakes, but all this is solvable." – 11th grade

"Today's event inspired me to be bolder. I really liked the answers of the speakers – really informative. I concluded that you shouldn't be afraid of what you like or what you're interested in. You need to try, and only then will you understand whether it's yours or not. I also want to thank the volunteers, thank you for the advice, for your help – I really liked it." – 11th grade