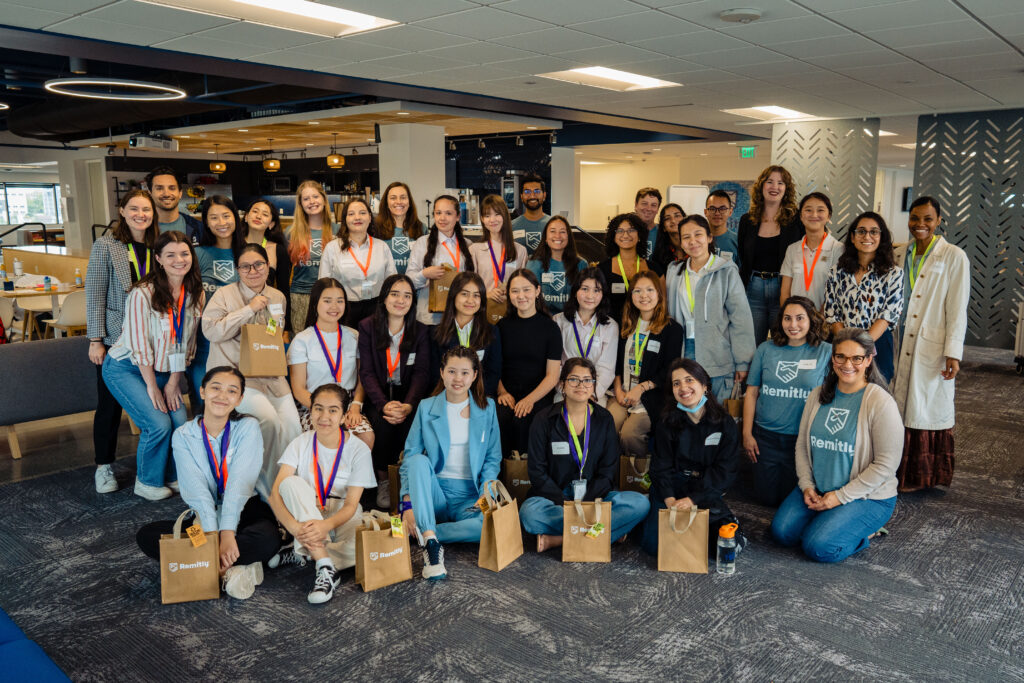 On Tuesday, July 25, 20 TechGirls from the World Affairs Council – Seattle attended a Field Trip at Remitly, a leading digital financial services provider for immigrants, based in Seattle, WA, with offices around the world. Remitly's vision is to transform the lives of millions of immigrants and their families by providing the most trusted financial services on the planet. A relentless focus on providing customers with best-in-class products underpins their commitment to bringing trust, reliability, and transparency to cross-border remittances and broader financial services.
The day was led by Kristi Romain, Program Manager, Customer Empathy and Lauren Curtis, Senior Manager, Product Design. After a fun office tour, students were shown Remitly's current app experience and how Remitly builds to bring peace of mind to their customers who send money back home.
Students were then invited to think about a problem either in school or within their community and worked with Remitlians (Remitly employees) to design their own app to address the issue. The students were drawn towards creating applications that would change the world! With the guidance of small group leaders Naman Bansal, Michelle Bodart, Kaaya Richards, Shayla Grymaloski, Larry Benesh, Rachel Varnergardner, Joandy Pratama, and Kaan Yarar they enjoyed discussing how their solutions would solve issues like community volunteerism and connecting with teachers.
Remitly is a company built on a set of cultural values that guide how Remitlians deliver on their promise to their customers. This was shared with students as they think about their learning journey and explore the world with the mindset of continuously improving, aiming for the stars, and being a compassionate partner.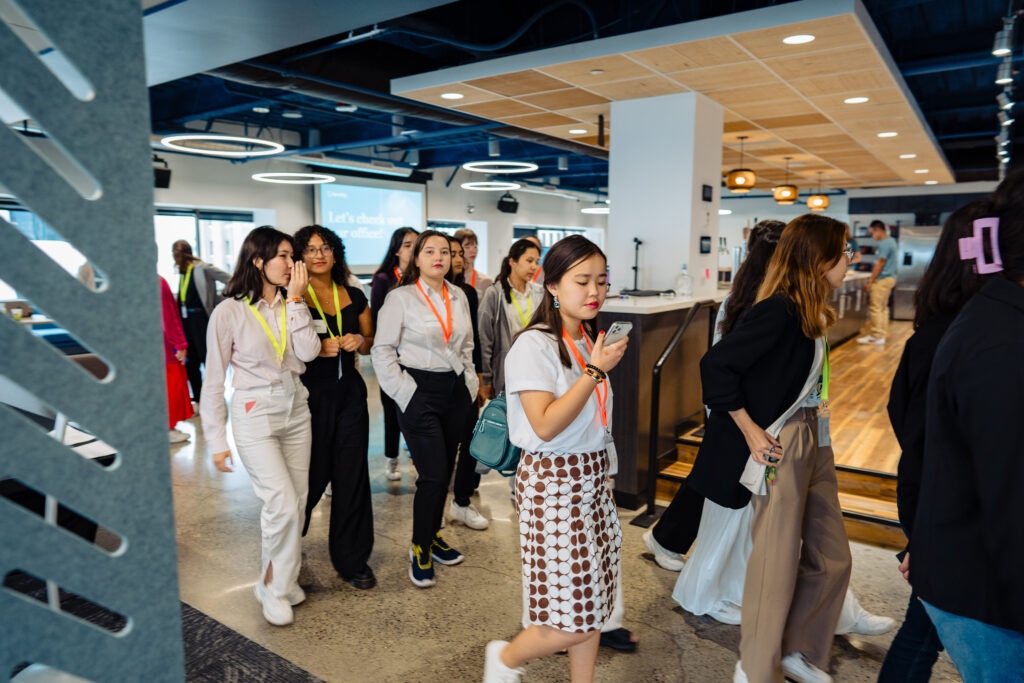 After the activity, students had the opportunity to learn more about women in tech, the possibilities for their future, and how our passions can lead us into the world of tech as four Remitlians shared their journeys: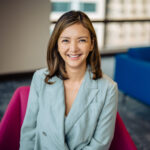 Katrina Tioseco, Director of Regional & Product Marketing, leads teams of marketers who put together launch plans and campaigns that drive product adoption and customer acquisition. Katrina delights in bringing to market innovative experiences and solutions that address customer pain points. She is a Marketing leader with 15+ years of experience working with tech startups and global brands and has an MSc in Management and Marketing. She enjoys experiencing the world through travel and cuisine, and is mom to two girls.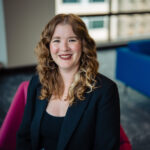 Lauren Curtis is the Senior Manager for the Product Design Team. Her team is dedicated to enhancing the customer journey related to money transfers. This spans from the process of sending money, through the receiving experience, to the seamless navigation of the application and website. She's been a UX Designer for 18 years and graduated from the Art Institute of Seattle. Beyond her professional pursuits, she has fun playing the bass guitar in a cover band, making art, embarking on bicycle rides, exploring new places through travel, and spending time with her family.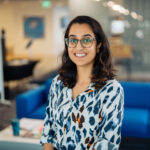 Snigdha Singh, a Group Product Manager, leads a team focused on building risk products to maintain regulatory compliance, streamline customer verification and mitigate risk at Remitly. She has an MBA and electronics engineering degree. She enjoys spending time outdoors hiking and has been trying to visit many of the National Parks in the US over the past few years.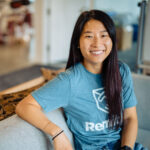 Yezy Lim, Senior Product Manager, has been a product manager for the past 7 years and graduated with an Information Science degree. At Remitly, she focuses on improving the customer experience of sending money with the Remitly app. In her free time, she enjoys going to the park with her dog, climbing, running, yoga, and watching TV shows.
Students asked incredible questions about learning from mistakes, the future impacts of AI, and how to weave in your passions in work. The speakers focused on overcoming challenges, the importance of self-care, and striving to work towards your goals.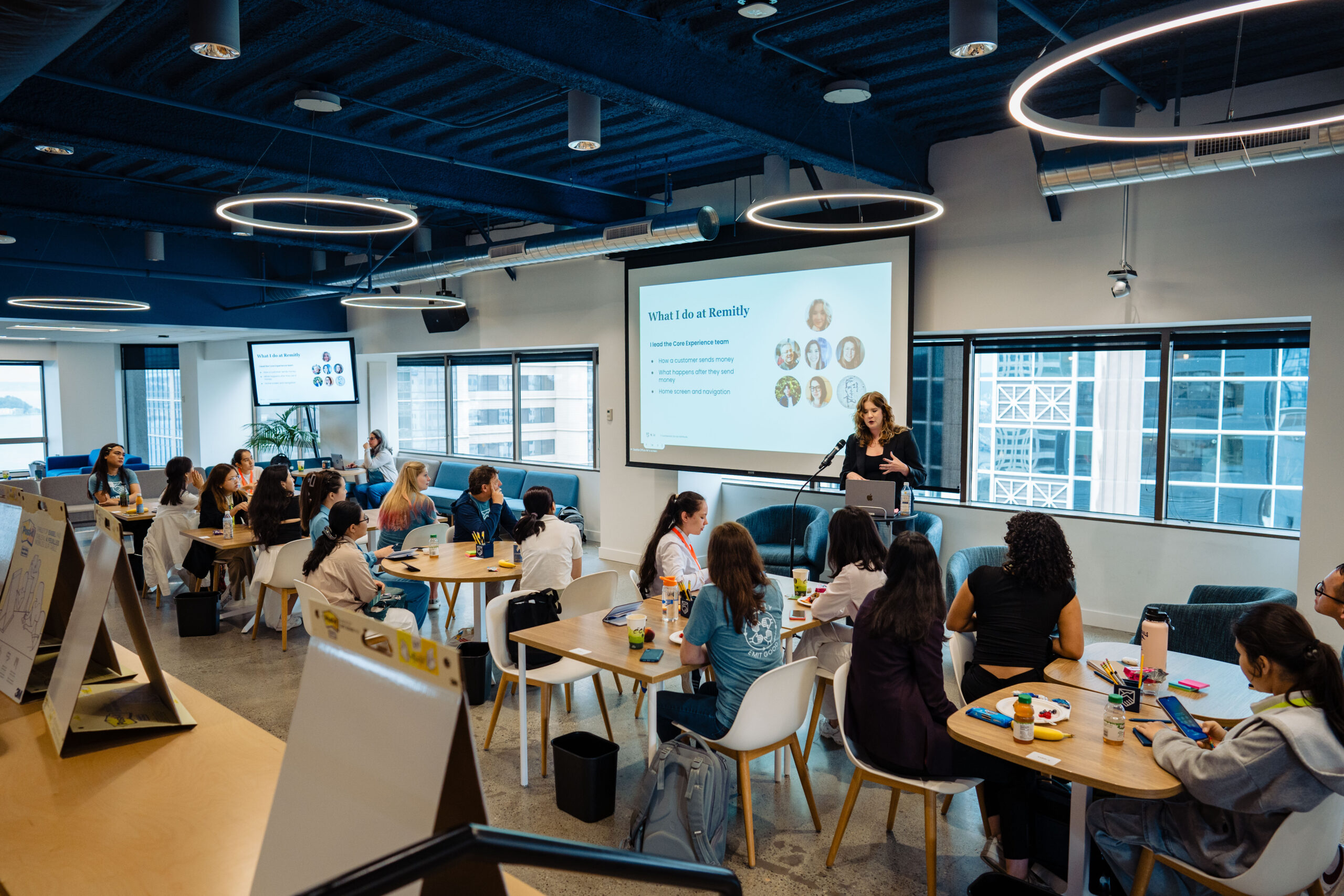 The students had a great experience seeing a startup in action, with some inspired to go into app design! They enjoyed learning about new applications for STEM and Product Design and loved the friendly environment, snacks, lunch, and goodie bags!
Thank you to IGNITE Worldwide, the World Affairs Council – Seattle, the TechGirls students, and staff! And a big thank you to Remitly volunteers for providing such a memorable experience: Naman Bansal, Michelle Bodart, Kaaya Richards, Shayla Grymaloski, Larry Benesh, Rachel Varnergardner, Joandy Pratama, Kaan Yarar, Kristi Romain, Lauren Curtis, Snigdha Singh, Yezy Lim, Katrina Tioseco and Sarah Rith.
After attending this event:
Here's what the students thought of the event:
"This event showed me how to use knowledge and passion for technology to solve problems in our community. It taught me that design is not just a scribble, but visualization of problem-solving. Gender doesnt define how successful you will be in the field of STEM and the role of a program and product managers are important for everyone in the company to function properly." – 11th grade

"I met a lot of inspiring women in STEM and their stories made me realize how staying true to your goals can lead you to good things! I was especially surprised by the workplace environment – very open and friendly and the staff/volunteers were so nice to help us out! Thank you!" – 11th grade

"This event was very inspiring with professional people who chose STEM and succeeded. I'm honoured to have attended this experience with Remitly, it was very beneficial." – 12th grade

"It was super inspiring seeing and meeting other women in STEM with different careers and talking to them. It was great seeing how nice and cooperative everyone was! Thank you to all the volunteers/staff/panel members, it was such a great experience!" – 10th grade

"This experience was great. I liked it because there were many women in STEM and I am grateful to the volunteers because they made it special." – 11th grade

"One of the speakers today mentioned her undergraduate study where she was only one engineering girl among 20 boys, but she continued her studies. This was motivational for me and I liked everything about the company." – 11th grade

"My dream is to become a CEO or product manager, so these volunteers inspired me more. This reinforced how I find product management interesting." – 10th grade

"I learned the most important thing – don't believe the people who try to discourage you! I learned how to be great as I am. Thank you." – 11th grade

"I loved talking to the employees and walking around the office, it was really nice." – 11th grade

"Today made me see that the challenges are just beginning of big journey and everything is possible. I want to double major in business with computer science and become a programmer & project manager at Remitly! Thank you!" – 11th grade

"Since this event, I am now I'm thinking about engineering more and maybe I will study it. Thank everyone! I loved the book and activities!" – 11th grade

"I got the chance to come up with an app idea. The volunteers were so nice!" – 10th grade

"I want to discover more unknown majors to better understand every field in STEM. I am interested in internships that Remitly can offer. I just like all these people, and it was a pleasure. Thank you to everyone, volunteers, Remitly team, speakers. I will come back for a job interview, and I am looking forward!" – 11th grade

"I was really inspired by the panelists who shared their stories! Talking about gender gap in STEM was super comforting and I learned that never giving up and always developing is so important! Thanks to the volunteers who made this day special!" – 10th grade

"I received some advice on product management from experts and designed an app! I also learned you should always test products rapidly because the market changes very fast." – 11th grade