Spreading the Joy of Kindness and Technology
By Vanesha H., 12th Grade Student
My passion for STEM, combined with compassion and resilience, has helped make a difference around me! My motivation to teach and mentor young kids began when I noticed the unconscious bias and perceptions in society around STEM fields after walking into my first robotics class filled with boys. With more research, I was appalled by the statistics of the gender and income gaps that exist for access to such opportunities. I researched how I could be a catalyst for change. In 2018, I had my first opportunity to be a counselor in training for a class of young girls and ignite their curiosity for math. I volunteered 80 hours, 2 weeks, for a class of 10. This was my first eye-opener; what I heard from girls was a testament to what society had defined. Girls told me that Math was boring, and boys excelled in them better! I knew the narrative had to change, and since then, I have volunteered over 500+ hours and impacted 300+ minorities in my community. This added to what I experienced on my international trips to India, where girls were forced to do home chores to financially support their families instead of going to school. As a co-founder of a nonprofit initiative called Joys of Giving, I now have a combined mission.
Joys of Giving has a unique vision of contributing to both fighting youth hunger and bringing educational equity, especially for underserved communities, and encouraging more girls in STEM (gender disparity). Thus far, we have fundraised $20,000, volunteered 1500+ hours, and impacted 1000+ youth globally. I have co-led 40+ STEAM workshops and fundraisers teaching coding concepts, baking, art, and science. As a senior STEM instructor in a local nonprofit encouraging young girls by creating curriculum and teaching science, math, and technology concepts, I have reached 100+ girls over the years. With COVID, I also realized that when kids don't know where their next meal will come from, they cannot focus on education and hence helped our school district to fundraise for free meals. As an active meal volunteer for homeless youth, I have delivered 1000+ meals, recruiting 20+ youth volunteers to join our mission. As a President of our school's coding club, I know our journey to bridge the gender gap has just started.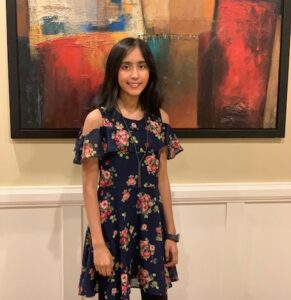 The lessons learned from my STEM outreach and voluntary work over the last few years have been patience, consistency, empathy, compassion, and fulfilling joy when I see the smiles on the kid's faces. The most memorable part of my teaching experience has been observing and learning the unique and special qualities every kid has within them. I believe that the most important skill of any leader is the ability to bring out the best in every child. When I was able to teach a kid how easily they could do something when they thought they never could, that was a success story for me! One incident that I can never forget was a young kid who talked about how his parents worked odd jobs and didn't have a laptop at home but then exclaimed how he enjoyed learning coding every time he came to the center where I volunteered. In a span of a few weeks, he had learned how to create and develop his own little game, and he was ecstatic! The joy, the smile, and the confidence that he will continue to find a way to keep these skills alive made my day! 
As STEM role models, we have a responsibility to bring diversity and inclusion. I believe that anyone, regardless of their age, can make a difference. When one teaches, two learn! Being a selfless role model inspires and sets the trend for hundreds of youths to do their small part and leave this world better than they found it!
Awards: National Center for Women & Information Technology NCWIT (Western Washington Winner, Aspire IT Impact award, National Honorable Mention), Society of Women Engineers SWE (STEM in Action, SWE Next, SWE Community Impact), US Congressional Gold Medal (highest honor for youth by the US Congress), 16 under 16 Class of 2022 STEM Achievers, 30 under 30 in 425 magazines, National youth panelist changemaker to inspire 60+ national youth in a virtual summit by Empowered Flower Girl, Published in – Wall Street Journal, J14 #1 Teen magazine, Authority Magazine, and several media interviews.