In September, two groups of IGNITE Students from Powell Bilingual Elementary School in Washington, DC, participated in Virtual Show-and-Tell Mini-Panel Events. September's core value at Powell was "I Am Prepared," and the panelists all shared different ways they prepared for their jobs, their day, and even how they prepared for this event! These two virtual Panels kicked off the new school year for IGNITE, and were the first Washington, DC, area events. The panels were also the first IGNITE Program events to be conducted entirely in Spanish!
September 14, 2023, Show-and-Tell Mini-Panel Event
The first event opened with a warm welcome from Facilitator Wennahele Navarrete, who Zoomed in from her office in Mexico City! Wenna talked with the 4th- and 5th-grade students about the vast variety of STEM fields that exist and the importance of STEM in our daily lives.
The day's Panelists, Fernanda Maiz, Commercial Strategy Intern at Afiniti, and Bianca Luna-Acosta, Security Consultant at Bishop Fox, took the stage to share their stories and experiences and showed photos of themselves from when they were in elementary school. Bianca told the students about the positive side of hacking and how it can be a force for good, helping companies protect people's private information and making sure the internet stays a safe space for kids to use. After the Panel, the students had plenty of questions: "How can I become a hacker?", "What did you study at school to prepare for your career?" and, of course, "How much money do you make?"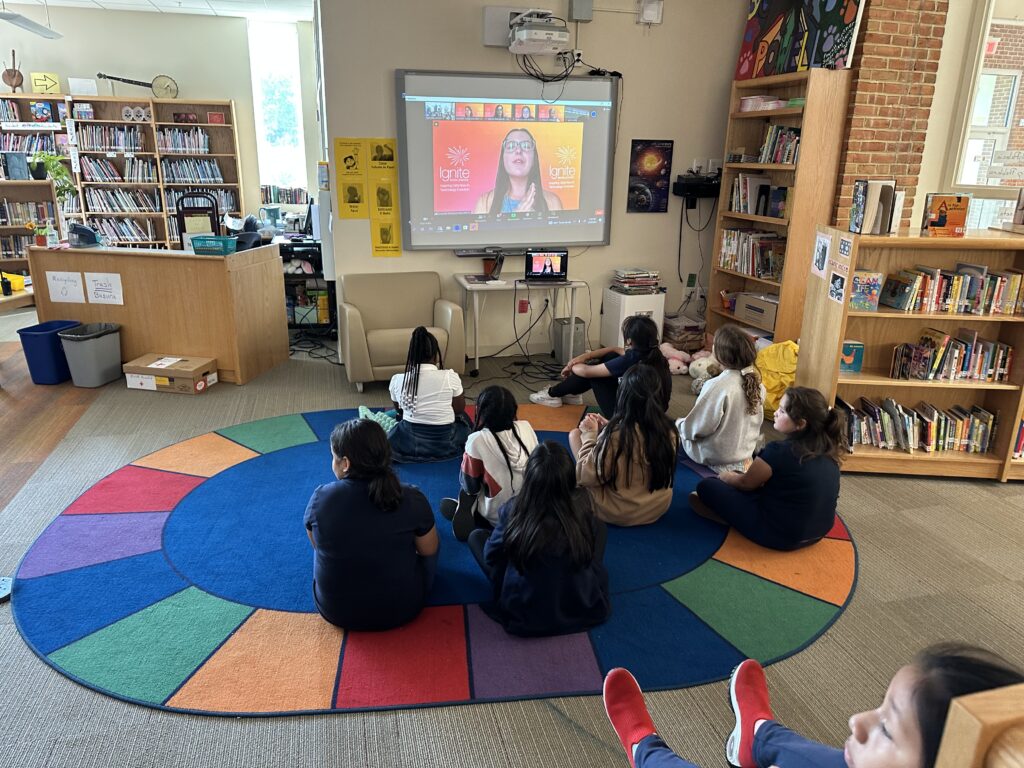 The Panelists encouraged the students to focus on preparing for a job by emphasizing the importance of education and practical skills, whether in cybersecurity like Bianca, using data to help make important decisions like Fernanda, or anything else they want to do! The Panelists told students to take tech-related classes, try new things like coding, and join clubs like robotics to have fun while they learn! Also, the importance of talking to people who have the job they might want is an excellent way to gain valuable information to see if a job is right for them.
The Panelists' diverse backgrounds and differing journeys to reach their STEM careers allowed the students to see that a career in tech and cybersecurity is within their reach, regardless of their background or country of origin.
As the event drew to a close, the Panelists offered a final round of advice, telling students that they can be anything they want to if they work hard in school and focus on what they already love to do.
September 29, 2023 Show-and-Tell Mini-Panel Event
Rose Suarez, who works at the self-driving car company Cruise, was the Facilitator for the second event, an audience of 40 second-grade students! The students were ready for the Panel after a warm-up question from Rose asking about the students' favorite animals.
Panelists Isabella Russildi, Sr. Director of Commercial Strategy at Afiniti, and Jenny De Leon, Director of Engineering at iCIMS, related their experiences to the students through shared visuals, including photos of their families, themselves at the students' age, awards they received, and even their pets! Ike, the iCIMS mascot, made his first on-camera appearance (in stuffed animal form), much to the students' delight.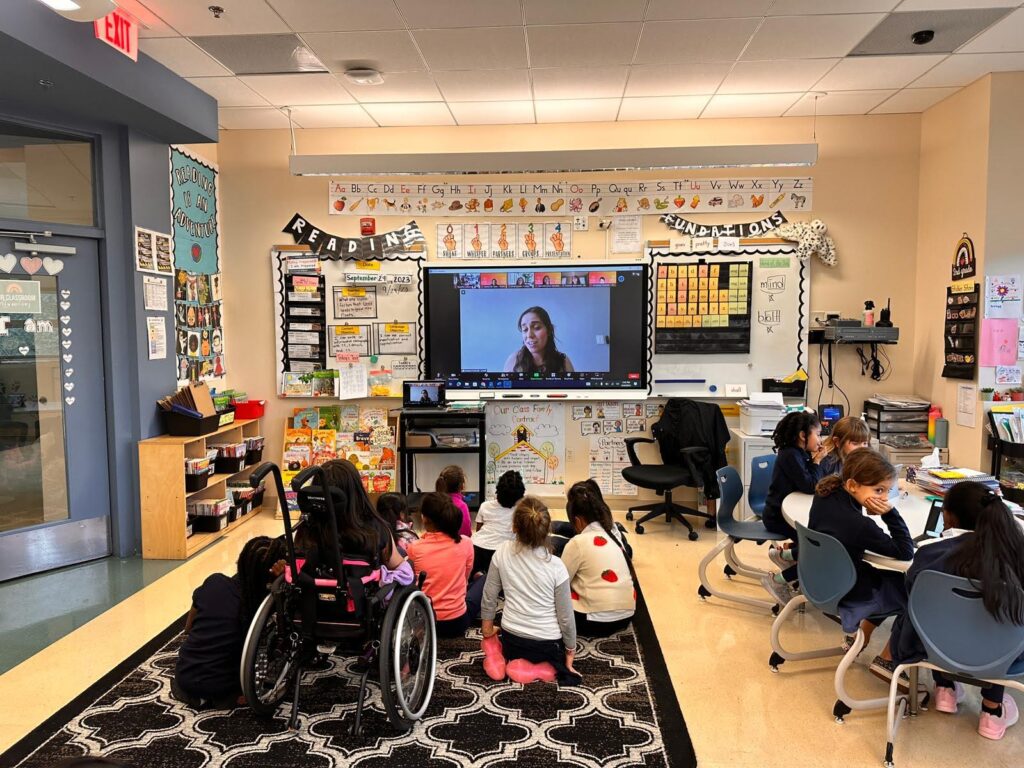 Students asked a wide range of questions – as second-graders do – about the Panelists' lives ("What is your favorite color", "Do you have a pet?") and their jobs ("What time do you work?", "Is your job hard?", "Do you like it?"). The Panelists told the students how they love working from their homes because they get to be with their pets, and talked about how they prepare for their day.
Panelists reminded students to "always keep learning", to stay curious, and to find the things they are good at and excited about.
Rosette Ladson, whose work in coordinating these two events and corraling these enthusiastic students cannot be overstated, loved that her students had the opportunity to see and hear from successful professionals who looked and sounded like them, an opportunity that she intends to continue as IGNITE and Powell Bilingual Elementary School collaborate on future events!
Thank you to the Panelists Fernanda Maiz, Bianca Luna-Acosta, Isabella Russildi, and Jenny De Leon for sharing their stories and experiences with IGNITE Students. Additonal thanks to Facilitators  Wennahele Navarrete and Rose Suarez, and Tech Hosts Bharatwaja Namatherdhala, Fethiye Starmach, and Jonathan Guzman! Rosette Ladson provided (and continues to provide) invaluable advice as IGNITE expands its elementary-age programming. We are looking forward to the next events already!
After attending this event:
Here's what the students thought of the event:
"This event made me want to do a job where there aren't a lot of women to increase the amount of women in STEM." -5th grade

"This event inspired me to be more interested in becoming a teacher." – 5th grade

"Today inspired me to try something new." – 5th grade

"I learned that hacking is a job! I also learned about coding and what coding lets you do." – 5th grade

"This event inspired me to be a scientist and I got to meet a hacker!" – 5th grade

"Today inspired me to try more things and taught me that homework is important." – 4th grade

"This event was very interesting to me. It showed me how important doing homework and paying attention is." – 4th grade

"Today's event inspired me to be a hacker. I learned that coding is a big part of STEM." – 4th grade
About IGNITE Program Panel Events:
Virtual or In-Person IGNITE Panels empower women in STEM careers to connect directly with students by sharing their academic and professional journeys. IGNITE Students are inspired by hearing stories they can relate to, and Q&A discussions help break down stereotypes that hold them back from engaging in STEM classes and careers.
About IGNITE Worldwide:
IGNITE Worldwide is a 501(c)3 nonprofit STEM education organization that aims to change gender and racial equity in STEM permanently and systematically. We work directly with teachers during the school day to provide programming that promotes gender equity and representation in STEM academics and careers. Through our award-winning program, IGNITE provides engaging, hands-on events that connect students with STEM professionals from industry leaders from around the world. Learn more at www.igniteworldwide.org.