On September 28th, 2023, Afiniti hosted an IGNITE Field Trip at their Washington DC headquarters, welcoming 6th, 7th, and 8th-grade students from Johnson Middle School and Wheatley Education Campus. The event was led by Afiniti team members Mary Kay Pennington-Mcgaughey, an Executive Assistant, Emma Li, a Senior Data Scientist, and Saba Abbas, a Senior Software Engineer. This event aimed to introduce students to Afiniti and the world of Artificial Intelligence (AI), and other STEM topics and career exploration.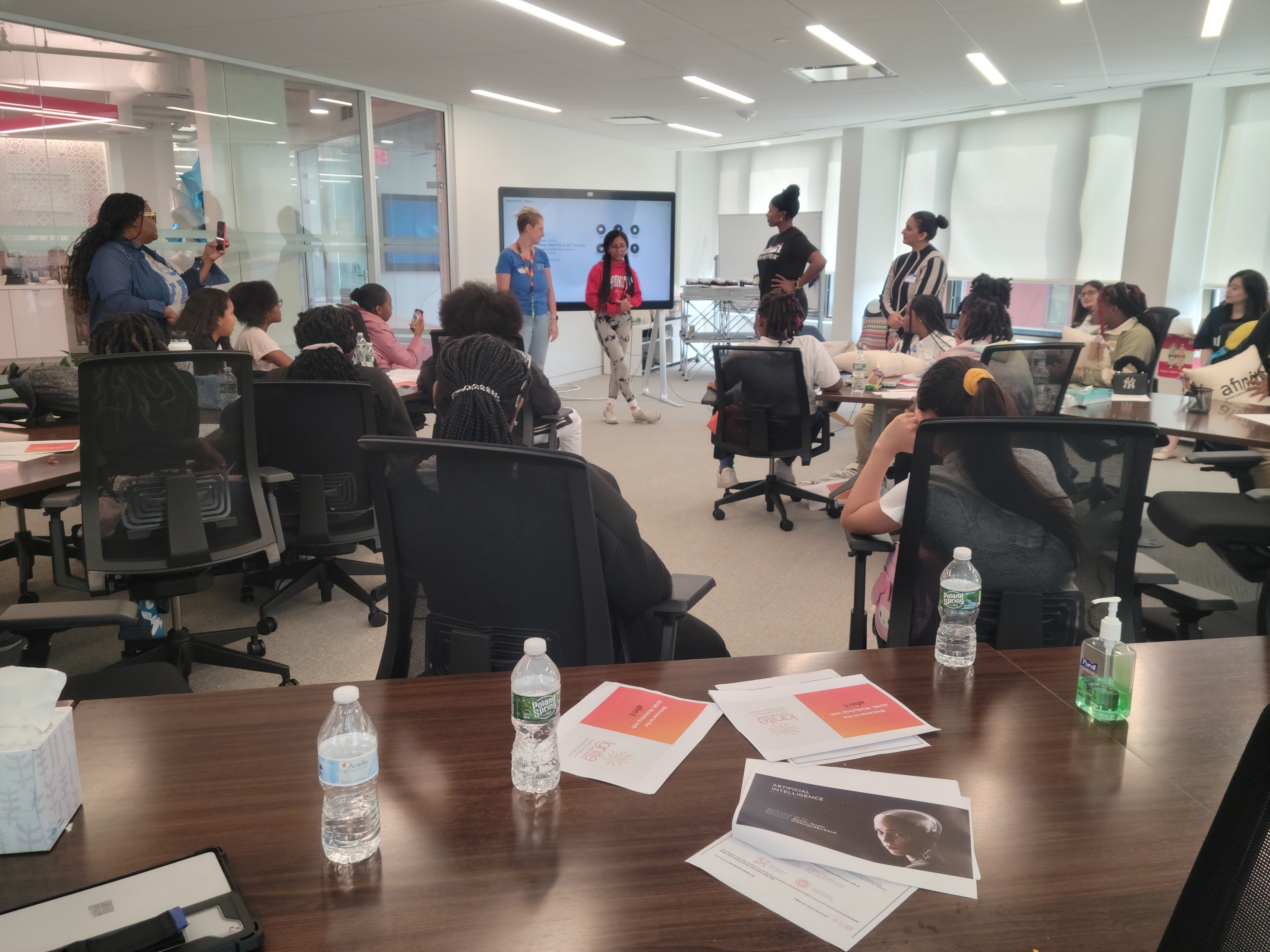 The event provided an exciting and educational experience for the students. The day began with an office tour, allowing students to interact with Afiniti's AI and Data Science teams. This hands-on experience allowed students to gain insights into the innovative world of AI, sparking their interest in STEM fields.
Following the office tour, students were divided into small groups for an AI/ML workshop. Guided by team leaders, students participated in interactive activities like "Rock, Paper, Scissors," "Quick Draw," and "Teachable Machine." These activities not only made learning fun but also demonstrated practical applications of AI in everyday life.
After the engaging morning activities, students participated in a Q&A session with a panel of Afiniti professionals. During this session, students had the opportunity to ask questions about the IT industry and career paths. Some of the questions and answers discussed during the Q&A session included:
Q: What are your day-to-day tasks?

A: Panelists shared insights into their daily responsibilities, including data preparation, problem-solving, and meetings with cross-functional teams.
Q: How much does a person earn in the IT industry?

A: The panelists noted that salaries in the IT industry can vary depending on the position and company but often reach six digits.
Q: What are some challenges you face in your day-to-day job?

A: Panelists shared personal experiences, including overcoming language and background differences and the need to learn and adapt in the field continuously.
The session provided valuable insights and inspiration for the young attendees. Alyssa Guo, Vice President of Data Science and Analytics, discussed her role in managing data operations and the importance of diversity in technology. Ayanna Fowlkes, Sr. Director of Commercial Strategy, focused on successful business applications for technology and the need for diversity in STEM. Sona Virwani, Senior Data Engineer, spoke about women's increasing presence in IT and encouraged students to pursue their passions, emphasizing the importance of informed decisions and perseverance.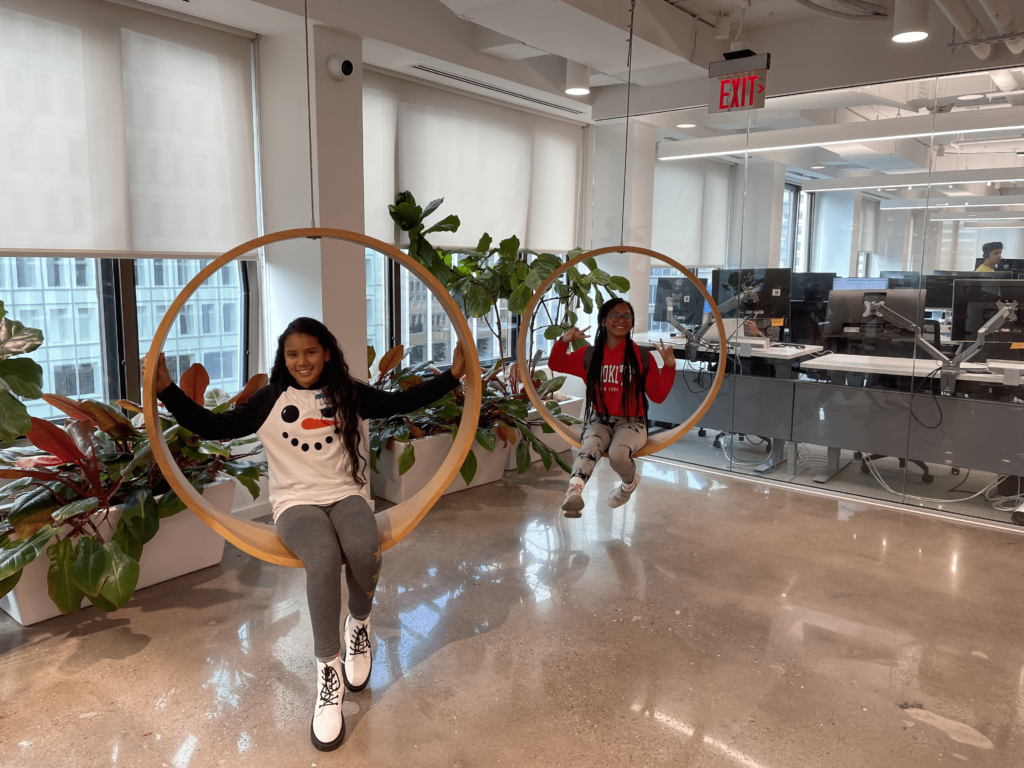 The success of the Field Trip to Afiniti DC Headquarters was made possible through the dedication and hard work of our volunteers, including Mary Kay Pennington-Mcgaughey, Emma Li, Saba Abbas, Zartashea Mir, Chiamaka Ugboh, Ayanna Fowlkes, Alyssa Guo, Sona Virwani, and Iqra Rana. Their commitment to inspiring the next generation of STEM enthusiasts was instrumental in creating a memorable and impactful experience for the students. The event encouraged young minds to consider careers in the exciting world of technology and AI.
After attending this event:
Here's what the students thought of the event:
"This event inspired me because I always wanted to know more about STEM and I finally got to hear different people from new places explain more about technology. I learned that technology is very fun and helpful. I want to thank the volunteers for everything and they really helped me today." – 7th grade

"This experience convinced me to consider STEM as a career." – 7th grade

"Today showed me that girls and women can do anything. My big takeaway was that I have to learn about technology." – 7th grade

"Today's event inspired me to be more interested in STEM by teaching me how women can use technology too. This event also inspired me to use tech. One of my takeaways was learning things that were new to me and having different people talk to me about different parts of STEM. I want to thank the staff for taking time out of their day to teach us new things." – 6th grade

"This event inspired me to learn more things about STEM and tech. The thing I really loved about today was learning the way the computers work." – 8th grade

"Me inspiro a no dejar que otras personas te hagan sentirse no puedes. (It inspired me to not let other people make me feel like I can't [do something].) La inspiracion de no dejarme vencer por nada ni nadie. (The inspiration to not let myself be defeated by anything or anyone.)" – 8th grade

"This event inspired me because it taught me how to use tech. It also inspired me because I learned a lot about how computers and the internet work. My biggest takeaway was to work together and use computers." – 8th grade

"This event helped build my confidence and taught me to never give up." – 6th grade

"It surprised me how big the Afiniti office was. My big takeaway was how they inspired me and my peers." – 6th grade

"Today showed me AI, what it can do, and how STEM can be for everyone." – 6th grade

"Today's event was fun. It inspired me by showing me that girls are cool." – 6th grade

"This event was good and fun. I loved it here!" – 7th grade

"I liked hearing the volunteers talk about their work." – 6th grade

"Por la tecnologia y muchas cosas mas. ([I was inspired by] the technology and many more things.) Entendi la tecnologia en Afiniti (I understood the technology at Afiniti)." – 7th grade

"Today inspired me because I feel more capable of doing things without being judged. I liked hearing about how the volunteers learned about technology and engineering." – 6th grade

"This event was good, and I loved it. One of my takeaways was learning new things about STEM. I want to thank the volunteers for helping us today." – 6th grade

"This experience inspired me because I love the way their technology works and the way the volunteers work. I loved being here today." – 6th grade

"This event made me more confident in myself as a person and made me more interested in STEM. I learned that women don't go into the STEM jobs like men." – 7th grade

"Today's event inspired me to go for jobs dominated by men and taught me that STEM workers make a lot of money." – 7th grade

"Today was fun and interesting, and I loved the office and the food. One of my takeaways was the salary information." – 6th grade

"Today taught me to follow my dreams and I liked the snacks and food." – 6th grade

"This event was good because I like STEM, and it's good to make stuff." – 6th grade

"The volunteers inspired me to do STEM because I love science and money! Women make a lot of money in STEM, so I like that!" – 6th grade

"The volunteers inspired me by telling me about what I can do in STEM and how to do it." – 6th grade

"Today's event inspired me since it helped me figure out how interested I am in STEM and they taught me in a non-boring way." – 6th grade
About Afiniti:
Afiniti uses patented artificial intelligence technology to pair participants in customer interactions based on how well they are likely to interact. Its technology is used globally in the healthcare, telecommunications, travel, hospitality, insurance, and banking industries, and across multiple customer experience channels. To learn more, visit www.afiniti.com.
About IGNITE Program Field Trip Events:
IGNITE Field Trips offer a memorable, behind-the-scenes look at STEM in action and the wide range of career opportunities at the host company. Company employees interact directly with the students through an office tour, hands-on STEM activities, and IGNITE Panel and Q&A discussion.
About IGNITE Worldwide:
IGNITE Worldwide is a 501(c)3 nonprofit STEM education organization that aims to change gender and racial equity in STEM permanently and systematically. We work directly with teachers during the school day to provide programming that promotes gender equity and representation in STEM academics and careers. Through our award-winning program, IGNITE provides engaging, hands-on events that connect students with STEM professionals from industry leaders from around the world. Learn more at www.igniteworldwide.org.