On October 19, 2023, IGNITE Worldwide hosted an engaging Field Trip Event at Accenture's Kirkland campus with students from Renton High School and Albert Talley High School. The event featured a diverse group of volunteers from Accenture, including Geena Glen as the Facilitator, along with Bandhna Bedi, Aileen Thai, Tejas Rao, Mona Atallah, Danish Jahangir, Rand Perez, Georgette Guevara, Mariah O'Brien, and Shikha Tyagi. The Panelists included Melanie Hazeley, Goonj Mehrotra, and Grace Kim.
The day was filled with exciting activities that allowed the students to explore the world of cutting-edge technology. One of the event's highlights was the "Metaverse" activity, where students had the opportunity to use Metaverse Quest 2 headsets to delve into a virtual reality (VR) world. Through a warm-up exercise and a sample Utility Worker VR Training, students gained insights into how the Metaverse is reshaping education and training. They also brainstormed various ways this technology could be applied in education and voted on their favorite ideas to share with the larger group.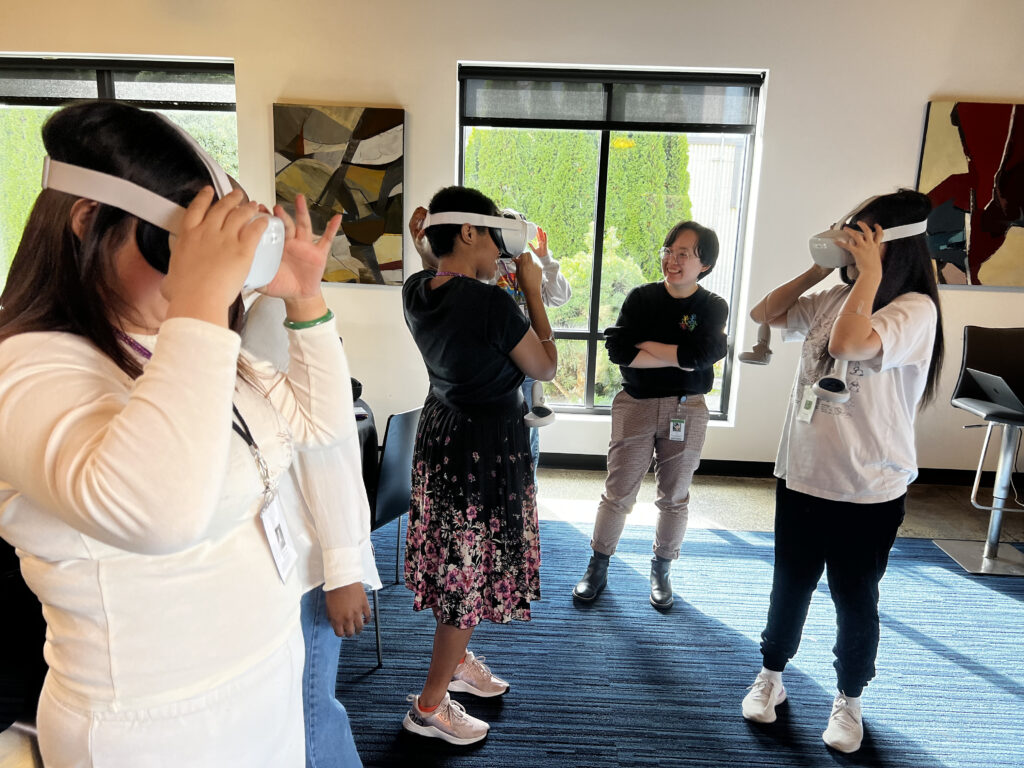 In addition to the Metaverse experience, the students were introduced to the future of drone capture through an interactive activity. They had the chance to pilot drones with Accenture's startup partner, Drisit. The demonstration emphasized how this technology is revolutionizing various industries, including Resources, Real Estate, and Security. After the activity, students brainstormed potential applications for drone capture in the future and voted on their preferred ideas for presentation.
Another engaging activity introduced the students to ChatGPT, a generative AI. They explored the responsible use of ChatGPT and learned to differentiate between generative AI and human-written responses. They shared their learnings and discussed how they could integrate ChatGPT into their lives based on what they discovered during the activity.
Throughout the event, students were provided with opportunities to tour Accenture's campus, interact with Oculus workshops, and engage in drone flying demos. The event concluded with a panel discussion featuring Women of Color in Tech, who shared their experiences and answered questions from the students.
The Panelists offered valuable advice to the students, emphasizing the importance of exploring various classes and building connections with mentors. They encouraged students to be open to trying new things during their university experience, highlighting it as an opportunity for exploration.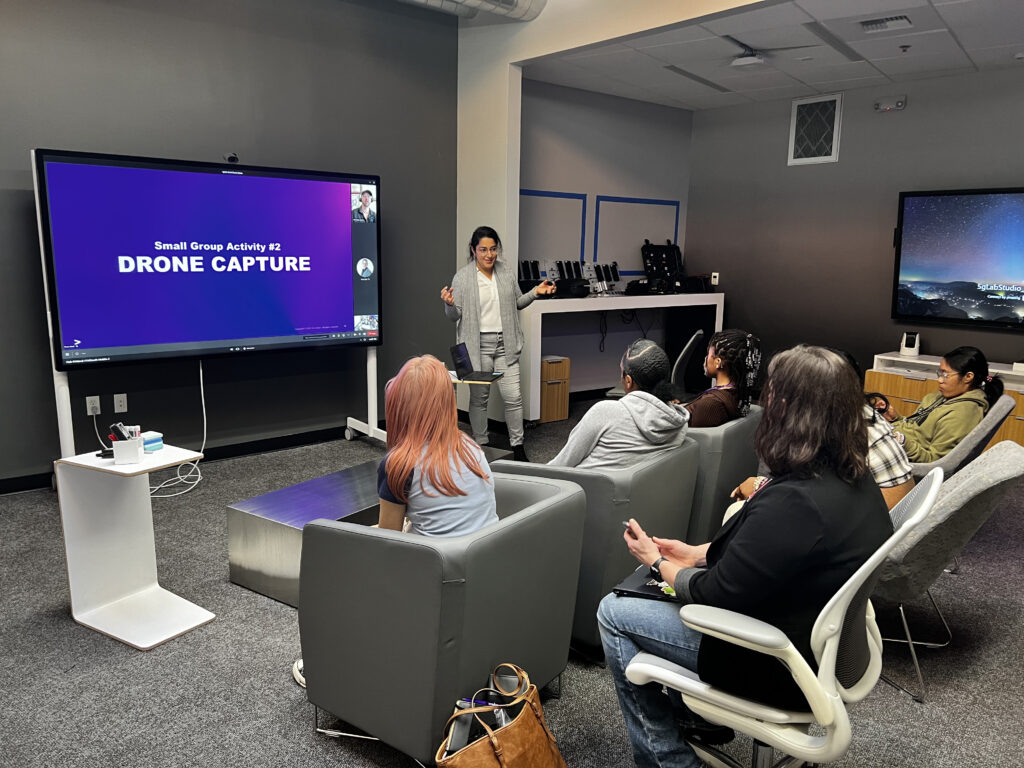 The event received overwhelmingly positive feedback from the students. They appreciated the interactive nature of the activities, which not only exposed them to new technologies but also ignited their interest in STEM careers. The opportunity to tour Accenture's campus and hear directly from the company's employees left a lasting impression on the students. It offered the students an immersive and educational experience in the world of technology.
Our sincere thanks go to our wonderful Panelists, Melanie Hazeley, Goonj Mehrotra, and Grace Kim, as well as the dedicated Volunteers, including Geena Glen, Bandhna Bedi, Aileen Thai, Tejas Rao, Mona Atallah, Danish Jahangir, Rand Perez, Georgette Guevara, Mariah O'Brien, and Shikha Tyagi. We appreciate your commitment to our mission of fostering a passion for STEM among the next generation.
After attending this event:
Here's what the students thought of the event:
"Today's event has really helped me realize how cool and helpful being in STEM can be. STEM is a genuinely fascinating field, and I learned that it's okay to take the time to decide what you want to do in the future." – 12th grade

"I got to meet different people from diverse backgrounds and learn about the various ways they entered STEM. I also learned about innovative developments in the tech field. There are numerous ways STEM can help solve real-world problems. Don't hesitate to create your own space, even in a male-dominated field." – 12th grade

"Today was incredibly fun! I appreciated the opportunity to network with the women panelists. This taught me to take my time, and hearing everyone's points of view and experiences made me feel much more inspired." – 12th grade

"I gained a better understanding of the different aspects of working in tech. It also helped me envision a work environment more clearly. I was very interested in learning about what it takes to develop new technology and how people with different roles collaborate." – 12th grade

"This event was very helpful for learning more about STEM careers and what Accenture is and does. I feel like I now have a better understanding of what a STEM career entails. I am very grateful for this opportunity to be here. I loved the Metaverse opener and the lab walk-through." – 12th grade

"I found inspiration in the women who work here. In the future, I think I will work here." – 12th grade

"I learned about different engineering roles and how they function, as well as how the women entered their careers. I enjoyed hearing from the volunteers and their background stories, as well as getting to see their workspaces." – 10th grade

"Today inspired me to explore and discover more about my options and to find a mentor. I learned it's perfectly fine to change your mind, and women are making significant strides." – 12th grade

"It was good to hear everyone's perspectives. It genuinely made me reconsider what I want to pursue. I want to express my thanks to everyone who took the time to share their viewpoints." – 11th grade

"This event opened my eyes and introduced me to a world I wasn't previously familiar with. The women's stories were incredibly insightful, and everyone was so welcoming that it has made me want to return here." – 11th grade
About Accenture:
Accenture is a global professional services company with leading capabilities in digital, cloud, and security. Combining unmatched experience and specialized skills across more than 40 industries in over 120 countries, Accenture offers Strategy and Consulting, Technology and Operations Services, and Accenture Song — all powered by the world's largest network of Advanced Technology and Intelligent Operations centers! Accenture embraces the power of change to create value and shared success for clients, people, shareholders, partners, and communities.
About IGNITE Program Field Trip Events:
IGNITE Field Trips offer a memorable, behind-the-scenes look at STEM in action and the wide range of career opportunities at the host company. Company employees interact directly with the students through an office tour, hands-on STEM activities, and IGNITE Panel and Q&A discussion.
About IGNITE Worldwide:
IGNITE Worldwide is a 501(c)3 nonprofit STEM education organization that aims to change gender and racial equity in STEM permanently and systematically. We work directly with teachers during the school day to provide programming that promotes gender equity and representation in STEM academics and careers. Through our award-winning program, IGNITE provides engaging, hands-on events that connect students with STEM professionals from industry leaders from around the world. Learn more at www.igniteworldwide.org.