IGNITE @ Microsoft
Teaching Kids Programming
Eckstein Middle School
5-5-16
Hi All,
We had such a fabulous event today with 36 girls from Eckstein Middle School.
The girls had a chance to learn how to code and they were just amazing at it!
They had so much fun moving the tortoise and then getting to create their own designs. We all agreed, that we had a room full of future programmers!
Microsoft provided a wonderful lunch while a panel of Microsoft women told the girls their stories: what their interests were growing up, how they came to love technology, what they do now, and obstacles they have overcome to get where they are today. Then we broke into smaller groups, so the girls could get more one on one time with the women.
---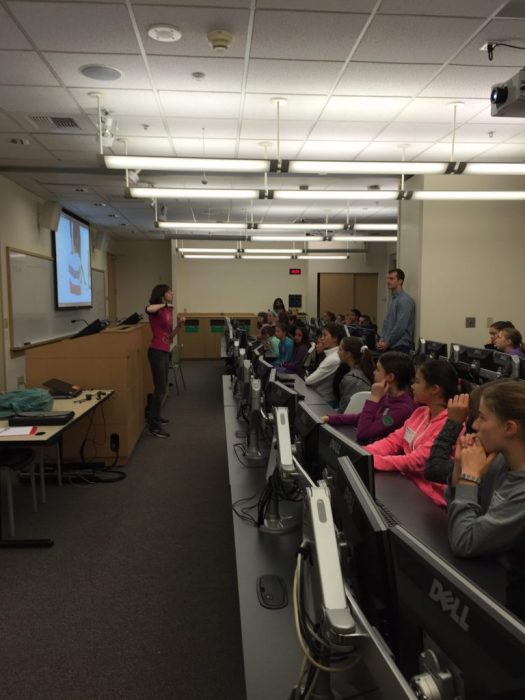 I want to first thank Rupi Sureshkumar, who worked the entire event today, making sure each and every detail was just right. Thank you to Aparna Vishawanathan and Christine Alexander who are our IGNITE/Microsoft volunteer coordinators and do such an amazing job making sure each and every ignite event is wonderful!
Thank you to Ashley Myers, our Teaching Kids Programming teacher. She has volunteered over 5 years of service making sure girls get programming early and that they love it! Ashley started out in tech, working at Microsoft and now is a Computer Science teacher at Roosevelt HS. She fell in love with teaching and we are so lucky to have her in IGNITE. Because of Ashley so many girls get a chance to try programming early and learn all about that career choice.
Thank you to the women mentors who helped the girls in the TKP workshop today.
Marianna Rios and Rupi Sureshkumar. They were so great with the girls, helping them at every turn to get excited about programming.
Thank you to the women on the panel today, who inspired the girls about technology and were so fantastic with the girls.
Casey Schaerti, Software Engineer, Karen Hammons, Program Manager, Sweety Chauhan, Program Manager, Malini Jagannadhan, Software Engineer,  Melissa Boone, Xbox Research,  and Jessie Thomas, Xbox Research. We cannot thank you enough for all of the time you put in each year to inspire the girls.
Thank you to the amazing teachers from Eckstein Middle School, Daniel Johnson, and Adam McDonald, Computer Science teachers. They are so devoted to doing ignite and making sure girls are represented in the classes and learn about the opportunities they have being women in STEM. Thank you to Special Ed teacher Ms. Holberg, for bringing her students and making sure they get these opportunities.
---
Here are the comments from the girls' survey forms.
I liked coding and making the computer do things. This event inspired me to look further into the STEM field and become more involved in IGNITE. Now I want to get a job in the STEM field. Grade 6
I loved being able to experience different ways of coding and I enjoyed listening to the ladies/women's stories. Grade 7
I learned that you can do a lot of different kinds of careers in technology. I liked how we spent time with the volunteers, asking questions to them. Grade 7
I liked all of it. The class helped me realize how fun coding is and the talk make me realize that other people do the same thing I want to do. I liked this event a lot! Grade 6
I really liked the stories, they were really inspiring. I also liked the coding session because I love learning new things. I loved making the computer do things I created. I really loved the small group chat. Grade 6
I liked when the people talked and told us about what their life was like and how they got to Microsoft. I also liked when we programmed and we finally got it right 🙂
It finally worked and it made me really happy. Grade 6
My favorite part was learning how to code, and making shapes with coding. I also liked how the speakers said that they changed their minds for their career choices.
I will look for jobs in the future that have to do with technology and engineering. Grade 6
I loved how we got to talk to the volunteers/speakers. It was awesome! Grade 6
The programming was challenging and fun! Grade 6
My favorite parts were coding, and talking with the women, Sweety really inspired me to code more. It was all awesome! Grade 6
I really enjoyed hearing about the women's stories about their lives. Grade 6
I liked hearing the women's stories and how they led up to working at Microsoft grade 6
This event was awesome! I enjoyed the inspiring women and their stories! Grade 6
It was fun playing with the tortoise, and I liked the food. It made me more interested in technology careers. Grade 6
I loved the coding!! This event was awesome! Grade 6
I learned that I am interested in technology. I think all girls should know about this program. You should be on tv, radio and the computer! Grade 6
I really liked when we finally got the code right and then you ran it and it worked. It was cool to watch and it was a good feeling. Grade 6
I loved learning how to program, today was amazing. Grade 6
Now I want to be a programmer. I had a lot of fun today! Everything was great! Grade 6
---
Thank you to everyone for making this day possible.
And for giving your time and yourselves to changing girls lives.
Thank you ,
Cathi