Ignite Event Report for Lincoln High School-San Francisco, CA for Jan. 17, 2019
-Written by: Jorge Goncalves
On January 17, 2019 forty-four Lincoln High School (part of SFUSD in San Francisco, CA) female students gathered in the school library to hear from, ask questions of, and dialogue with a panel of four engaging and articulate women digital arts professionals volunteering their time with these students on this day. These young students asked their teachers and were excused from their period 4 class to attend this voluntary event of interest to them, which they heard about through school emails sent out, as well as loudspeaker announcements made. Nineteen 12th grade students attended, twelve 11th grade students attended, five 10th graders were there, and eight 9th graders were in attendance as well. Mr. Jorge Goncalves, Lincoln's IGNITE School Site Liaison and Lincoln's Digital Media Design (DMD) Academy Lead Teacher introduced the panelists to the young women present after making them aware of the DMD Program that was available to them at Lincoln for students who liked what they heard that morning and wanted to take career-related courses related to digital media arts starting next school year. The IGNITE panelists speaking that day included: Jayme Brown, an audio engineer at Women's Audio Mission, Victoria Fajardo, also an audio engineer at Women's Audio Mission, Margaux Joffe, Associate Director of Accessibility & Inclusion and Marketing at Verizon Media, and Chloe Madison, the Founder and Chief Creative Officer and Website Designer at Voidbox. The young women in attendance eagerly sat and listened and then they asked many questions over the course of the hour & a half of the event while they snacked on breakfast foods provided. Each panelist took turns describing their educational background and any struggles they worked through during school and then their career paths which led them to their current careers in the digital art fields, as well as sharing any advice and insights they had accumulated over the many years of their schooling and professional careers which they thought would help the young students navigate their lives.
At the end of the panelists' talks and the question and answer period, in which the girls asked many probing and follow-up questions based on what they had heard earlier, students completed an evaluation of the event. When the students were asked to what extent the event inspired their interest in a creative or digital arts/design degree or career, a whopping 93% of the attendees stated it made them more interested in the fields, while 7% stated it did not change their interest, and no students stated the event made them less interested in these fields.
When the young women were asked if attending this IGNITE event inspired them to do certain things, or plan to do certain things, they responded by saying that: 59% wanted to continue to attend IGNITE events, 47% wanted to investigate a technology-based or digital arts/design-related course next year, 16% stated they wanted to join the DMD Academy next year, 27% stated they wanted to start or join a digital arts/design related club, 29% said they wished to ask a teacher/counselor about additional digital arts/design activities available to them, and an astounding 86% stated that it made them want to study harder to be able to attend college and further their education.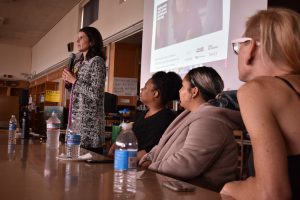 After attending this event:
Some of the highlights of the event that the young women came away with at the end included:
"I loved all the women on the panel, their motivation and hearing their stories. On many levels, I was able to connect and relate to them and they answered my questions amazingly." -12th Grader
"I really liked the questions and answers part because they related to us and gave us information that will be helpful in the future." -9th Grader
"I loved listening to all the personal stories and tips on what to do about your future. It has inspired me to partake in an art field and be a confident woman of color." -12th Grader
"Their personal stories, reassured me that even though people around me always ask what do you want to be, lecturing that you have to know by high school, even when I was a freshman, its okay to not know, especially if I'm looking into digital arts." -10th Grader
"I enjoyed listening to the presenters' stories and how they got to where they are in their careers in digital media and design. I learned that you need to work hard and be yourself, while being professional and organized. I also learned that it's okay to make mistakes and/or take the wrong path, as long as you learn from the experience and grow from it." -11th Grader
"I related with the personal stories of these women, especially about the discussion of personal doubt. I gained confidence through their advice." -11th Grader
"I think them saying that they didn't know what to do and it was okay to not know what they wanted to do. It reassured me that despite everything that I will be fine. This inspired me to keep going." -12th Grader
"I enjoyed listening to their challenges. It inspired me because they're successful despite those challenges." -9th Grader