On Feb 3rd, IGNITE Worldwide welcomed girls/non-binary students for a Elementary School Show-and-Tell & Mini Panel featuring women in STEM from Boeing and Google! Second grade students joined from Hawthorne Elementary as well as fourth grade students from Lafayette Elementary, both in Seattle.
Lauren Johnson, the IGNITE Worldwide Program Coordinator, kicked off the event with a description of "What is STEM?" Girls heard about how STEM influences our everyday lives, from the chairs we sit in to the car we drive. It was a great introductory segment and the students were all OOHs and AAHs!
Next, students met the panelists.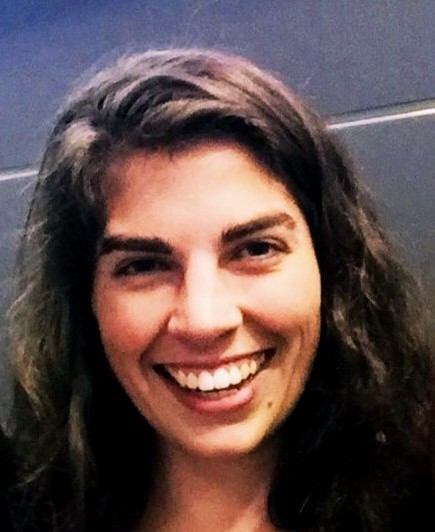 Casey Burt is a Propulsion Engineer at Boeing. Casey specifically works with airplane engines, and she inspects the engine for every take off and landing to make sure the plane is still in good shape! Casey showed off a model Boeing airplane and also her propulsion engineer uniform: safety glasses for and an illuminated vest. This uniform ensures that Casey's eyes are protected when huge jet engine blasts can blow rock and leaves around, and the vest makes sure that all traffic, planes and cars can see her at all times!
When Casey was in elementary school she wanted to be a scientist. She loved to draw, write and read everything about science. She joined lots of clubs in school, including one for robotics, and she loved it! Casey told the students, "It's ok to be the only girl or non-binary person, if you like something just GO FOR IT!"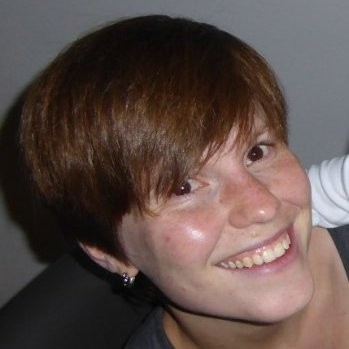 Rachel Hornung is a Software Engineer focused on Machine Learning at Google. According to Rachel, this is the fancy way of saying "teaching machines to learn." Everyday, Rachel puts new software on her computer, and this software trains the computer to learn more. She then tests her code to see how much the machine has learned. (Similar to the learning computer Baymax in the movie Big Hero 6!)
When Rachel was in elementary school she lived in Germany and wanted to become a physician just like her parents. She loved science experiments and reading. During school, Rachel took a class in programming, and she loved it!! Her teacher encouraged her to take the advanced classes, and she started tackling coding challenges. In the past Rachel has also worked on robotics. She once worked on a robot that could do open heart surgery! Rachel's advice was to, "Try it out! Don't assume it will be boring! Just try it – believe in yourself. I know when I believed in myself, things just worked out!"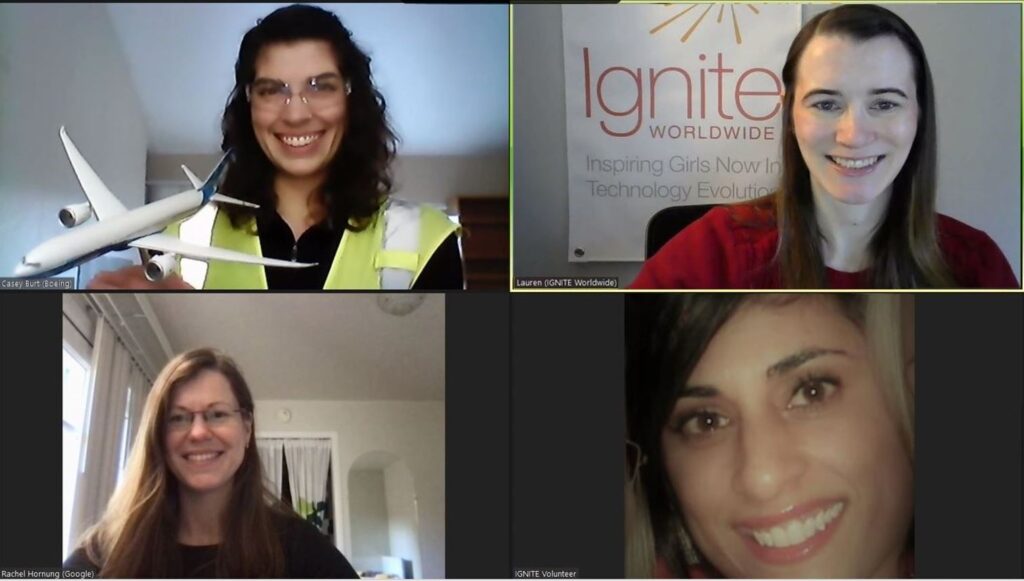 The students were very curious and enthusiastic and asked lots of great questions:
How did you get started in this field? Even though Rachel was strongly encouraged to go into the field of science, she definitely had her ah-ha! moment during her advanced programming class. Casey went to an engineering-related information session at University of Washington when she was in elementary school and that peaked her interest.
Can you take pets to work? Rachel is able to bring her pets to Google! Casey can't because it's not safe.
What is your job like now that you are working from home? Rachel's job has not really changed at all! She can work from anywhere, she just needs access to the internet. For Casey, things have changed – pre-pandemic she would be under planes inspecting them. Nowadays checks are done over the phone.
What is your favorite part about your job? Casey loves to problem solve and think. All STEM fields let you dig your teeth into a problem, and the best part is you are working with a team – she loves working with her friends! Rachel enjoys learning something new everyday. Working on a new problem everyday makes each day different and interesting.
I want to do something for cheetahs and technology but I don't know what. Casey suggested that as an engineer, there could be cheetahs that need help with things like prosthetic limbs so that they can walk again. Engineers could design them a new leg! Rachel brainstormed an idea where the cheetahs leg muscles could use the mechanics and sensors to help it move the leg. Engineers could also install cameras on cheetahs and count the cheetahs and check their health. That way we can make sure cheetahs don't become extinct!
Do you think you are paid well? Casey shared that she is paid very well, and engineering is a good field to go into financially. Rachel said pay is much higher than some other fields. Having a good paycheck gives you freedom, allowing you to do things like travel and help others by doing charity work.
Have you designed an airplane? Casey is part of a very large team that designs the entire plane. She specifically works on different parts of the engines. Rachel also works on a very large software with a big team. One project she contributed to was face recognition on an iPhone! This technology securely unlocks your phone by making sure the face matches the owner of the phone.
Students enjoyed meeting women in STEM and hearing about the specific projects they worked on, and the volunteers loved seeing so many young girls/non-binary students eager to learn more about STEM!
Thank you to Lafayette and Hawthorne Elementary Schools for attending, and a HUGE thank you to Casey, Rachel, and IGNITE volunteer Khyati Vyas for making this event possible!
After attending this event:
Here's what the students thought of the event:
"Before this event I had lots of jobs I wanted, President, coder, engineer and much more! This event was a great way of seeing other girls doing something and definitely pushed my confidence!" – 4th grade

"Thank you so much for the experience and your time. I really enjoyed the event and I could tell others did too. Thanks again!" – 4th grade

"I got to know what a STEM job is. I love animals so I want to help them so want to be a veterinarian." – 4th grade

"I think both of your jobs are really cool! And they sound fun!" – 4th grade

"It made me feel happy. You are doing good for the world."

"I loved seeing women with STEM jobs teaching others!" – 4th grade

"It was cool just to see what a STEM job is." – 4th grade

"Learning about all the jobs that use STEM!"