On May 18, 2022, IGNITE students in 7th grade at a public primary school in Radom, Poland, met two Computer System Validation (CSV) Specialists at Roche Global IT Solution Centre during an interactive online event.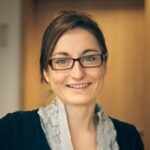 Katarzyna Zawadzka liked team games and playing piano at a child—she even attended music school. As a teenager, she regretted not completing her music education, but now as an adult she thinks that we don't have to finish everything we start, because we don't know what will be helpful or contribute to our mission in the future. After graduating high school, she studied production engineering at the Polytechnic University. Despite the fact that she was good at calculus, and had strong spatial awareness, she failed exams at the beginning of university. She didn't give up and she succeeded, leading to an internship as a marketing specialist at a small IT company after graduation. Her duties were IT testing and finding the sources of problems. After 2 years, she moved to Roche, where she was responsible for testing. After a while her future boss offered her the position of a Lean Validator.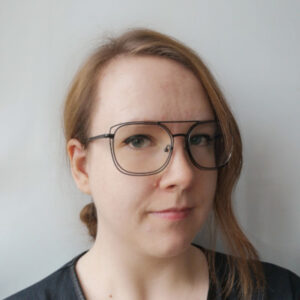 Martyna Stypik liked humanities including history and foreign languages as a teenager, but she also participated in additional math classes. However, she was discouraged because these classes were full of boys and she decided not to continue. After graduation, she studied psychology. Later, she worked as an IT assistant where she had to use only English, and her subsequent job focused on quality testing. Martyna also worked as a psychologist, which was a great experience for her, but she preferred working in IT.
After introducing themselves, Martyna and Katarzyna explained that software quality teams confirm that applications work the way we want them to. CSV is often referred to as software validation, and regulated companies like Roche perform validation projects to prove that their software or system is performing the way it is supposed to work.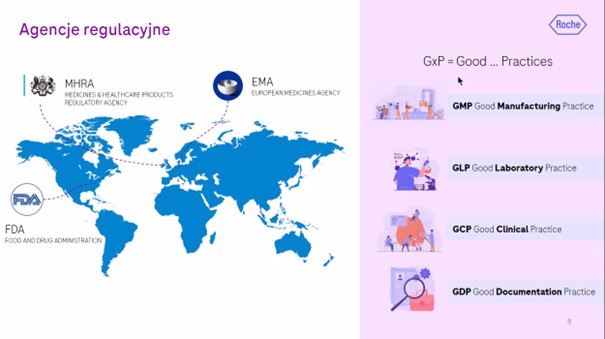 Before a company releases a product to the market, it has to be sure that it is secure, especially in the pharmaceutical sector. The quality must be tested and validated. There are several sectors that require validation by external agencies, including pharmaceuticals, food, energy, cars, oil, banks and aeronautics. In the pharmaceutical industry, the FDA (Food and Drug Administration), EMA (European Medicines Agency), and MHRA (Medicines & Healthcare Products Regulatory Agency) each call for unique restrictions.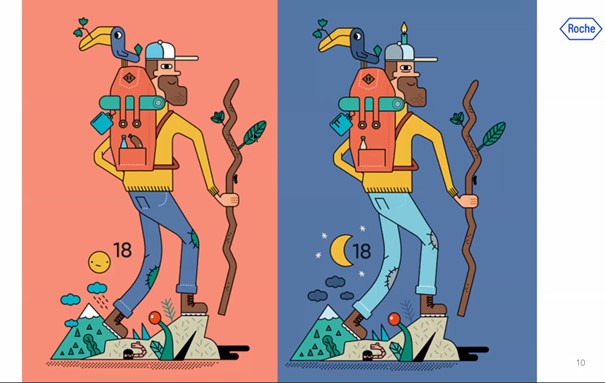 The experts asked the students to examine two pictures and find the differences between them to show what the experts' work distinguishing between similar things looks like. Their main duties during the workday are answering questions and solving doubts about quality, as well as reading, creating and testing documents, collaborating with the testing team, conducting trainings, and improving processes. There are different ways of becoming a validator, like trainings for juniors in IT companies. After becoming a tester, you can work as CSV, pursue biotechnological studies, take online courses, and more. Many different skills and classes may be useful, including foreign languages, technical thinking, biology, chemistry, organization, perceptiveness, patience, and communication.
We would like to thank Martyna Stypik and Katarzyna Zawadzka for sharing their inspiring stories. Special thanks to Ms. Katarzyna Kwiecień for coordinating the group and encouraging students, and as always thank you to IGNITE CEO and Founder Cathi Rodgveller for her constant support.
After attending this event:
Here's what the students thought of the event:
"What I liked the most was how the experts talked to us. There was a nice atmosphere and a lot of interesting things." – 6th grade

"I had a lot of fun (and I also got something out of it) and they have a very interesting profession." – 6th grade

"The presentation was very clear and contained very interesting information." – 6th grade

"I really liked the way the experts told us about their profession and the interactive elements." – 6th grade

"I was inspired by the fact that the experts were not always interested in their field and only after some time they discovered their dream job." – 6th grade

"I want to take part in the next event." – 6th grade