On April 20, 2023, IGNITE Students from Polish Public Primary Schools, Kałuszyn, Wrocław, and Kąty Wrocławskie, participated in an IGNITE event. The students met with a STEM professional in the field of biotechnology: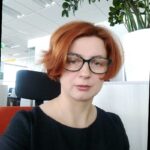 Wioletta Toruńska, Associate Medical Director at BeiGene
At the beginning of the event, Wioletta told the students that she is a very active woman, a mother of three daughters, a wife, and she has two dogs and two guinea pigs. As a young girl, she liked all her subjects, especially math and chemistry.
After graduation, she weighed her options to go to work or to study chemistry at the University of Technology. Unfortunately, she didn't receive support from her entire family, but her grandmother advised her to continue studying. Wioletta chose to study biotechnology and worked throughout her studies. Combining education and work was very difficult, but she managed to finish her studies with high grades.
During her time at the university, she worked in confectionery, jewelry, and tulip planting – this work gave her financial independence, hence why she could continue her studies.
Her first job after graduation was as a Medical Representative, and later as a Product Manager. She had also started a family and received diplomas from postgraduate studies in managerial, marketing, and leadership, which she dedicated to women.
Despite the fact that Wioletta isn't a doctor, she is currently working as an Associate Medical Director. This role has pushed her to enhance her medical knowledge, and she provides medical help for people with different kinds of cancers.
Her mission is to help people, and that's why she feels fulfilled in her work. The thing which helped her to succeed was not giving up and being open to new knowledge.
The students were very active and asked many questions.
Thank you to Wioletta Toruńska for sharing her inspiring stories with the students. A special thanks to Krystyna Wasiluk, Monika Małecka, and Joanna Morawska, who coordinated the groups and encouraged students. Additional thanks to Cathi Rodgveller for her constant support.
After attending this event:
Here's what the students thought of the event:
"This event inspired me to not give up and try to go into a scientific field in the future. Thank you." – 7th grade

"Today taught me not to be afraid and to fulfil my dreams. Thank you." – 7th grade

"The event inspired me to by myself and to not listen to someone who doubts me." – 7th grade

"I liked the event very much." – 6th grade

"Today's meeting inspired me to think that in difficult moments, I can't give up. I would like to thank the volunteer for sharing her story with us." – 6th grade

"Today's event inspired me to pursue my goals. I would like to tell the volunteer that I'm very grateful for her story." – 6th grade

"Today's event inspired me to choose my future job. Thanks to this meeting, it will be much easier for me to find it. I would like to thank the panelist for all the good advice and the very crucial things which I'm very grateful for." – 6th grade

"This event inspired me not to stop and develop my passions. Thanks to the panelist, I now understand how I can develop my skills. I would like to thank the panelist for sharing, it has helped me to develop myself." – 6th grade

"The panelist inspired me to follow a medical path and help people. Thank you for your time." – 7th grade

"This event inspired me to follow my dreams and to not give up in difficult moments. I would like to tell the panelist that the meeting has inspired me very much and that I would like to follow the same path." – 6th grade

"This experience inspired me not to be aftaid to have dreams and not to be afraid of making mistakes. Thank you for todays meeting. I liked it very much, I have learned many things and now I know what I will do in the future. I will choose also medical services as a career, like my mom." – 6th grade