On April 25, 2023, IGNITE Students from Oakland High School visited Pixar Animation Studios for an IGNITE Field Trip.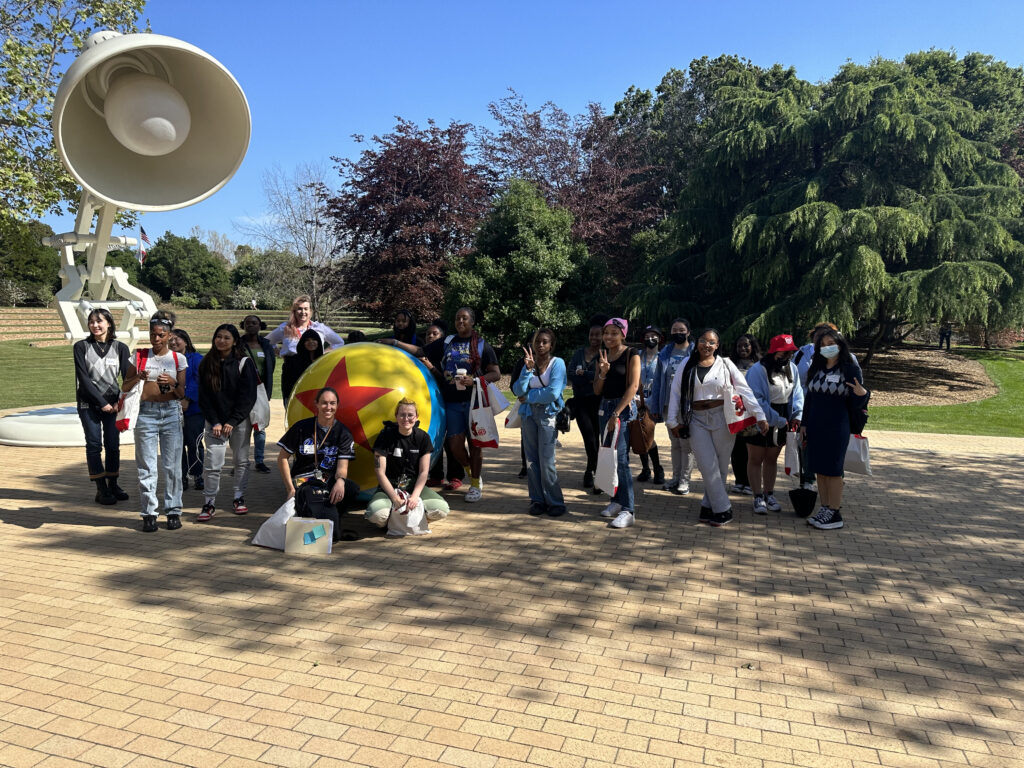 Students were greeted at the front of Pixar's Steve Jobs building. There the Event Host, Holly Lloyd, and another presenter, Lara Pendleton, spoke about the day's agenda and the building's history. The students learned that the Steve Jobs building is a former factory that was turned into the Pixar offices. The brick building is retrofitted to survive earthquakes with special bricks, and Pixar renovated the building to ensure that all the steel was perfect.
Afterward, the students broke out into groups of 5-7 students, and each group went with different Pixar employees – Lara Pendleton, Deepanshi Sharma, Patty Bonfilio, and Ruchita Lodha. The group paired with Ruchita Lodha was brought inside and shown the art from behind the scenes of Pixar's newest movies, Lightyear and Elemental. She showed the group the detailed concept art as well as different mediums that artists use to explore the world building – there were legos, art made with dirt and flowers, 3D printed models, paintings, digital paintings, etc. Ruchita works on the programs that artists use, so she talked about how in the past, she worked for Blizzard and got an offer from Pixar, so she sort of fell into her position. Students asked about who gets to write the stories that they turn into movies. Ruchita talked about how for shorts anyone can present stories, and they get selected for production. Shorts have teams of about 100 people max and take less than a year to create. Feature-length films are presented by higher-up producers, writers, and established Pixar creators in groups of about ten and get presented and voted on. Those movies eventually grow to 300 – 400 people and take years to produce. A student asked about finances and budget; they said Pixar thinks of financial planning in people and time (e.g., 100 people for 25 weeks vs 25 people for 200 weeks).
The group of students paired with Patty Bonfilio were also shown the Elemental and Lightyear art, designs, and concepts. She explained to the students a bit about the film pipeline process, and along with Holly Lloyd, shared a bit of their stories, a personal item, and their journey to Pixar.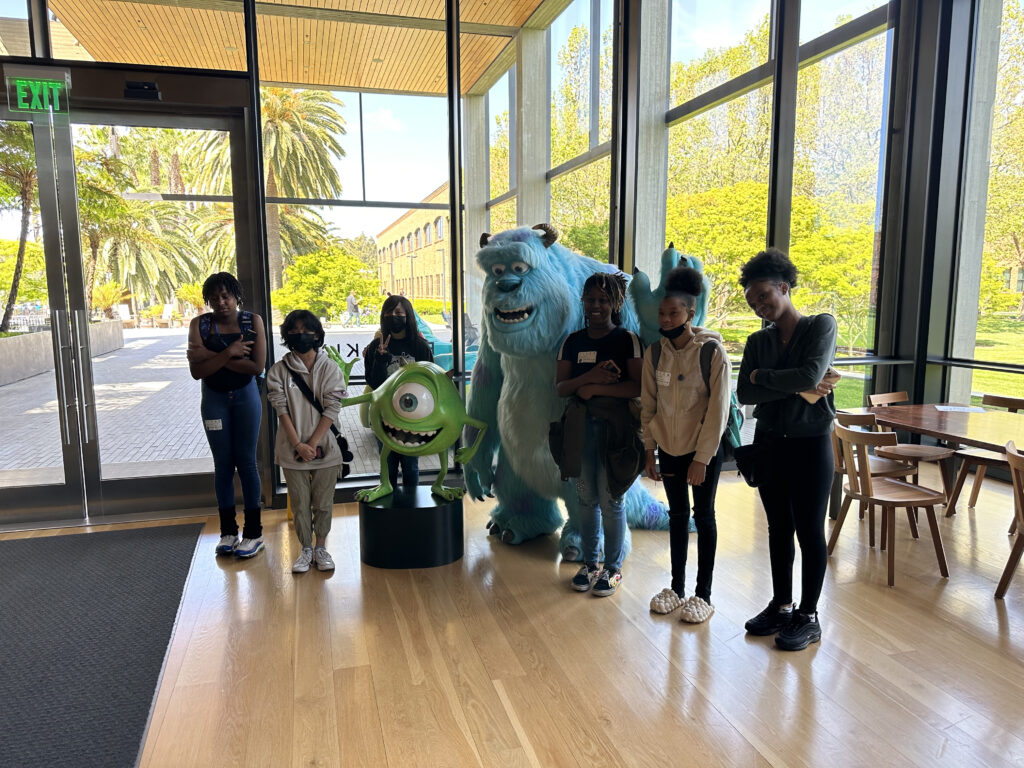 After the group activities, the Pixar volunteers led students to the Brooklyn building and into a screening room. Holly talked about what Pixar does and the basics of movie production. They have different teams that do everything from Producing the movie, working on art, 3D modelers, and engineers working on software and rendering hardware. Then the students got to talk with the following panelists: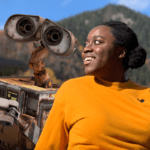 Jasmine Derry, Effects Technical Director, was born and raised in the small town of Mesquite, Texas. Before Jasmine worked at Pixar, she was an effects artist at MPC Film in Montreal. During her short time there, she worked on films such as The Call of the Wild, Doolittle, The One and Only Ivan, and Finch. In 2020, Jasmine was hired at Pixar as an FX artist, amidst COVID. In her two years of working at Pixar, she's created effects for Luca, Turning Red, Lightyear, and, most recently, Elemental. Jasmine's hobbies outside of work include learning new languages, Muay Thai, roller skating, and puzzles.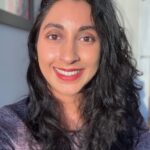 Meghana Seshadri, RenderMan Software Engineer, joined Pixar Animation Studios in February 2021 as a Software Engineer on the RenderMan team, where she supports Pixar artists who use RenderMan to render all the beautiful Pixar films. Her first journey at Pixar was as a summer intern in 2017, where she earned her first film credit on Incredibles 2. Between these roles, she worked on the Havok team at Microsoft as a Developer Relations Engineer, supporting AAA game studios and other game engine developers using Havok's Physics, Cloth, and AI middleware technologies. She received her Bachelor's Degree in Computer Science at the University of California, Berkeley, and then her Master's Degree in Computer Graphics and Game Technology at the University of Pennsylvania. Meghana is a Bay Area native and loves taking breaks at work by playing basketball and learning to master espresso drinks and latte art in the kitchen. When she's not at work, she loves boxing at the gym, rewatching Friends, Harry Potter, and Lord of the Rings, and traveling the world!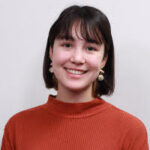 Jackie Allex, Resident Lightspeed Technical Director, started her journey at Pixar as a summer intern in 2022 in the Tools Sets team. Originally from New Jersey, she graduated from Northeastern University in Boston with a B.S. in Computer Science and Media Arts. In her free time, she likes hiking, cycling, and doodling, and has a cat named Sushi!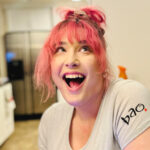 Sarah Ligatich is an Assistant Editor for animated feature films at Pixar Animation Studios, where she recently completed work on Pixar's next feature film Elemental. Before joining Pixar in 2021, she worked as an assistant editor at Netflix, stop motion studio Laika, and Discovery Channel. She specializes in telling affirming and thoughtful stories and is passionate about advocating for women and the LGBTQ community in her personal endeavors. She lives in Berkeley, where she enjoys poetry slams, wine tastings, and honing her passion for storytelling as she works on completing her first novel.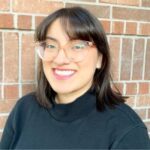 Karla Herrera, Production Support Engineer (PSE), joined Pixar's Systems Department in March 2022. In her role, she is responsible for providing a quality Linux desktop experience for animators, technical directors, and engineers. She graduated from the University of Houston with a B.S. in Computer Information Systems in 2019. Previously, she was an intern on the PSE team at Pixar. After her internship, she was a technical consultant at a pricing software company in Houston, TX. Somehow she made it back to animation! Karla spends her free time reading, exploring new hobbies, and playing with her black cat, Bo.
The panel topics ranged from their job descriptions, and they all discussed what led them to Pixar and how often they had been rejected before finally getting the job they wanted there. They talked in depth about being hard-headed and not letting the rejections weigh you down. One of the animators said that she wasn't good at first, having been given negative feedback from a manager on one of the first scenes she worked on. That motivated her to get better. The new resident talked about getting an internship last year with effects, rendering, and lighting after majoring in computer science and animation. Now she is working full-time with Pixar. Another panelist talked about how she grew up watching movies at home and loved them – she would watch the credits all the way to the end and tried to imagine herself in those jobs. She eventually decided to be a software engineer. She felt like a bad engineer at first until she finally got into animation engineering – then she was excited about it and was doing a lot better because she was genuinely interested.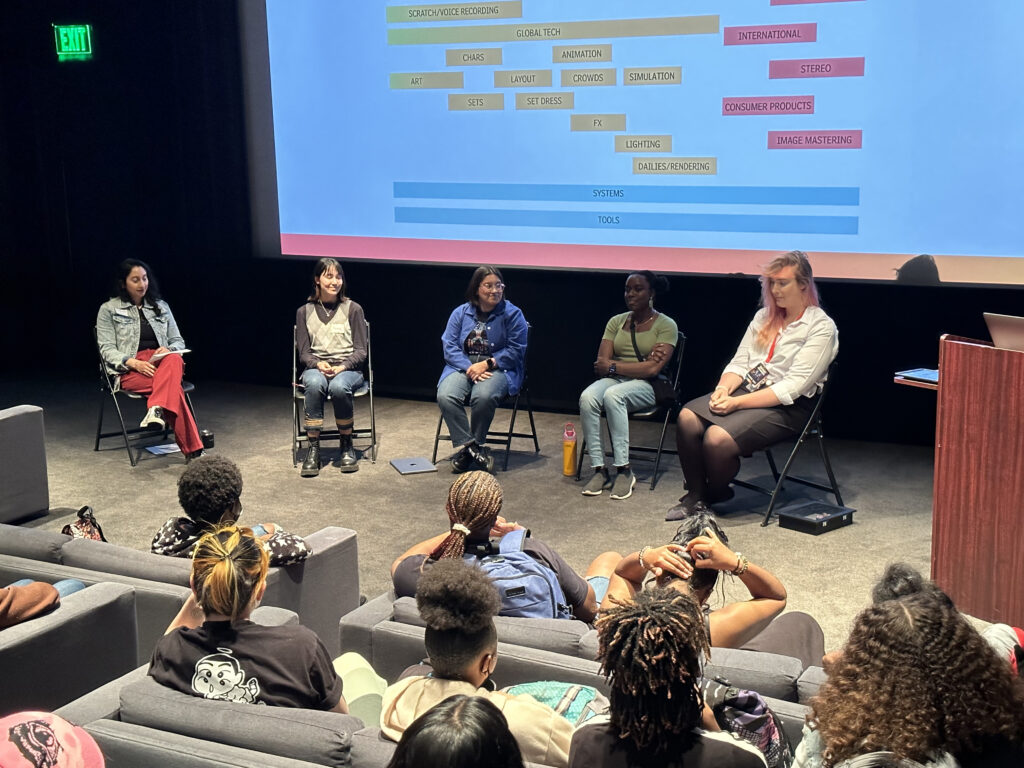 After the panel, the students were led back into the lobby of Brooklyn to enjoy some tea, cookies, and fruit. Most of the students met with the Panelists individually to ask questions. Some of the topics overheard included a student asking about being a black woman in tech. She explained that you have to be self-sufficient and hard-headed. They agreed that it's getting a lot better for women – Brave was the first animated movie directed by a woman, and more recently, Bao and Turning Red were written by the same woman who wanted to create a story that was authentic to her life. Another discussion included a student asking about differentiating between Disney and Pixar – they thought that Brave was a Disney movie. The Panelists talked about branding and associations – now that most animated movies are made with the tech that Pixar invented, there's a lot more confusion around who made what, but they try to make their stories more unique.
Throughout the day, you could see that the students were shy but excited – they kept squealing when they saw characters they recognized and spent a long time looking at the asset wall for Elemental to see all the fire puns. When asked what their favorite part was, their answers ranged from enjoying the nice couches in the theater, seeing the different art styles for the movies, feeling like they were seeing secrets behind the magic, and also learning that the movies are made by people just like them and learning how they got there.
Thank you to all the Panelists and Pixar volunteers for sharing their stories and time with the students – Holly Lloyd, Lara Pendleton, Patty Bonfilio, Ruchita Lodha, Jasmine Derry, Jackie Allex, Meghana Seshardi, Deepanshi Sharma, Karla Herrera, and Sarah Ligatich. This was an amazing, educational, insightful, and inspiring field trip at Pixar Animation Studios, and the students thoroughly enjoyed learning about working at Pixar!
After attending this event:
Here's what the students thought of the event:
"Seeing so many women in STEM thriving and proud of their career choices really inspired me, especially since most of them didn't initially choose to go into STEM. I am really inspired and I am happy we had this trip. I learned so much today." – 11th grade

"It was inspiring to see a lot of women here, and it made me realize that we can do STEM too. The mentors were really professional and strong in their stride; it was empowering. A big takeaway was that there are a lot of jobs in STEM that can fit everyone interested in movies." – 11th grade

"Today's event helped me to plan a future in animation or sketch because now I know that it takes a few mistakes to plan your future goals. I learned that even if you get declined multiple times, you can still make it." – 10th grade

"I loved seeing the process of how a movie is made. I also loved seeing the wall of movie scenes. I loved hearing about how people came to get their jobs here. The people here are so in love with their jobs and that makes me want to go into what I really love." – 10th grade

"Today inspired me by being shown that others pursued their dreams no matter what." – 9th grade

"Today's event inspired me to continue getting better with computers to be able to create animations. My takeaways were how nice everyone was and how diverse it is here as well. It showed me as a young woman, I can do anything." – 12th grade

"What really inspired me was learning the process of the drawings in the movies. I also like how everyone works in teams and everyone has a role. I thank all the volunteers; it was wonderful meeting everyone in each department and learning their roles." – 12th grade

"This event was very fun and I loved the art around the building. I never realized how much goes into making a movie! It taught me to always go for something you want and never give up." – 11th grade

"Today showed me that there is a lot that goes into animating films. I was inspired by all the artwork displayed behind-the-scenes. I never knew that Pixar was in the area, and I got to see all the career options available." – 12th grade

"This event inspired me by showing me I can do many different career paths and I can change my mind and still be successful. It has also showed me that everyone plays an important role, and everyone has input." – 11th grade

"Today was pretty cool because I got to look at some beautiful art and different types of sketches. I really enjoyed talking to the volunteers." – 11th grade

"I was already interested, but I am now looking at STEM from a different perspective. I like telling stories, and I have a creative mind. Seeing others make a career out of it is inspiring. I feel like I could make an animated short. The panelists were really nice and easy to talk to." – 11th grade

"It was really cool to have this experience." – 10th grade

"It was so cool to see how they made the art and the 3D animations. Seeing all the steps in the process of making Brave was so interesting." – 10th grade

"I enjoy telling stories, so knowing you can actually create a career out of it is inspiring. Making an animation takes a lot of dedication and work." – 11th grade

"Today's event gave me inspiration to continue my current interest in creative design. It made me want to pursue my creativity into my future career. My biggest takeaway was that our own creativity can create a bigger opportunity for others to also expand their imagination." – 11th grade

"This event taught me more about filmmaking. The art aspect of film is beautiful. I loved Elemental's concept art and buildings. The filmmaking process was so interesting – I couldn't believe the whole process can take 4-6 years!" – 12th grade

"Today inspired me by showing me I can work at a film company, and not just a tech company. Storytelling is so much more fun than I thought. Some big takeaways were that making one animated movie takes so many people. I also learned from the volunteers that determination is key and I admire them for that." – 12th grade

"I think it was interesting to learn about all the different parts and people it takes to make a movie. It was interesting to learn about people's experiences of how they got to where they are today." – 10th grade

"Seeing Pixar's culture and architecture was very interesting. It has inspired me to work at a big company. Big takeaways were being hardheaded about what you want and knowing that you don't have to have a set thing you want to do early in life." – 10th grade

"I feel like after coming here, I am now confident that if I keep trying, I can one day get the outcome I want. Even with a little knowledge in something, I can keep working and still be successful. It was interesting to see all the different designs for a single shot and all of the small details that go into it." – 12th grade

"Today taught me that women are needed more in STEM and being stubborn and hardheaded isn't always bad. It also showed me that if you want to do something in life, go for it." – 9th grade

"Today's event inspired me by showing me there are a lot of options for both art and computers in STEM. I'm interested in both! My big takeaway was that animation involves a lot of teamwork and time." – 10th grade

"I was really inspired by the stories shared by the workers. It was helpful to hear that one of the workers failed their first programming language, but still made it into a successful STEM career!" – 10th grade