On December 14, 2022, IGNITE Students from Horizon Science Academy Columbus Middle School joined volunteers from Microsoft for a Virtual Cybersecurity Workshop. Amber Hoak, Software Engineer for Microsoft Research, began the event by sharing that she loves that her job combines creativity and STEM – she helps to design and create tools that impact millions of people's lives! From search engines to gaming, Microsoft pushes the boundaries of technology to empower every person and every organization to achieve more.
In the panel session, three panelists shared their stories with the students: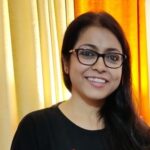 Sunayana Singh, Senior Product Manager, first got excited about STEM when her teacher showed the class how to break down a complicated problem into smaller parts to make it easier to solve. She can still remember the first time she got to see a computer in school! Sunayana loves that the spectrum of STEM jobs is so broad that everyone can excel, no matter their interests.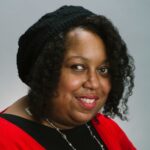 Angela Hooker, Accessibility and User Experience Consultant, spoke to the students about how a part-time job documenting how to use software made her realize she was good at teaching, eventually leading her to web design and consulting. She loves having fresh challenges every day that keep her job interesting, and she especially loves making a difference in people's lives.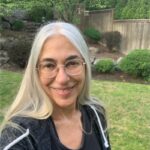 Valerie Olague is a retired Senior Program Manager with 21 years of experience at Microsoft (and was at IBM before that) – she showed the students an impressively large and heavy glass trophy awarded to her for 20 years of service! When she was in high school, there were no avenues into STEM careers. Her passion for photography involved a surprising amount of physics, and her interest in math bloomed from there. Another puzzle lover, Valerie, loves working with data and helped to design the systems to analyze Microsoft's marketing strategies.
The students asked some great questions geared toward finding their own paths to a STEM career, including:
What degrees did you get? Some panelists have degrees in engineering, but degrees in everything, including art, can support cybersecurity and STEM!
How old do you have to be to work at Microsoft? There are college and even high school interns who get to work on exciting and challenging projects and often get hired full-time after they complete school!
What would you recommend to anyone interested in cybersecurity or STEM but still deciding about a future role? Take a coding class, join any available clubs, and explore as much as possible to learn more!
What does cybersecurity entail? Protecting customers' data and respecting privacy needs around the world. As new threats arise with technology, it is an evolving field that needs to adapt quickly.
Students moved into Breakout Rooms with Breakout Room Leaders Sunayana, Andrea, Sushmita, Amber, Aditi, and guests Val and Angela, who contributed to the discussion. In small groups, students discussed the definition of cybersecurity–measures taken to protect a computer or computer system (such as the Internet) against unauthorized access or attack.
Then, they learned about various ways of protecting data and using cybersecurity principles, including ciphers that shift the letters of a word or phrase using a code, and encryption, which takes simple words and phrases and converts them into longer strings of text that protect the information. They also explored how easy it is for hackers to crack simple passwords, meaning that we should all be aware of creating complex passwords to protect accounts!
Lightning round – what do you wish you knew when you were the students' age?
Valerie: So many people switch careers along the way, and you don't have to have your college major decided ahead of time. Try different things, see what sticks, and don't be afraid to change to a different path.
Angela: Even within the field you decide to pursue, you don't have to know everything–at Microsoft, they emphasize being a "learn-it-all" instead of a "know-it-all."
Sunayana: It's OK not to know everything, and it's most important to focus on learning!
A huge thank you to all of our Microsoft volunteers: Amber Hoak for facilitating; Sushmita Das, Andrea Britto, and Aditi Saluja for leading the activities along with panelists Sunayana Singh, Angela Hooker, and Valerie Olague; and Cassandra Collins for being the Technical Host. Thank you all for sharing your time and your stories!
After attending this event:
Here's what the students thought of the event:
"Today inspired me by teaching so much about STEM." – 6th grade

"This event helped me learn how STEM can be fun and can help people. My big take away was that things can look challenging but can also be fun." – 8th grade

"Today's event inspired me to not just believe the stereotypes of STEM. There is so much more to STEM and it doesn't just revolve around programming!" – 6th grade

"This event made me feel more connected to the internet and how it was created. I feel safer on the internet now that I know the cybersecurity efforts being made." – 6th grade

"I liked learning how the Microsoft team can help people and protect people from viruses and hackers." – 7th grade

"Today inspired me to do more research about STEM. It helped me notice that STEM is fun and professional at the same time." – 6th grade

"This event helped me learn more about STEM and my options. I really liked the volunteers and they helped me explore more for my future." – 6th grade

"Today made me realize that I can be anything I want. It inspired me by helping me understand Microsoft and what it can do to keep information safe." – 8th grade

"This event inspired me to learn more about STEM." – 6th grade

"Today taught me that you can do fun and helpful things. It made me realize you can create new things and do multiple things in STEM." – 6th grade

"Today inspired me to keep dreaming. One day my dreams will come true if I work towards them." – 6th grade

"This event made me feel that I can accomplish many things! Learning that Valeria had earned a huge award in Microsoft was so inspiring!" – 8th grade

"Now I feel safer on the internet because I know the people working to protect me!" – 6th grade

"This event inspired me and helped me build up my confidence. It was fun learning how to use Microsoft technology." – 6th grade

"I now want to learn more about STEM. Today showed me how to start my dream and the careers I can have!" – 6th grade

"Today's event inspired me to feel hopeful about my future. It also made me feel confident." – 6th grade

"This event helped me get a better perspective of STEM. It helped me understand which careers to pursue if I decided to focus on STEM. I really enjoyed the Zoom meeting and the activities." – 8th grade

"Today made me want to build more and do things to help the earth. It was great learning how much you can do with technology." – 6th grade

"This event inspired me because of the stories the panelists shared." – 6th grade

"Today helped me understand how STEM works. I learned that we need more women in STEM. It was fun learning that cybersecurity is more than just making sure if the website is secure. It's about making sure that people are safe and that the website has restrictions for cyberbullying." – 6th grade